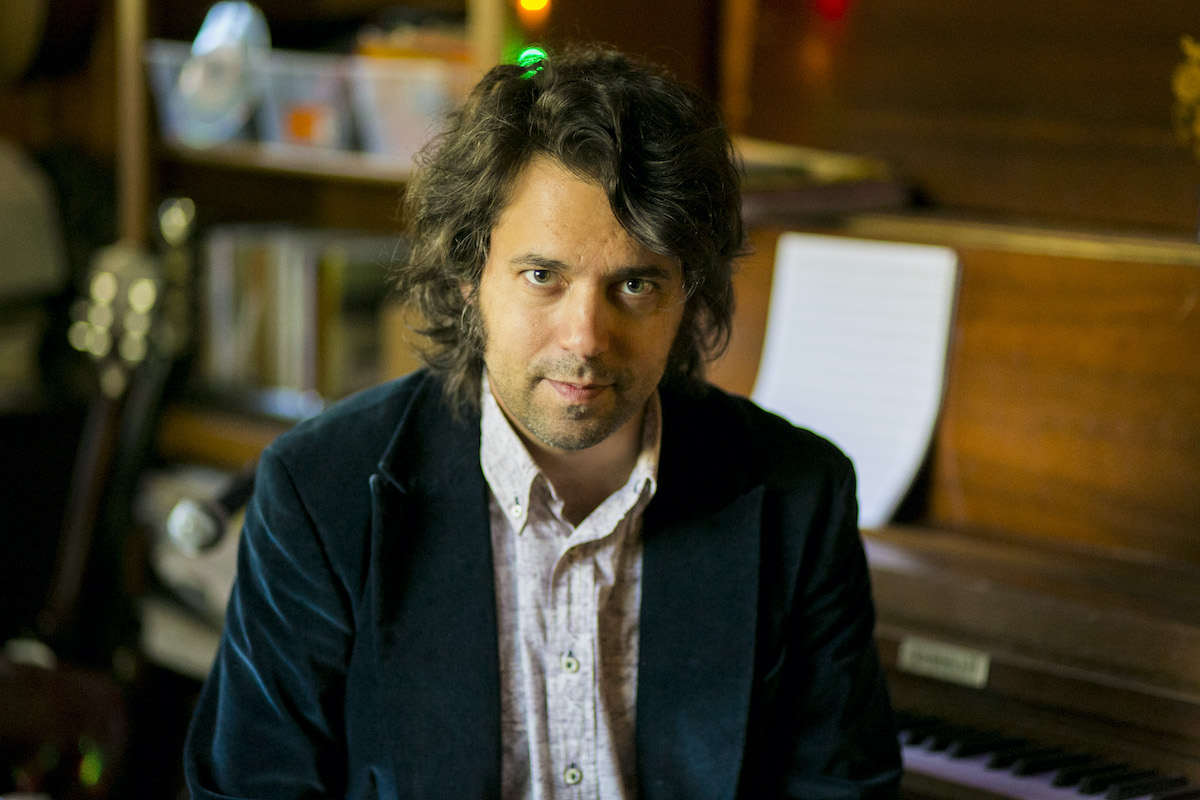 Tell us about your tour vehicle. Any notable breakdown stories?
Well, when touring with Drive-by Truckers we're in a rented bus most of the time. I love it as I love to sleep and am not too fond of driving. Almost every tour has a different driver / bus so I'm not sure of the mileage, but we've been lucky so far with drivers and buses (I'm knocking on wood incessantly right now).
I haven't toured a lot with my solo stuff shows but when I do tour with my band The Guilty Pleasures, the 2007 Mazda CX-7 has been the choice. Mostly 'cause we couldn't get all 4 folks into a Camry with equipment.
No real good breakdown stories. Well, no vehicle breakdown stories, anyway….
How do you eat cheaply and/or healthy while on tour?
Carrots and Hummus, Peanut butter and banana. Ever since Chipotle opened it's become the one place the Guilty Pleasures can all agree on.
How many strings do you break in a typical year? How much does it cost to replace them?
Well, with DBT we tune a whole step down to D standard and we use .11's so there's very little string snapping, and I've honestly broken maybe 1or 2 in the time that I've played guitar with them. Broke a guitar neck once, though, which costs both a bit of bread and self-respect…
Solo show-wise I use .10's in standard but really don't break them very much unless I try the Jimmy Page "overbending up a third" thing.
Where do you rehearse?
We don't really practice with the Truckers unless it's in a studio right before they hit 'record'. We do have a cool HQ though for when we have to work stuff up.
With my solo stuff we tend to rent a room from Nuci's Space, an amazing musician's resource center here in Athens that rents rooms and PA's cheap. Even have keyboard stands for when I leave mine at home. Which is every time.
What was the title and a sample lyric from the first song that you wrote?
I can't recall the lyrics from the very first song I wrote (thank god), but it I know it was an unrequited love song and I was 14 and it was a sappy ballad.
I do remember one of the early ones was called "Elizabeth" and the chorus went "Elizabeth, Elizabeth, how can I explain/ The way I feel when I look at you/ When I talk to you, tell me is it real" and then it modulates up 2 keys and repeats the lyrics, just to drive it home.
I also remember playing it to my girlfriend at the time (Elizabeth) and her older brother (a great guitarist and full-on rocker who I idolized) picked up and cackled before hanging up.
Describe your first gig.
My high school band with my best buddies, Fallacy, played an outdoor kegger and I made the mistake of shotgunning a beer for the first time during set break and I ended up disappearing into the woods and passing out while they bravely played on instrumentally for another hour. This set a precedent of letting down bandmates in various ways that continues to this day. Though I haven't missed a gig due to drinking since that fateful night.
What was your last day job? What was your favorite day job?
My last day job was delivering flowers for Athens florist. It was owned by a lovely family and they were very sweet about letting me off to tour and when I was frequently late and when I left flowers on the stoop instead of bringing them back to redeliver later.
I was then a stay-at-home dad for 2 years until I joined Drive-by Truckers.
How has your music-related income changed over the past 5-10 years? What do you expect it to look like 5-10 years from now?
I think it's well documented that streaming services have taken any chance of fair royalty money – I highly recommend checking out what the Union of Musicians and allied workers (UMAW) and supporting their fight to get fairer deals from said streaming services.
I am very fortunate to have a job with Drive-by Truckers for the last 13 years so it's not dire for me, but so many pure songwriters aren't able to make a living.
What one thing do you know now that you had wished you knew when you started your career in music?
I wish I had more confidence in my own vision or aesthetic. I was confident enough to write whatever I felt, but always tried to write for whatever group of project I was in. I think I could've developed more quickly if I didn't worry about what people thought and took projects to completion (without feeling the need to release everything I recorded, of course). I always tried to sing out of my range because other singers could or felt the need to overdub a million things even though my stuff tends to work better in a smaller context.
All hindsight 20/20 stuff, I'm happy that I'm finally figuring it out in my 40's though!