Covering the likes of Radiohead and Edgar Allen Poe in addition to her own superb songwriting, the single word to describe the latest effort from Sarah Jarosz would have to be "diversity".  With a supporting cast of Americana and pop stars seemingly unavailable to any other musician under 70 years of age (Sarah was 19 when this was recorded), Follow Me Down is a brilliant sophomore production.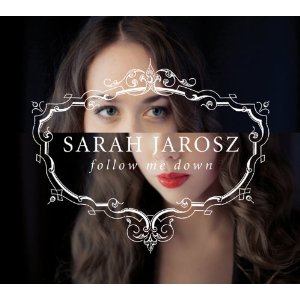 The album starts off with Run Away, an oh-so-indie love song featuring Sarah's vocals and a subtle backing from Shawn Colvin that would drop right into a Twilight/Vampire Diaries soundtrack.  In that same vein is the Radiohead song The Tourist, with instrumental and vocal backing from the Punch Brothers.  There's also My Muse, an original composition featuring a just-slightly-off-kilter sound and frequent collaborators Alex Hargreaves and Nathanial Smith.
At the other end of the spectrum there's no mistaking Sarah's bluegrass and Americana roots.  In fact, the album ends with a couple of songs in those genres.  Gypsy is a lovely little country waltz perfectly at home in her birthplace of Wimberley, Texas.  Peace is a Celtic laced instrumental that personifies its title.  And Come Around, while more jazzy in its arrangement, bears an unmistakable imprint from banjo legend Bela Fleck and fiddle virtuoso Casey Driessen.
In fact, one of the high points of the album is how deftly producer Gary Paczosa weaves in the talent of contributors like Jerry Douglas and Viktor Krauss.  Along those lines, my favorite song of the album is Ring Them Bells, a Dylan number that Sarah turns into an anthemic salute to life.  With her combination of indie songs and vocals, and bluegrass instrumental chops, Sarah has become a darling of the NPR music set.  Follow Me Down shows why that happened, but also underscores the fact her talent will keep her a force in Americana long after passing fads have died.
---
About the author:
I've actually driven from Tehatchapee to Tonopah. And I've seen Dallas from a DC-9 at night.
---