SXSW 2010 has come and gone. Over the next week I'll be sharing a few highlights of my experience. All in good fun.
Children By the Million Sing for Alex Chilton
This year's SXSW began and ended with the passing of Alex Chilton. The co-founder of Big Star was scheduled to participate in a panel discussion of the band's influential history before taking the stage Saturday night. That show was to feature the band's incarnation of the past 17 years (co-founders Chilton and Jody Stephens with Posies Ken Stringfellow and Jon Auer).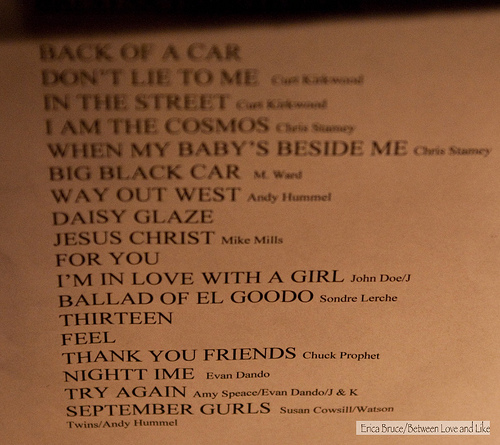 The planned performance instead became a somber but celebratory tribute. Guest vocalists from John Doe to Evan Dando to Mike Mills of R.E.M. played what was likely the band's originally planned set list. Several performers opted to sing from a microphone on the side of the stage, leaving the center stage microphone unused in a fitting tribute to the fallen hero. There was no grand finale, a gentle reminder that the loss was so recent that its true impact isn't yet felt.
Artists throughout the week incorporated Chilton's songs into their sets, many with stories of the man or his impact. Jon Dee Graham described his first paid gig, a slot opening for Chilton, before ripping through "Don't Lie to Me" while Austin soul-singer Nakia performed a touching solo piano version of "Thirteen." Musicians were clearly in awe of Chilton's legacy and equally shocked by his tragic loss. (Click here for John's coverage of the Alex Chilton tribute show.)
The Musical Themes
If I had to pick a musical theme for the year, it would be indie rock, or as a friend referred to it last year, hipster rock. If not in the minds of critics, but certainly in the minds of SXSW bookers, artists ranging from Freelance Whales, She & Him, Ben Gibbard, Surfer Blood and the xx helped the genre reclaim the pole position title.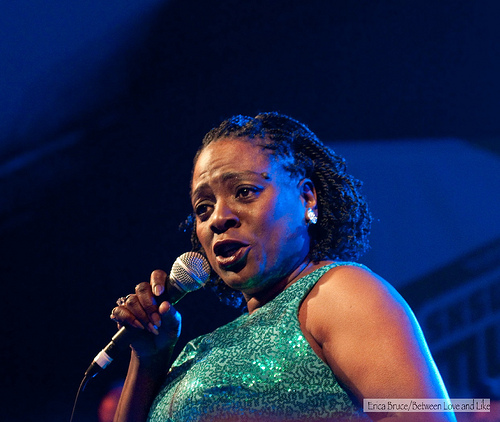 Coming in a close second was classic R&B. I skipped SXSW keynote speaker Smokey Robinson, but caught stellar sets by Sharon Jones & the Dap-Kings (pictured at left) and Raphael Saadiq. Up-starts like LA's Orgone and Austin's Akina Adderley & the Vintage Playboys were also impressive.
Finally, it was also the year of the 80's/90's comeback. Courtney Love revived Hole, Stone Temple Pilots and even the Bodeans played to the masses.
Jail Guitar Doors
One of the benefits of having nearly 2,000 artists convene for SXSW is the opportunity to catch some special one-time shows. The US launch of Jail Guitar Doors was one such event. Billy Bragg founded the organization, named after the Clash song of the same name, in Great Britain to provide instruments to prison inmates as a means of rehabilitation.
Wayne Kramer, former MC5 guitarist and himself a former prison inmate, hosted a tremendous evening of music that featured Bragg and an impressive array of musicians. Tom Morello and the Street Sweeper Social Club played the role of house band backing Mike Mills (REM) on a fiery version of CSNY's "Ohio" before, well, kicking out the jams with their own set. Other featured guests included Get Cape Wear Cape Fly, Chris Shiflett (Foo Fighters) and Lisa Kekaula (the Bellrays).
Recalling the group's origins, Bragg said, "So I said to Wayne, 'have you ever heard the song "Jail Guitar Doors?"' And Wayne said, 'yea, I'm in it.' And I felt about this tall." After a brief pause, Bragg continued, "So I was recently performing with Mick Jones and I told him the story. And he [Jones] said, 'is he in it?'"
Alejandro Escovedo & the True Believers
Alejandro Escovedo sure knows how to throw a party. The Austin musician hosts and headlines the unofficial close of SXSW each year. Escovedo always packs the small Continental Club stage with a plethora of musicians, this year supplementing his standard rock band set-up with a keyboardist, horn section and three back-up singers (including Twangville fave Nakia). The group was in fine form, treating the crowd to a healthy dose of Escovedo's forthcoming album plus several classics from his rich song catalog.
Round about 2:15am, however, came the surprise of the evening – a special four-song set from the late great True Believers. The Believers were built for power with a triple guitar threat of Alejandro, his brother Javier and Jon Dee Graham. What the set lacked in length it more than made up for in electricity as the boys ripped through four songs including personal favorite "The Rain Won't Help You When It's Over." One for the ages. (Click here for John's report on the Escovedo Extravaganza.)
Day Parties Anyone?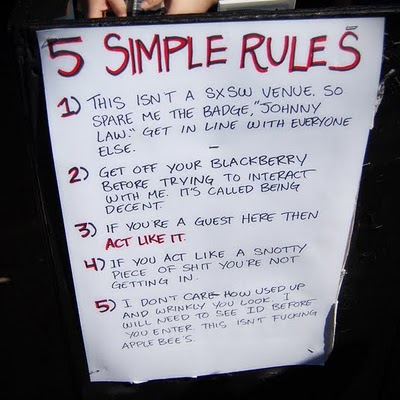 Day parties continued to grow like weeds across Austin. East Austin is emerging as the place to be, as much reflective of the neighborhoods increasing hipster vibe as its varied musical venues. Heck, even Bill Murray was spotted tending bar at an East Austin dive bar! Some of my favorite venues this year were a loft space above a Mexican restaurant, a deserted parking garage and an unused car repair garage in which the office was converted into a bar. I'll be looking for a similar set-up the next time that I bring my car in for service.
Time Management
One of the things that always impressed me about SXSW was their exceptional ability to keep to planned schedules. Coordinating nearly 2,000 artists performing 40 minute sets across 76 venues is a daunting task. And up until this year they always excelled at sticking to the schedule.
Alas, this was the year that many of the venues – or at least the venues where I happened to be – were running late, totally swamping my planned itinerary. I suppose that everyone should be entitled to an off year. Here's hoping that things get back on track next year.
The Weather
For the most part it couldn't have been better, warm and sunny. Saturday, however, it sank into the 30s. 30 degrees in Texas while the temperature hit the upper 60s in my hometown of Boston. Sometimes life just isn't fair…
Forget the BBQ

Well, maybe don't totally forget it. Nonetheless, I'm sending a hearty, if not healthy, thank you to Zone Perfect.
I try not to let food get in the way of my SXSW musical enjoyment. For the second year, the complimentary Zone Perfect bars powered me through the week.
Stay tuned for the musical highlights. Click here for complete Twangville coverage of SXSW.
Sharon Jones and Big Star set list photos courtesy of Erica Bruce/Between Love and Like and 5 Simple Rules courtesy of Little Verses. BBQ courtesy of Iron Works.
---
About the author:
Mild-mannered corporate executive by day, excitable Twangville denizen by night.
---