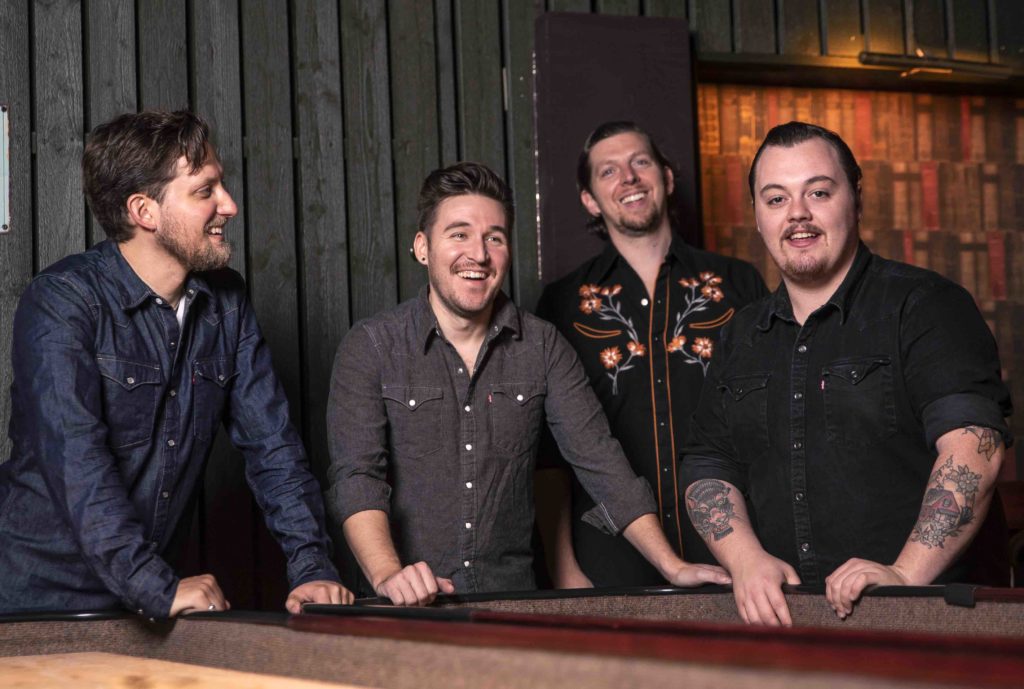 One of the great things about seeing Ward Hayden & the Outliers live is the wonderful covers that they throw into their set.  While these song choices are seemingly intended as crowd pleasers – which, of course, they are – they are also evidence that the quartet are true students of music. 
The group's encyclopedic knowledge of the songs and styles of early American country and rock & roll comes through not only in their live shows, but also in their own compositions.  One can hear echoes of the founders in their music, with Hank Williams, Elvis Presley and Chuck Berry among the touchstones to be found on their six studio albums. 
So perhaps it isn't surprising that their forthcoming Can't Judge a Book (due out August 24th) pays tribute to some of these heroes as well as some songs that they just love to play live.
One of my favorites is their take on Elvis Presley's "Viva Las Vegas".  They slow the tempo and strip out the original's Sin City glitz, transforming the song into something brooding and alluringly seedy.
Says singer Hayden about the song choice and performance:
"Viva Las Vegas" was a song I used to play even before the band came together, it was one of the songs that made me want to try writing my own music. Elvis recorded it as a rhumba and I'll never stop loving his version…or stop loving Elvis for that matter, I even got married at Graceland. Elvis' life and style and his approach to music are infinitely fascinating.
But, one thing that always hit me about Viva was how good the lyrics are to this song and that they can get overlooked with the frantic pace of the rhumba and the excitement of the song when you see it in the movie. The writer of this song, Doc Pomus, really captured something with these words and we wanted to get that message across.

Anyone who's ever had stars in their eyes, which is just about every living person, knows the feelings and emotions, the highs and lows that go along with a thrill ride. We decided to slow it down to make sure that the lyrics could translate to the listener, the imagery and the reality of the words. And the band did a great job of keeping things settled and mellow at times, then building up the tension and intensity, then dropping it all back down. We like to call it "riding the snake", the music takes you along on the journey and guides you through the story, that's the beauty of a good song. You just have to hold on and take the ride.
Catch the band on the road this fall:
Sat, August 17 – The Port Hunter – Edgartown, MA
Fri, August 23 – Dangerously Delicious Pies – Washington, DC
Sat, August 24 – Stoltz Listening Room – Easton, MD
Fri, August 30 – 3S Artspace Loading Dock Concert Series – Portsmouth, NH
Sun, September 1 – Stone Mountain Arts Center – Brownfield, ME
Fri, September 6 – City Winery Boston – Boston, MA
Wed, September 11 – Record Archive – Rochester, NY
Thurs, September 12 – Ransom Steele Tavern – Apalachin, NY
Fri, September 13 – Sportsmen's Tavern – Buffalo, NY
Sat, September 14 – Godfrey Daniels – Bethlehem, PA
Sun, September 15 – Arlo's Country Store – Union Dale, PA
Wed, September 18 – Duke's Indy – Indianapolis, IN
Thu, September 19 – Thursday Night Live – Lexington-fayette, KY
Sat, September 21 – Narrows Center For the Arts – Fall River, MA
Thu, September 26 – The Parlor Room – Northampton, MA
Sat, October 5 — One Longfellow Square — Portland, ME
Wed, November 6 – Rootsound Festival (Rocksound BCN) – Barcelona, Spain
Thu, November 7 – Rock & Blues Cafe – Zaragoza, Spain
Fri, November 8 – Loco Club – Valencia, Spain
Sat, November 9 – Cafe Berlin (Fiesta Tomo Una) – Madrid, Spain
Sun, November 10 – Little Bobby – Santander, Spain
Tue, November 12 – Lasers & Beers – Riorges, France
Wed, November 13 – La Terrasse — Craponne, France
Thu, November 14 – L Orange Bleue – Brignais, France
Fri, November 15 – Dream Valley Saloon – Unterlangenegg, Switzerland
---
About the author:
Mild-mannered corporate executive by day, excitable Twangville denizen by night.
---