If John Prine's music seduced you back in the 1970s, you probably get it, and you'll love The Tree of Forgiveness, his first album in 13 years presenting any new original music. He has released a collaboration with Mac Wiseman (Standard Songs for Average People), a couple of compilations of early music (including The Singing Mailman Delivers), a live album (In Person & On Stage), and an album of duets (For Better, Or Worse), but Fair and Square in 2005 was the last time he jotted down any lyrics that wound up getting released. Prine's devotees have enjoyed his eclectic musical gifts over many years. He got us through those awkward, pimply teenage years, matriculated with us at college, saw us through our first jobs and the births of our children, and ushered us through our midlife crises. But we've been waiting longingly to again witness that distinctive Prine writing touch, with its humor, whimsy, pathos and uncanny insight.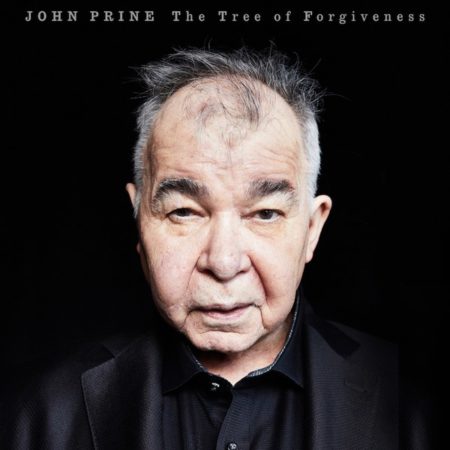 Our waiting has ended. John Prine is back and his writing is as fresh as ever though the 71-year-old artist looks as though he has been through the mill. He has. A prodigy, Prine learned to play guitar from his brother. Though he was born in Maywood, Illinois, his musical taste ran to his family's taste, and they were from Kentucky. After a stint in the Army and getting a job at the Post Office, Prine started playing his songs in Chicago folk clubs like the Earl of Old Town, where he met and befriended Steve Goodman. By the time he was 23, he had already written a passel of songs that would animate his first four albums, which started with his eponymous first album released when he was just 24.
I once wrote that if Mark Twain were a singer-songerwriter, he'd sound a lot like John Prine. The way Twain captured the American experience – the human experience – and put it into words is something Prine does in his songwriting. Sometimes his songs are hilarious – "Illegal Smile," "Dear Abby," or "Please Don't Bury Me," – and other times they're bitter – like "Sam Stone," which is about heroin addiction among Vietnam veterans, or "Six O'Clock News" about a child who finds out he was an unwanted pregnancy ("C'mon baby, spend the night with me," Prine sings in the refrain). Sometimes his songs are somber or wistful – like "Sabu Visits the Twin Cities Alone," which depicts life on the road but also captures a certain sadness about trying to regain a moment that has passed, or "Hello in There" about the loneliness of old folks, or "Angel From Montgomery," which captures the disappointment of a middle-aged woman, or "Donald and Lydia" about young people who can't find love because of personal challenges. Prine has written life. He has also lived it, with challenges in his personal life and surviving a cancer that formed on the right side of his neck.
But Prine has endured and is in fine form on The Tree of Forgiveness. I have given it several listens and am still learning something new each time. His songs are sparing. He says a lot with a few words, as he did on his more mature early works, such as Bruised Orange. He hits poignant, somber notes with "Summer's End" and "I Have Met My Love Today. His sense of whimsy is front and center in "Egg & Daughter Nite, Lincoln, Nebraska, 1967 (Crazy Bone)" and "The Lonesome Friends of Science." With guest spots from Jason Isbell, Amanda Shires and Brandi Carlile, and songwriting assists from Dan Auerbach, Pat McGlaughlin, Roger Cook and Keith Sykes, the Dave Cobb-produced album is as strong as Prine's Fair and Square in 2005. Twangville readers picked it as your selection of the week last week, and deservedly so. It's also a great listen, full of surprises.
---
About the author:
Bill Wilcox is a roots music enthusiast recently relocated from the Washington, DC area to Philadelphia, PA and back again.
---