Sugar Ray & the Bluetones have added an entertaining gem to their long list of album releases with Living Tear to Tear.   From the first notes blown through Sugar Ray Norcia's harmonica on "Rat Trap," the album is a pleasure to hear.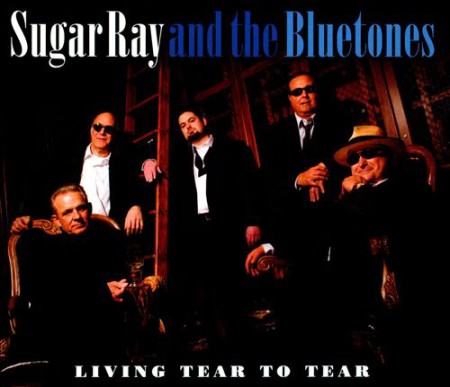 It's not surprising that harpist Sugar Ray Norcia, a former member of Roomful of Blues, is a master at his craft. Roomful of Blues, a fine outfit in its own right, has become a stamp of quality for its alumni. The lexicon of blues masters who, along with Norcia, have been affiliated with Roomful of Blues include guitarists Duke Robillard and Ronnie Earl, trumpeter/cornetist Al Basile, and pianists Al Copley and Ron Levy – all musical standouts.
Norcia, who founded the first version of the Bluetones in the late 1970s, formally became a member of Roomful of Blues in the early 1990s.  But he had been playing with those guys for years.  Ronnie Earl, who took over from Duke Robillard as lead guitar, had been one of the original Bluetones.  Norcia's decades of experience playing with great musicians ala Roomful of Blues shows on Living Tear to Tear.  The album includes a collection of original tunes written not only by Norcia but also by Bluetones Monster Mike Welch, Michael "Mudcat" Ward, and Anthony Geraci, with a couple of standards added in.  "Here We Go," which you can stream below, was written by Welch.
On Living Tear to Tear, the Bluetones' tight lineup includes  Welch on guitar, Ward on bass,  Geraci on piano, and Neil Garouvin on drums.
Audio Stream: Sugar Ray & the Bluetones, "Here We Go"

Audio clip: Adobe Flash Player (version 9 or above) is required to play this audio clip. Download the latest version here. You also need to have JavaScript enabled in your browser.
---
About the author:
Bill Wilcox is a roots music enthusiast recently relocated from the Washington, DC area to Philadelphia, PA and back again.
---