Mike Zito is an ambitious young blues rocker who brings a gritty yet soulful edge to his music. A member of Royal Southern Brotherhood (which also features Cyril Neville and Devon Allman), Zito is fast making a name for himself in the blues world.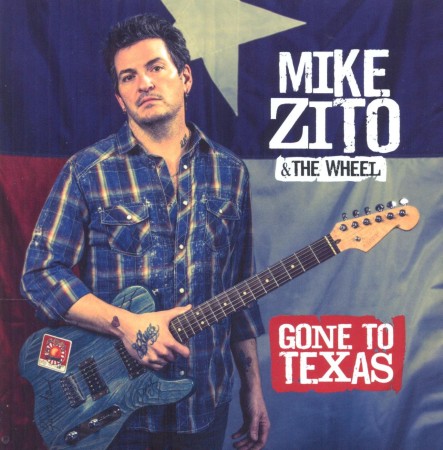 A St. Louis native now based in Beaumont, Texas, Zito is a self-taught guitar player whose career, until recent years, was largely a do-it-yourself project.  He self-released several albums, including Superman, America's Most Wanted and Slow It Down, before  gaining exposure to a wider audience in 2008 with Today, which was released on the Eclecto Groove Records label.  That was followed by the well-received Pearl River and Greyhound,  released by Eclecto in 2009 and 2011. His song "Pearl River," co-written by Cyril Neville, won the Blues Music Award for Song of the Year in 2010.  Then last year, Zito and Neville joined with Allman to form Royal Southern Brotherhood and released that band's debut album.  Zito has an easy-going demeanor, as evidenced in his laid-back instructional videos.  But his firey playing betrays the intense ambition and exacting musicianship that has made Zito one of the true rising stars in blues.
In explaining his selection of the title Gone to Texas for his first release on Ruf Records, he said Texas is where he finally came to grips with his drug addition and took hold of his life.  He borrowed the term "Gone to Texas" from an earlier generation of desperate men who had fled to Texas when it was a Mexican colony or separate nation to avoid legal or financial obligations in the states.
For the album, Zito received the services of legendary Texas blues rocker Delbert McClinton, whose vocals and harmonica are featured on "The Road Never Ends," and Sonny Landreth, who plays slide guitar on "Rainbow Bridge" (on which Susan Cowsill – yes, from those Cowsills – adds background vocals).  There are some excellent songs in this collection.  The autobiographical title song is smooth and infectious.  "Death Row" provides a gritty acoustic respite from the blues-rock flavor of the album.  "Don't Break a Leg"  and "Subtraction Blues" show Zito's ability to capture a soulful groove.  "Voices in Dallas" and "Wings of Freedom" are intimate songs about addiction and redemption.  All the songs on the album are originals except for McClinton's "Take it Easy" and Blind Willie Johnson's "Let Your Light Shine on Me," with which Zito closes the album.  The album also features Lewis Stephens on keyboards in addition to his core band, the Wheel, with Jimmy Carpenter on sax and guitars, Rob Lee on drums and Scott Sutherland on bass.
---
About the author:
Bill Wilcox is a roots music enthusiast recently relocated from the Washington, DC area to Philadelphia, PA and back again.
---