Ever since Little Village's one disappointing album in 1992, I am prepared to be underwhelmed by any new group promotors tout as a "supergroup."  There have been, of course, huge successes when music superstars were mixed and matched into new units (e.g., Crosby, Stills, Nash & Young – comprised of members from Buffalo Springfield, the Byrds and the Hollies).  But oftentimes the supergroup doesn't work – or it works for live shows, as with Little Village, but not on records, or the supergroup is viewed by the artists as merely a side project.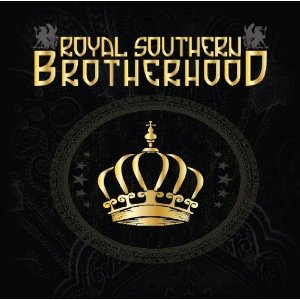 Royal Southern Brotherhood's self-titled first album triggers this same skepticism and automatic apprehension of "supergroups."   Billed as a union between two great southern music families, Cyril Neville and Devon Allman headline the group, along with rising star blues-rock guitarist Mike Zito and the rhythm section of Charlie Wooton (bass) and Yonrico Scott (drums).  Neville, a veteran R&B star first with the Meters and later of course the Neville Brothers, has been a mainstay of the New Orleans music scene since the late 1960s.  Allman (Gregg Allman's son) grew up in St. Louis and has forged his own career with his band Honeytribe.  Zito has released six albums of his own since 2006 (Pearl River, 2009, is stellar).
Despite my skepticism for "supergroup" releases, I instantly began to enjoy the throwback soul-tinged blues of Royal Southern Brotherhood from the first track, "New Horizons."  The musicianship by this group of veterans is immediately apparent.  Although multiple influences can be heard on the album, Neville Brothers soul prevails over Allman Brothers rock throughout most of the album.  Not all the songs are instantly memorable, but the consistently crisp performances make them all worthwhile.  Perhaps the best track, a cover of the Grateful Dead's "Fire on the Mountain," is pure delight and the album's only non-original composition.  "Sweet Jelly Donut," with its shout-outs to several of Neville's fellow New Orleans musicians, is great fun.  The final track, an instrumental called "Brotherhood," may be considered fill material by some critics, but it features guitarwork reminiscent of Derek Trucks' slippery slide leads, and I actually found it enjoyable.
What stands out most about Royal Southern Brotherhood is the talent in the line-up.  The self-titled debut album, although perhaps not an instant classic akin to the works of Allman's famous father and uncle, is good enough to get the band recognized among blues followers, and whet our appetites for more.
---
About the author:
Bill Wilcox is a roots music enthusiast recently relocated from the Washington, DC area to Philadelphia, PA and back again.
---