by Bill Wilcox in Alt-Country, Americana, Country, Reviews, Rockabilly
If you are looking for hot, fun country music by folks who are playing it because they love it, The Little Willies' newest release, For the Good Times, should be your destination.   A side project by several artists on separate musical paths, the best known of whom is the enchanting Norah Jones, this second album by The Little Willies is pure country (with a slightly jazzy tilt) and pure pleasure.   It takes off where the intermittent group left off after their self-titled album in 2006.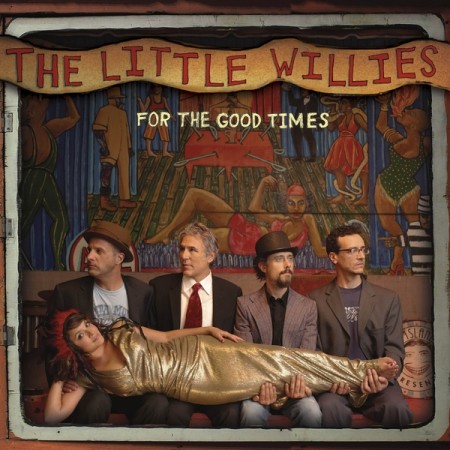 Originally formed in 2003 as a means for five friends – Jones, guitarist Jim Campilongo, singer/guitarist Richard Julian, bass player Lee Alexander and drummer Dan Reiser – to pursue their mutual interest in traditional country music, The Little Willies borrowed their name and spirit from Willie Nelson and hit a home run with their 2006 release, which included country standards along with a handful of original songs. 
 Although Norah Jones is the headliner, singer-songwriter Richard Julian and guitar virtuoso Jim Campilongo have had significant independent careers, and the musicianship by all the members is outstanding, with a bit of attitude.  Julian has a handful of well-received albums to his credit, and he splits the singing duties on The Little Willies' releases fairly evenly with Jones.  Jim Campilongo has carved out an unsual career path, initially with his band the 10  Gallon Cats and later as a solo performer, doing instrumental country and rockabilly music that incorporates elements of jazz.  Originally influenced by blues guitar legend Roy Buchanan, Campilongo has Buchanan's inventiveness along with the lightning-fast technique of a Bill Kirchen.  As a testament to his prowess among guitar enthusiasts, in 2010 Fender issued a signature Telecaster in honor of Campilongo – a reproduction of Campilongo's 1959 Telecaster.  On For the Good Times, Campilongo's Telecaster twang takes center stage on "Diesel Smoke, Dangerous Curves" and "Tommy Rockwood."
But of course, Norah Jones' presence will sell most of the albums, and that is fine.  Her vocals are sassy and superb.  Among my favorites are "Remember Me," the Scotty Wiseman song recorded by Willie Nelson on his 1975 masterpiece Red Headed Stranger, and the title tune, which was written by Kris Kristofferson.  All-in-all, For the Good Times is an excellent album, lively and rewarding.  The collective talent of the members of The Little Willies is evident on virtually every track.  
---
About the author:
Bill Wilcox is a roots music enthusiast recently relocated from the Washington, DC area to Philadelphia, PA.
---