Damon Fowler's music captures his Southern roots as well as any up-and-coming artist today. A native of Brandon, Florida, Fowler's sound encompasses swampy soul, blues, country and a measure of rockabilly. For his sixth and latest solo album, Sounds of Home, Fowler enlisted prominent Louisiana blues-rocker Tab Benoit to help produce a tasty helping of Southern-fried goodness.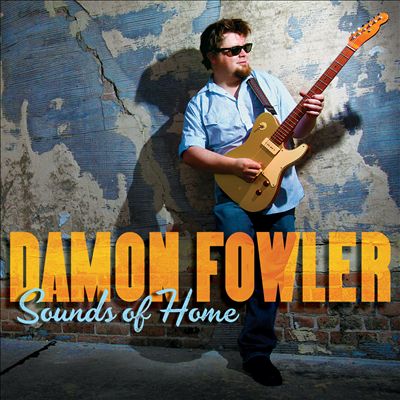 Fowler, who took up the guitar at age 12, plays in a variety of guitar styles, including lap steel and dobro, to get the slippery funky sound he is looking for in his songs. After honing his skills in clubs in the Tampa Bay area, Fowler self-released his first album, Riverview Drive, in 1999 and self-released two more albums in the earlier 2000s before signing with blues label Blind Pig to produce Sugar Shack in 2009.
Along the way, Fowler met up with fellow southerners J.P. Soars and Victor Wainwright to form Southern Hospitality, which follows a swampy gumbo recipe reminiscent of classic southern rockers Little Feat (during the Lowell George years) with a selection ranging from soul-inflected blues, to countryjazz, to straight-ahead rock. "SOHO" came about in July 2011 when the three musicians, separately performing at a music festival in Florida, had an impromptu jam session. Last March the trio released their first album together, Easy Livin'.
On Sounds of Home, Fowler once again employs his beefy guitar sound and rugged vocal talent to paint a vivid musical portrait of the South from which he hails. From the haunting opener, "Thought I Had It All," through album highlights "Spark," "Old Fools, Bar Stools and Me," "Where I Belong," and "Do It For the Love," Fowler presents a tapestry of original songs that employ superb guitar work and autobiographical details to capture his sentiments. There are three covers in the collection: Elvis Costello's "Alison," a funky take on Johnny Winter's "TV Mama," and an earnest, patient handling of the traditional "I Shall Not Be Moved." The album features vocal and tambourine contributions from Big Chief Monk Boudreaux, with James McNight on drums and Chuck Riley on bass. Fowler also shared songwriting credit on several tunes with Ed Wright and Benoit.
Audio Stream: Damon Fowler, "Spark"

Audio clip: Adobe Flash Player (version 9 or above) is required to play this audio clip. Download the latest version here. You also need to have JavaScript enabled in your browser.
---
About the author:
Bill Wilcox is a roots music enthusiast recently relocated from the Washington, DC area to Philadelphia, PA and back again.
---