Veteran blues rocker James Montgomery has put together a varied, solid collection of songs on From Detroit to the Delta.  As the album title implies, the collection ranges in styles from uptown to urban to a Delta crossroads.
Originally from Detroit but based in Boston, harmonica player and singer Montgomery has been a presence on the blues scene since the late 1960s, with the release of his band's first album – First Time Out – coming in 1973.  Montgomery has been around.  Once affiliated with Commander Cody and His Lost Planet Airmen and backup to Delbert McClinton, he also played for four years with Johnny Winter and toured with or backed a laundry list of rockers and bluesmen.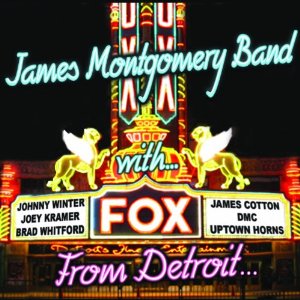 With several legendary guest artists, including Winter and James Cotton, there are some memorable tunes on the album being released this month.  The opening song, "Intoxicated,"  has an R&B flavor, as does the Willie Dixon tune that follows, "Same Thing."  "Little Johnny" features Winter playing some sizzling slide guitar, and "Who Do You Love" features rapper DMC (Darryl Matthews McDaniels) in a new twist to the classic Bo Diddley (and Doors) song.  "The Motor City is Burning" starts out with a slower blues tempo but builds to a blues-rock crescendo with horns.  Although the album is styled Detroit to the Delta, most of the tunes favor the uptempo sounds of Detroit, except for the instrumental "Rivers Edge" and the closing number, Lightnin' Hopkins' "Black Cadillac," with Cotton joining in on harmonica.
Montgomery's band is comprised of a solid group of veterans, including George McCann on guitars, David Hull on bass, and Seth Pappas on drums.
---
About the author:
Bill Wilcox is a roots music enthusiast recently relocated from the Washington, DC area to Philadelphia, PA and back again.
---