Joanne Shaw Taylor is in the vanguard of a group of driven, talented young European women who have taken on blues music – and taken no prisoners. Taylor, originally from Birmingham, England, has been playing professionally since she was a teenager (she toured with the Eurythmics' Dave Stewart's group D.U.P. when she was only 16) and took the blues world by storm in 2009 when she recorded her debut album, White Sugar, at age 23.  Playing guitar in an aggressive, no-holds barred style ala Stevie Ray Vaughan, her lightning picking was so blistering fast that audiences wondered how she managed to hold onto her pick.  Her smoky vocals projected a musical personality well beyond her years.  Now she is an established blues veteran and it is hard to believe she was virtually unknown in the United States just three years ago.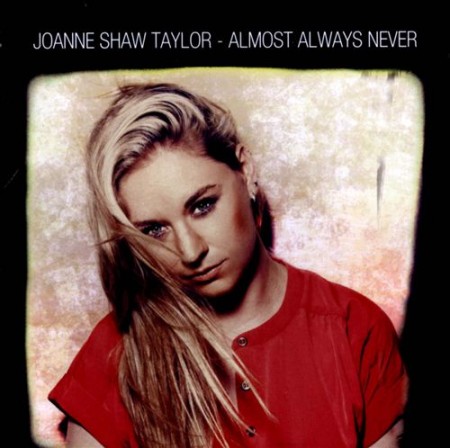 Now based in Detroit, Taylor, along with Yugoslavian-born Ana Popovic, is leading the pack of passionate European blues women, inluding Erja Lyytinen of Finland, Dani Wilde of the UK and Meena of Austria, many of whom are finding their voice with Germany's Ruf Records.
Almost Always Never is a solid follow-up record to Taylor's sophomore effort, Diamonds in the Dirt, released in 2010.  It opens with the scorching "Soul Station," which features an insane guitar solo worthy of the best blues rockers of the British Invasion.  The second tune, "Beautifully Broken," opens with a guitar riff remniscent of SRV's "Little Wing," with lots of rakes and some nice picking, but settles quickly into a soulful, melodic ode.  "Army of One" features some nice slide work by Billy White, who also plays bass on the album, and an infectious tune.  The ghostly "Standing to Fall" shows off Taylor's most haunting blues guitar playing against a backdrop of keyboards by David Garza and J.J. Johnson's drums.  The songs are all originals by Taylor except for "Piece of the Sky," which was co-authored by Kevin Bowe, and "Jealousy," by Frankie Miller.
Taylor is an impressive artist, and she is still growing.  Almost Always Never, although perhaps not the most memorable of her early work, again demonstrates her guitar and vocal prowess.  She has shown she is a master in the blues-rock and soul-blues sandbox, and she is ready to venture out into uncharted territory.  It will be fascinating to watch her career, and those of her fellow European women who have embraced the blues.
---
About the author:
Bill Wilcox is a roots music enthusiast recently relocated from the Washington, DC area to Philadelphia, PA and back again.
---