Having won three past Blues Music Awards for her saxophone playing and a trunkful of Wammies (Washington Area Music Awards) in a fertile Washington, DC blues scene that included the likes of the Nighthawks, Tom Principato, Jimmy Thackery, Cephas & Wiggins, John Jackson, and Saffire – the Uppity Blues Women, multi-instrumentalist Deanna Bogart focuses her attention on her magical piano playing and singing on her new album, Pianoland.  At times Pianoland is funky, at others it is elegant, and at others it is simply gorgeous.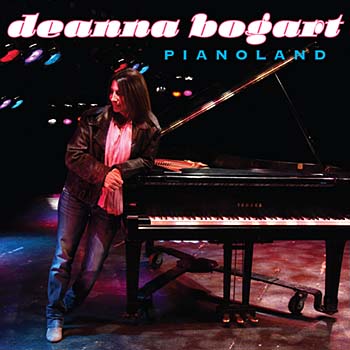 Bogart has described her music as "blusion," which "grows out of the blues … just doesn't always end there."  Born in Detroit but raised in Phoenix and New York City, she settled in the Washington, DC area where in her 20s she worked first with a western swing ensemble and then with the R&B outfit Root Boy Slim.  As she was approaching 30 in 1988 she finally got her own band together and started doing regional tours.
With her sultry voice and great touch on the piano, Bogart's music is evocative of the playing of boogie woogie blues master Marcia Ball.  However, it seems Bogart's music would be a bit more at home at an elegant jazz club while Ball's is strickly for the roadhouse or honky tonk.  In that sense, she brings to mind the great Eva Cassidy, the great Washington, DC area jazz/pop singer who died of cancer in 1996 at age 33.
Bogart's work on Pianoland features an able crew, with Scott Ambush on electric bass, Jeff Reed on upright bass, Mike Aubin on drums and Dan Leonard on guitar.  But it is Bogart's singing and playing that carries the day, beginning with her own compositions, the jazzy, upbeat "In the Rain," and the introspective "On And On And," which has a vague "Ode to Billy Joe" feel to it.  Then she really shows her piano chops on Errol Garner's instrumental "Boogie Woogie Boogie."  Her own delicate composition, "Couldn't Love You More," is gorgeous.  "Where the Well Never Runs Dry," another one of her own compositions, ends the flirtation and jumps head first into bed with jazz – and it is good, really good.  Willie Dixon's "I Love the Life I Love" steers the eclectic musical course back into the blues neighborhood of Pianoland, and it is followed by another boogie woogie cover, Pete Johnson's "Death Ray Boogie," and then by a surprising, sultry jazz rendition of Harold Arlen's "Over the Rainbow" – yes, THAT "Over the Rainbow" (but it has about as much in common with the Wizard of Oz version as Coltrane's "My Favorite Things" has with the Sound of Music).  Bogart's title number is a flowing pop tune and a great listen.  Bogart's "Blues at 11" provides a nice instrumental interlude leading into another surprising song choice, James Taylor's "Close Your Eyes," which she pulls off perfectly.
Pianoland, scheduled for release August 27, is more than just a good album, it's a really, really good album – maybe even a great album – by an engaging musical talent.
---
About the author:
Bill Wilcox is a roots music enthusiast recently relocated from the Washington, DC area to Philadelphia, PA and back again.
---