Caution:  On first listen, Cee Cee James' Blood Red Blues may blow unexpectant listeners away.  James has a great voice and, at times, can channel Janis Joplin.  And her accompanying band, including James' songwriting partner and husband, Rob "Slideboy" Andrews on slide guitar, can provide the perfect vehicle for her vocals.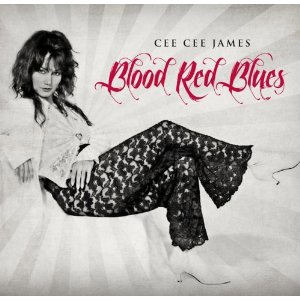 Now based in St. Louis, James spent her early childhood in Portland, Oregon but grew up mainly in Southern California.  She was a fixture in the Los Angeles music scene when her first album, Spiritually Wet, was released in 1999.  After a divorce in 2001 and the death of another partner in 2004, James relocated back to the Pacific Northwest, where she started assembling the core crew that would eventually accompany her on Blood Red Blues, her fourth solo album. 
For Blood Red Blues, James had the production talents of Grammy-winner Jim Gaines, whose production credits included John Lee Hooker, Stevie Ray Vaughan, George Thorogood, Blues Traveler and Santana albums.  The album was recorded at Gaines' Bessie Blues Studio in Tennessee.  In addition to Andrews' rhythm and slide guitar, the album features Rocky Athas on lead guitar, Chris Leighton on drums, Dan Mohler on bass and Susan Jillian on keyboards, with backing vocalists Stanley Crouse, Vicki Atkins, Danunielle Hill and Kimberlie Helton.
Cee Cee James is a soaring soulful vocalist, and the 12 original songs on Blood Red Blues provide an excellent exhibition of her substantial talent.  She can be sultry and she can rock the house.  But she also has a great band.  The slide playing on the title track, the first track on the album, sets the table perfectly for James' vocal main course.  "Let's All Get Loose" pairs James' singing with a rousing electric guitar lead.  The mellower (but still lively) "Feel My Love Come Down" again features a dialogue between James' singing and Andrews' slide guitar.  The album then ranges between sultry soul – ""Comfort of a Good Heart" – and lively rock – ""Thick Like Blood."  There is more great slide playing on "I Got A Right to Sing the Blues."  Other great songs include the eery "Wounds" and the infectious "Cover Me With Love."  The songwriting by James and Andrews is straight forward, such as the lyrics on "Walk On," decrying the human tendency to ignore misery.   There is little profound symbolism or complex imagery in the lyrics – just great singing and musicianship.  That singing and playing comes from the heart and that is what comprises James' talent.  
Blood Red Blues establishes James as a substantial talent likely to be around for a long time. 
---
About the author:
Bill Wilcox is a roots music enthusiast recently relocated from the Washington, DC area to Philadelphia, PA and back again.
---