Albert Castiglia plays a hot guitar in a traditional blues format, taking cues from generations of Chicago electric bluesmen. Echoes of Freddie and Albert King, Otis Rush and Magic Sam can be heard in Castiglia's playing, although Castiglia takes a decidedly more aggressive tack than those greats.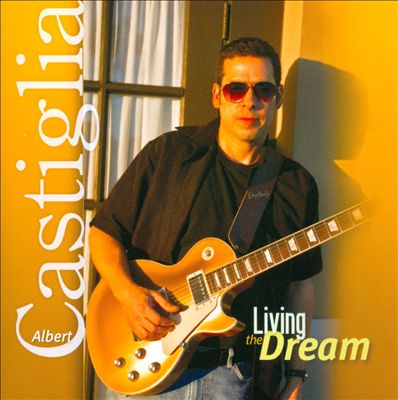 Castiglia's connection to those great Chicago artists that emerged in the 1950s and 1960s is no coincidence.  When Castiglia was a regional artist in the Miami area in the late 1990s, legendary blues harp player Junior Wells heard him and immediately hired him to be his lead guitar player.  This period playing with Junior Wells must have been a dream entree for the half Cuban, half Italian Castiglia.  Wells' pedigree went back to the 1950s, when he took over for Little Water in Muddy Waters' band.  Few artists have had the opportunity to train under one of that great generation of blues men, who pioneered the Chicago electric style and were the first generation to record extensively on"race music" labels such as Chess Records, Cobra Records and Sam Phillips' Sun Records in Memphis.  With that generation of blues musicians gradually passing away, new generations try to keep their spirit alive.  Respect for those who came before is an integral part of the blues tradition, and even those who could be viewed as blues and rock superstars – Eric Clapton, Jeff Beck, Van Morrison – along with blues mainstays – Canned Heat, Kenny Wayne Shepherd, Ronnie Earl – have seized the opportunity to play with these great bluesmen.  Yet musicians who worked in the bands and toured with that generation of disappearing blues greats, such as Roy Rogers (John Lee Hooker ), Bob Margolin (Muddy Waters), John Primer (Magic Slim) and Castiglia, have a unique perspective and the envy of their peers because of it.
On Living the Dream, his fifth solo album, Castiglia does an excellent job keeping the Chicago electric blues spirit alive.  He certainly plays a hot guitar, and after opening with three uptempo tunes – just when I began wondering "does he do anything else?" – he demonstrates his artistry on a slower electric number with a cover of the Little Richard (Richard Penniman) tune "Directly from My Heart to You" followed by a swampy back-woods acoustic number, "Sometimes You Win" by Castiglia's frequent collaborator Graham Wood Drout.  While there is a smattering of additional slower and/or acoustic numbers, Castiglia is all about seering hot guitar, from the opening title track through his covers of "Freddie's Boogie" by Freddie King and Paul Butterfield's "Lovin' Cup," to the final track, an aggressive interpretation of "Parchman's Farm" by Mose Allison.  He penned about half the numbers himself.  He's no poet ("Public Enemy #9" is about getting picked up for an open container violation – not exactly heart-rending), but the songs aren't about the lyrics, they're about the vibe and the hot guitar playing.  Castiglia is joined on the album by his regular band consisting of Bob Amsel on drums and A.J. Kelly on bass, with guest appearances by keyboardist John Ginty, blues harp player Sandy Mack, accoustic slide player Johnny Rizzo and Emedin Rivera on percussion.
Although Castiglia has a few years on whiz kid blues artists such as Shepherd, Joe Bonamassa, and Jonny Lang, he is of the same basic generation and, at 42, should still have many productive years ahead.  He plays straight-ahead contemporary electric blues, which is not a taste for everyone, but for those listeners looking for an exciting brand of blues guitar, Castiglia's Living the Dream should fill the bill.
---
About the author:
Bill Wilcox is a roots music enthusiast recently relocated from the Washington, DC area to Philadelphia, PA and back again.
---