Peter Karp and Sue Foley have developed a unique sound that seems to be a cross between country and blues – bluntry – but with a healthy dose of R&B thrown in.  Both veteran blues-roots musicians, Karp and Foley joined forces for a second combined effort, Beyond the Crossroads, reprising the teamwork that made 2010's He Said, She Said a critical success.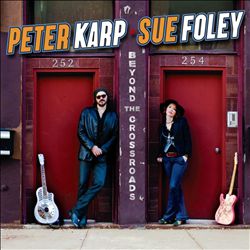 What makes the Karp/Foley collaboration such a success is the distinct styles each artist brings to the effort.  Karp, who grew up with contradiction in New Jersey and Alabama and worked in film production before reviving his music career, brings a soul-blues style into the mix, with husky vocals reminiscent of Delbert McClinton.  Foley, a native of Ottawa, Canada transplanted in Austin, Texas, has a tinge of Patsy Cline in her cleaner, softer blues vocal style. 
Both artists boasted significant solo careers prior to the Karp-Foley collaborations.   The pair reportedly first joined forces for a duet Karp intended for his 2007 Shadows and Cracks album, which wasn't used on the album.  Whatever the initial spark that launched their personal and musical relationship, we can be grateful that fate brought them together.
The offerings on Beyond the Crossroads range from the infectious, optimistic opening number "We're Gonna Make It," a reflection on how personal connections can help get through hard times, to a more traditional blues sound ala "Analyze'n Blues," yet still with a very personal touch.  The musicianship is solid on all the numbers, but it is the combination of singing styles that truly makes Beyond the Crossroads worthwhile.  This is a true collaboration, with six songs penned by Karp, three by Foley and three by both.  The title track, by Karp, features Karp's gospel-tinged vocals and is excellent.  "Fine Love," an upbeat love anthem, features the magical vocal Karp/Foley tandem, as do other highlights "At the Same Time," and "More Than I Bargained For."  The album concludes with Karp's enjoyable "You've Got a Problem," which has an interesting twist.   
Beyond the Crossroads shows that the special musical relationship established in He Said, She Said has some staying power, much to the fortune of listeners.
---
About the author:
Bill Wilcox is a roots music enthusiast recently relocated from the Washington, DC area to Philadelphia, PA and back again.
---