Someone should sit Luther Dickinson down and tell him he needs to figure out what he's going to do with his life. Still in his 30s, Dickinson laid down his first recorded guitar licks at the age of 14 on the Replacements' Pleased to Meet Me (produced by Luther's father Jim) in 1987. He established his blues chops since the mid-1990s as guitarist and lead singer for North Mississippi Allstars, a powerfully innovative blues-rock band featuring Luther, brother Cody on drums and other instruments, and bassist Chris Chew. He has established his rock prowess as lead guitarist for the Black Crowes since 2007.  He, along with his NMA cohorts, joined forces with John Medeski and Robert Randolph to record as The Word in 2001, and in 2010, along with bluesman Alvin Youngblood Hart and Squirrel Nut Zipper Jimbo Mathus, he formed the South Memphis String Band to pursue a more organic jug-band blues sound (South Memphis's second album, Old Times There … was released on the same date this May as Hambone's Meditations). In 2009, shortly after the death of his musician and producer father, Luther got together with a few friends to record Onward and Upward under the name of Luther Dickinson & the Sons of Mudboy. He has also been a frequent collaborator with numerous other artists, including John Hiatt.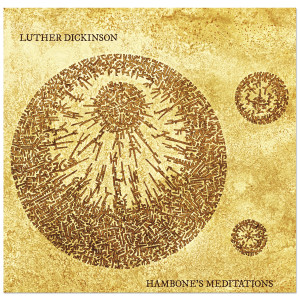 As if that all wasn't enough, Dickinson has now released Hambone's Meditations, a stripped down, purely instrumental solo acoustic effort akin to the work of John Fahey and his disciples at Takoma Records. It's a long way from Memphis to Takoma Park, Maryland, but Dickinson holds up well in the transition from blues and rock to the folk-blues playing typified by the likes of Fahey, Leo Kottke and Peter Lang (the three were featured in a nice 1974 compilation of Takoma Records' best artists).
Hambone's Meditations shows a softer side of Dickinson, well known for the hard-edged rock and blues the Black Crowes and NMAS. It was a risky experiment for Dickinson. Had he not pulled it off, critics would have seized on it as "self indulgent" or worse. He stuck his neck out. With the exception of some mandolin and steel guitar accompaniment on the album's first track, "Death Comes on Wings of Crepe," the playing is all Dickinson's, and it is all inspired. With the exceptions of the first track, which was co-written by fellow South Memphis String Band member Jimbo Mathus, and the final two tracks, Dickinson's breathtaking takes on traditional gospel medleys, all the songs were composed by Dickinson. Each of the pieces on Hambone's Meditations are outstanding, and they certainly demonstrate that Dickinson knows his way around an acoustic guitar. But the album should be listened to as a whole work to be appreciated – and to deliver the listener to another, dreamier plane.
Musical curiosity is a key part of musical genius. Dickinson has the kind of musical curiosity that sent Taj Mahal, Ry Cooder, Bela Fleck and Corey Harris to Africa to explore the roots of their music. With Dickinson, a similar well of curiosity has prompted him to explore the traditional fife and drum blues of Otha Turner (producing Turner's first album with Turner at the age of 90), to expand on the Mississippi blues on numerous excellent NMAS recordings, to plow into the gospel-tinged recordings of The Word, to create the lead-guitar edge of latter-day Black Crowes, and to explore more organic jug-band blues with South Memphis. Hambone's Meditations is another such exploration, adding to the wide variety of central work and side projects that have built Dickinson's reputation. It is a far cry from Dickinson's more aggressive recordings with NMAS (e.g., Hernando) or with the Black Crowes, and it isn't for everyone. But Hambone's Meditations is yet another example of how gifted – and restless – Dickinson is as an artist.
---
About the author:
Bill Wilcox is a roots music enthusiast recently relocated from the Washington, DC area to Philadelphia, PA and back again.
---