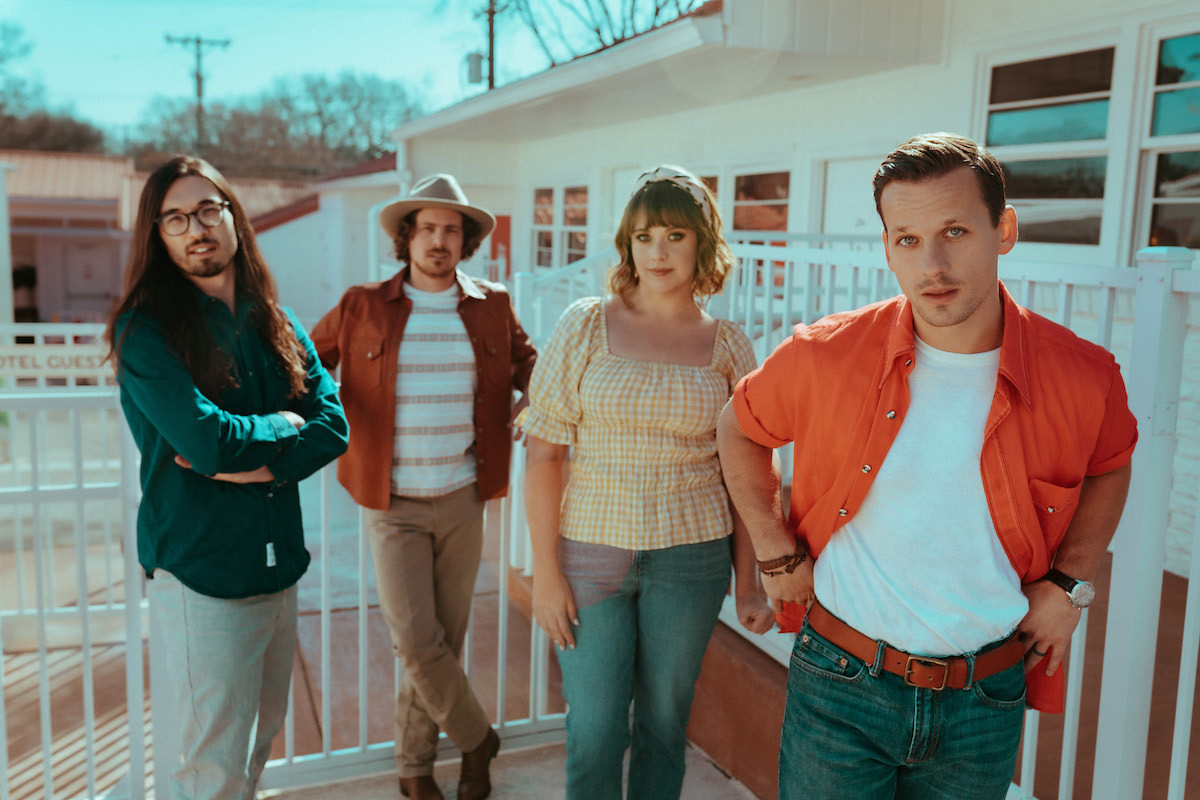 Tell us about your tour vehicle. Any notable breakdown stories?
We tour in a beat up 2014 white Chevy express 15 passenger van and trailer, with 245,000 miles. We are on our FOURTH transmission.
One of our favorite breakdown stories happened in Montana. Middle of nowhere, middle of the night, middle of January heading home from Helena, to Austin,TX on a Saturday night after a show. We had a blowout on one of our trailer tires, and by the time we realized the tire had blown, pieces of the tire were wrapped all around the axle of the trailer.
We were up under the van, trying to cut it all away without the proper equipment. Luckily, someone happened to see us there, and pull up behind us and offer to help. Hilariously, it happened to be a very kind Texan, who was also headed back to Texas from Canada. We finally got the spare tire put on our trailer, only to realize that the tire wires that wrapped around the axle had also punctured the tire next to it as well.
Thankfully, we were able to make it to the Wal-Mart in Billings, where we slept in the van until it opened so we could get a new tire. We then still had to drive all the way back to Texas. We didn't stop anywhere and spend the night on the way home, we just rotated drivers every few hours for the whole trip which is normally 30 hours when everything runs smoothly.
How do you eat cheaply and/or healthy while on tour?
It ain't easy. If we have to eat at a gas station, we try to steer clear and usually pick Subway. There are some great truck stops with pretty decent/healthy food. We usually try to eat local wherever we are, and we have a network of friends around the country who are often kind enough to cook for us.
How many strings do you break in a typical year? How much does it cost to replace them?
We don't break strings too often, because we change them relatively often to prevent it from happening, but a pack of strings is like $15 so the cost adds up.
Where do you rehearse?
We are fortunate enough to have a house we can practice in, one of our band members lives there, and it serves as the HQ for the band.
What was the title and a sample lyric from the first song that you wrote?
One of the first songs I wrote was called, "River Road." I wrote it when I was leaving home for college, saying goodbye to the Brazos River road I grew up. "Goodbye River Road, so long home."
Describe your first gig.
Our band's first gig as Blue Water Highway was actually for a tech company in Austin during SXSW, so it was actually a pretty cool environment for that to happen in. A good way to get started with a bang.
What was your last day job? What was your favorite day job?
My previous day job, before touring full time, was teaching private music lessons alongside my two other band mates, Catherine and Greg, at a studio south of Austin. It was a great job, very fulfilling to pass on the knowledge and joy of music to kids. Our fourth band mate, Kyle, was a college physics teacher with a PhD.
How has your music-related income changed over the past 5-10 years? What do you expect it to look like 5-10 years from now?
Luckily our music related income has grown over the years, as our fan base has increased and the crowds at live shows have grown larger. That is, until Covid hit. We've kept our heads above water by playing weekly online shows, creating a Patreon account, etc. Hopefully we'll be able to move on as soon as possible after the pandemic, things can go back to normal again, and we can keep touring/growing our fan base. Fingers crossed.
What one thing do you know now that you had wished you knew when you started your career in music?
I was naive enough to think that the music business was all about the quality of the music. That is absolutely not the case, and this lesson was learned very quickly. That being said, being the best artists and entertainers we can be, maintaining that quality of our music is still our main priority, and always will be.