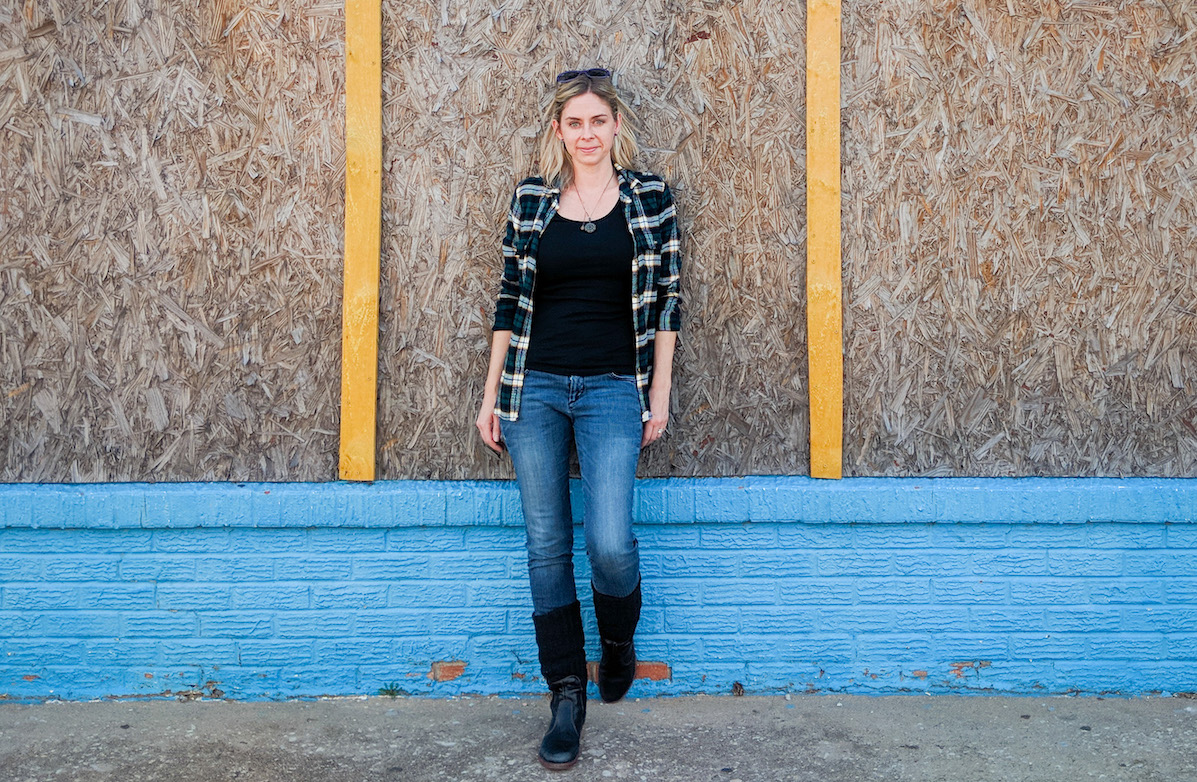 Tell us about your tour vehicle. Any notable breakdown stories?
Oh man. I love this question already. In the U.S., I toured for years in my 2005 Honda CR-V, mostly as a duo but sometimes we would tour as the full band if the venue had backlined drums and amps. I put over 200,000 miles on that car. Her name was Charlotte, and I was so sad when she finally gave up the ghost.
In Europe, we had an old van named Mercurio. I could write a book on our adventures with Mercurio. It was 15 years old and pretty beat up when we bought it, just before our 2015 tour which took us all over Europe, from the southernmost part of Sicily all the way to far north Denmark. We named him Mercurio because he was silver, and because the god Mercury was the protector of travelers, and because, well, he was pretty mercurial.
Mostly he was amazing, but a few times we found ourselves in pretty dire straits. One time we overloaded him so badly, we broke a spring. We had to drive through the Alps in the snow with no heat. Rip (my husband and the drummer in our band) learned to do a ton of work on that car over the years — he's incredibly handy — but a couple of times we were sure we had reached the end of the line with Merc. I remember in July 2019, it seemed like the turbo went out on us in the middle of nowhere Italy — it was hot as blazes but we had to keep the A/C off to conserve power. We ended up driving hundreds of kilometers on the highway at about 45 mph until we made it to the town where our next gig was. Usually mechanics are closed on Saturday in Italy (especially in the summer when everyone's on holiday), but we found one that was open on Saturday morning, and the guy bumped us to the head of the line. After pawing through an enormous box of random parts, he found a replacement sensor and changed it for us for a grand total of 50€. He saved us, I don't know, probably a thousand euros in rental car costs and hotels and lost gigs and I don't know what else. Protector of travelers for sure.
Another time, after that super-long tour from Italy to Denmark and back again, we were making the final push, driving from Hamburg, Germany to Lucca, Italy in one long stretch. It was a 16-hour drive, but we were making good time and were scheduled to get to Lucca by midnight, which felt like a win. We stopped at an Autogrill outside of Verona to fuel up, and somehow, due to a freak electrical short, the keys got locked in the van while we were fueling. It was 10 p.m. on a Sunday night, and we were seriously boned. After exploring all of our options, none of which were good, we ended up borrowing a hammer from the gas station attendant and busting out the passenger window while fellow travelers looked on agape. We managed to seal it up with a few garbage bags and a metric ton of duct tape and finished the drive with that plastic bag shrieking and flapping in my ear, bundled up in our winter coats because it was cold and windy outside. We laugh about it now, but my goodness, at the time we were so pissed. When we sold Mercurio last year, we were *still* finding glass in the passenger compartment five years later. We parted ways with him in March 2020, just days before Italy went into a national lockdown. I nearly cried. It was definitely the end of an era; that was our tour van, and the world went into lockdown, and we haven't toured since.
How do you eat cheaply and/or healthy while on tour?
We carry a "food box" full of things like cereal, peanut butter, dried fruit, etc. If it's a really long tour, we'll even bring things like olive oil, salt/pepper, etc. so that if we're in any place for more than a night, we can do some shopping and cook actual meals (assuming we're staying in an Airbnb or something like that). We also have a small cooler where we keep things like yogurt or hummus. I'm one of those people who is always hungry, so I like to have little healthy snacks on hand so that I don't get hangry.
How many strings do you break in a typical year? How much does it cost to replace them?
Now that I rarely play in alternate tuning, I almost never break strings. I use Elixirs, which are pricey (I think around $15/pack), but I only change them one or two times a year. I fully confess that I'm a slacker when it comes to changing strings, and I will push them as long as possible. I used to break the G string frequently, which is always such a bah-da-ching moment – "Hey, look y'all, I broke my G string!"
Where do you rehearse? Any interesting stories about the space?
In the U.S., our rehearsal space is our recording studio; nothing unusual really there. In Italy, we've rehearsed in a variety of places, usually small underground garages and whatnot. We used to rent a rehearsal space at this place that doubled as a youth "school of rock" / dance academy. It was so grimy and every single piece of equipment was broken or damaged, the tweeters were all shot in the PA speakers — it was a mess and a half. But it was super cheap!
What was the title and a sample lyric from the first song that you wrote?
Oh Lord… I think the first song I ever finished was called "The Piazza Song." Anyone who knows me at all knows about my deep and abiding love for Italy. I wrote that song in August 2001 while living in a tiny hilltown in Tuscany. I'd had a guitar for years, throughout college, but never really dedicated myself to learning to play more than a few covers. In 2001, I was doing a work-exchange program at a study abroad university in that small town, and that August, when the school closed for the summer break, I stayed behind because I didn't have any money to travel. I was living mostly by myself in an old convent, alone for almost the entire month, and it was hot as blazes outside. To pass the time, I read a lot, wrote a lot, and finally started playing guitar and writing songs of my own. That song was about how much I loved the town where I was and how desperately I wanted to share it with my loved ones back home. It was simple and sweet and sappy. I ended up releasing it on an EP called Mirabilandia that is, thankfully, not in circulation. 🙂
I've been living this foreign life / and I've been wondering if what I am doing here is right / and I always thought that I would know / when it was time to go but now I am not so sure… but how I'd love to have you here / during this, my favorite time of year / we could watch the leaves change and the snow fall down in the valley / after the November rains
Describe your first gig.
Hmmm. I think I have probably blocked out my first gig. 🙂 I played a lot of open mics that were terrifying (I used to have very bad stage fright, and even now I have to remind myself sometimes that I'm-going-to-be-okay). I have played some truly awful gigs, though. When I began playing live nearly 20 years ago, I had a recurring gig at a coffee shop/bar in Houston that went from 8 p.m. to midnight. The place was always packed, and my little PA system could not handle the noise level in that room. I sang myself hoarse every time I played there, and the room was always thick with cigarette smoke; I would go home absolutely reeking, and the next day I'd take my guitar out of the case and a blast of stale smoke would come rushing out. So gross. The pay was $50 and I got half off food (no free drinks either), and people were always badgering me to play their favorite covers (and thinking they were original in doing so). It was basically a paid rehearsal. So many gigs are like that – they pay, but playing those kinds of rooms chips away at your soul little by little (it does for me, anyway). I always try to evaluate whether the juice is worth the squeeze when it comes to a gig; it's hard to say no to a paid gig, but some of them are just too demoralizing in the long run.
What was your last day job? What was your favorite day job?
Man, I have had a really random collection of day jobs. I used to work in the oil and gas industry, I've waited tables, I have managed (and owned) a coffee shop, and I really loved doing that. I love interacting with people, and I am passionate about coffee, so that was a lot of fun. That was my last full-time job; music has been my full-time job for more than a decade (which is to say that I put in way more than 50 hours a week, far more if I'm on tour) but even so, I have other small jobs that I work seasonally. I like having something else to do that is rewarding in its own way and has nothing to do with my identity as a musician. It's nice to get "back-scratches" from other aspects of your life, especially when music is rewarding on an emotional level but not on a financial level.
How has your music-related income changed over the past 5-10 years? What do you expect it to look like 5-10 years from now?
Honestly, it's gone down, even though I have more fans and more listeners than I did 10 years ago. We tour more and play better venues, and we sell merch at shows, but we don't sell as much as we once did. The only caveat to that is when I open for larger artists at good venues, and the audience is a certain demographic (I'd say between 40-60 years old), then sales are fantastic.
I think that's a function of a few things. By and large, these listeners are not into streaming. They are old-school music lovers and they are still interested in physical products — CDs or vinyl. Plus this demographic has more disposable income. If I could play only small theaters from here on out, I could probably survive on the money I make from touring and making records, but at the moment, that's not where we're at, and I lose money on most records, even taking into account the crowdfunding we do. The money we raise from crowdfunding generally covers recording costs and manufacturing costs, but nothing beyond that — radio, publicity, etc.
What one thing do you know now that you had wished you knew when you started your career in music?
I wish someone had forced me to take a class in the administration side of things. Choosing the right PRO, figuring out how to set up your own publishing company, etc. — all of that stuff can be such a mess if you don't set it up correctly from the outset. I know I've left money on the table because I had no idea how to collect royalties. It's all a lot of minutiae that is incredibly complex and overwhelming, and I think a lot of young musicians have no idea what they're getting into. It feels like one of those aspects of the business that you can handwave away when you are young, but looking back now, I really wish I had understood how the system worked before I got started.