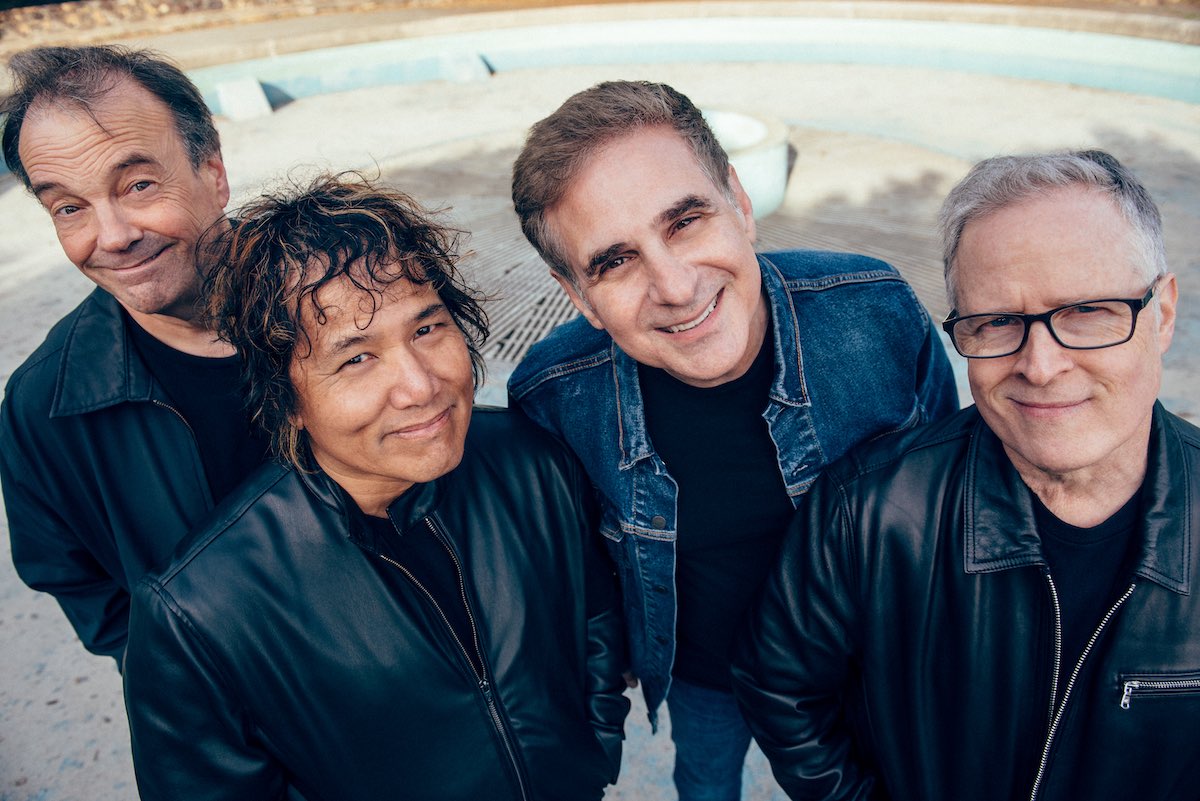 Tell us about your tour vehicle. Any notable breakdown stories?
Well, our band The Rubinoos has been playing since 1970, so there have been a lot of vehicles. Since 2000, most of our touring has been in Spain, where our main man Jonathan Vidal takes us from town to town in a Mercedes Sprinter van called The Blue Whale.
Back in the late 70s we did about 15,000 miles in a Winnebago while following Elvis Costello to 56 U.S. cities on the Armed Forces Tour. I hate to think what kind of mileage we were getting! It was nice to have a bunk to curl up on for the long rides.
Right before Covid-19 put a damper on everybody's tour schedules, we rented a Dodge Caravan to play our way from Los Angeles to Seattle. Sweet ride, no breakdowns!
How do you eat cheaply and/or healthy while on tour?
Who said we eat cheaply? Don't you believe it! It's kind of weird, because I'm a vegetarian, but our bass player insists on eating Pork Rinds on the road. Vive La Difference! When we're in Spain we do frequent the falafel places. Also, we dine at the Autogrill while filling the tank. Much Spanish Tortilla, fresh orange juice, and espresso. Don't forget Patatas Bravas!
I made 2 towers from empty Dannon yogurt containers in our road manager's kitchen one time. I was just trying to help him clean out his fridge. After that, we started staying in a hotel instead of his place. Don't know if those facts are related.
How many strings do you break in a typical year? How much does it cost to replace them?
I break about 6 strings per show, because I usually rip them all off of my guitar for the last song. (Not kidding!) Not sure how many that is per year. 6 times something!
Where do you rehearse?
Like so many bands, we started out rehearsing in a garage. The neighbors were pretty tolerant, although we did get a visit one time from a policeman who told us that our "impedance was too high". From there we moved on to our new drummer Donn's mom's house, and after a few years there, we moved on to our bass player Royse's parent's house. I have to say, I didn't fully appreciate how tolerant Donn's and Royse's parents (and the neighbors!) were. I can't imagine having a loud bunch of teenagers blasting away in the basement 5 days a week. I'm sure a lot of our fellow musician's out there have similar stories. Let's hear it for all those tolerant moms and dads!
These days we rehearse at a place called Ice House Recording in San Rafael, California. It's run by an amazing guitar player named Tal Morris. The room is very nice with a good P.A./monitor system. Tal also provides us with guitar amps and drums when we're too lazy to bring our own.
What was the title and a sample lyric from the first song that you wrote?
The title of my first song was "You Turned Your Back On Me". I was 7 years old, the name of the band I had with my brother was The Atmospheres. We had a cardboard box for a snare drum, and another box with a tambourine on it for a cymbal. You whack that box hard and the tambourine jumps. That's the secret sound. The lyrics were (actually, they still are, I have made no changes!):
You turned your back on my last night, oh yes you did
Oh please don't do that, or else come back to me
Ah-ah-ah-ah, I wanna be your man, let me hold your hand
Yeah yours, yeah yours, yeah yours
Dang, two Beatles titles crammed into one verse! The song was only about 30 seconds long, but that was before F.M. radio and album rock.
The chord progression was whatever chord you want to call "regular tuning" on guitar being strummed with a continuous stream of open string eighth notes. I don't think we'd noticed the whole thing with frets yet.
Describe your first gig.
We put The Rubinoos together in 1970 to play at our high school hop (The Bay High Hop.) We were playing all oldies, like Peppermint Twist, The Locomotion, Great Balls Of Fire, Let's Twist Again…..
Come to think of it, can you call it a gig when you're not being paid? Our first paying gig was at Fort Bragg and the pay was $80. It was about a 6 hour round trip. Since we didn't drive yet, we had to rope our friend Chaz into driving us in Jon's dad's car. I think we played for 2 hours in a gymnasium. But hey, it was a gig!
What was your last day job? What was your favorite day job?
My day job is doing production work in my basement studio. Other than being in The Rubinoos, it's my favorite job. Every day it's something new. I do tracks for singer songwriters, mainly guitars, background vocals, keyboards, whatever I can talk them into letting me play. I occasionally turn in a horn section consisting of me on trumpet, alto sax, and tenor sax. I always warn them about how foul I am before taking the gig, though! I wouldn't wish my horn sound on anyone, but I am up for the challenge!
How has your music-related income changed over the past 5-10 years? What do you expect it to look like 5-10 years from now?
I've been lucky with the production work. It has kind of snowballed just by word of mouth for the last 20 years. No complaints, it's a living!
What one thing do you know now that you had wished you knew when you started your career in music?
I think the biggest thing I've learned is the importance of pre-production. When we started out, we'd rehearse 5 days a week and play out on weekends. So, when it came time to record, we'd been rehearsing and playing the songs in front of audiences for a good while. Better to work out the kinks in the practice room than in the studio!