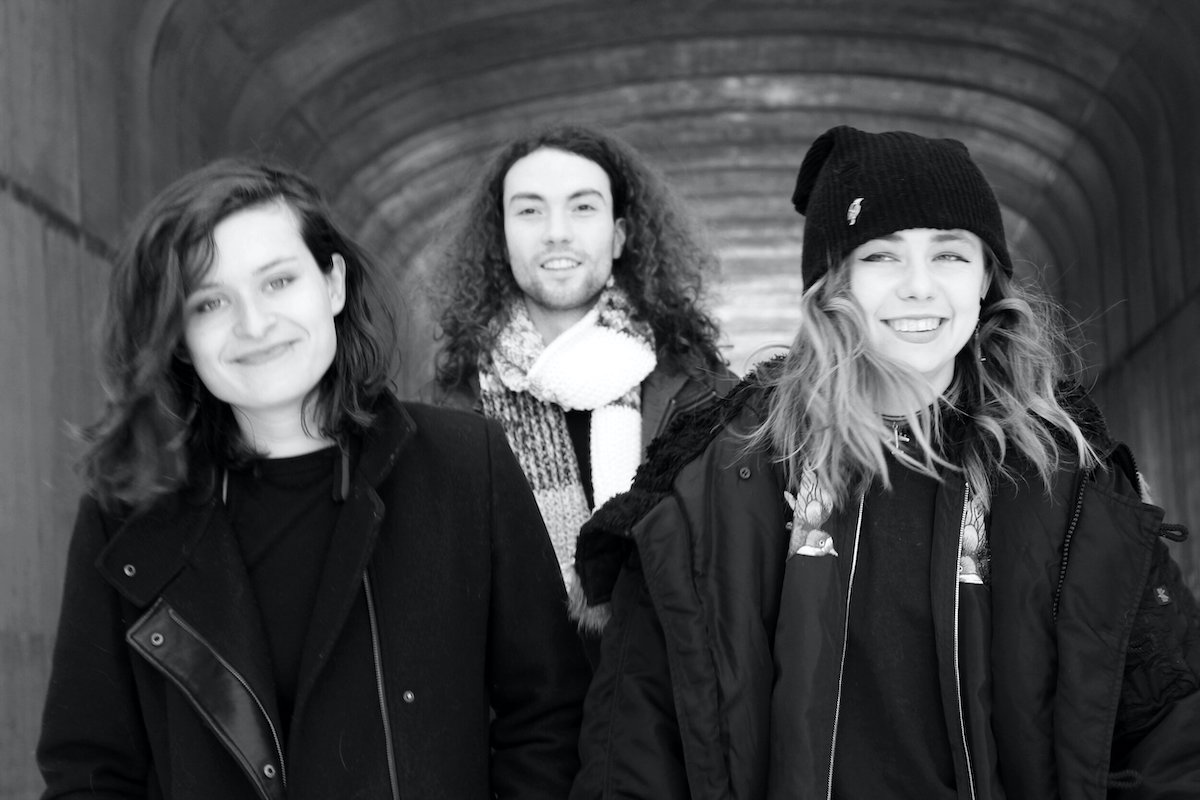 Tell us about your tour vehicle. Any notable breakdown stories?
Sav Buist: Well, we usually tour 200+ shows a year with our own consoles, instruments, pedal boards, monitor systems, lights etc. So buckle up…we are on our fourth touring vehicle and our fifth trailer. Most recently, we were driving a Ford van with a brand new engine and brand new trailer with all new gear after ours was stolen, and replaced. Then, someone missed the stop sign and t-boned the side of our van: sending van, new engine, new gear, and new trailer over an embankment on a two-lane highway.
In true Accidentals fashion, we hooked up a used trailer from the salvage lot to Sav's Expedition and finished the last 17 shows before Covid hit. We're currently without a ride.
We have, hands-down, some of the wildest breakdown stories. There's the one from top of the mountain in Vail CO at 1am – the transmission overheated and shut down everything, and left us sitting in the dark in a black van and black trailer without lights of any kind, 18-wheelers flying by, unable to see us.
We had to get a flatbed trailer and pile all six of us (band and crew) in the cab to get a tow down the mountain to Denver at 3am. The tow driver decided to drop the van at a dealer that could fix it and their security cameras thought we were stealing our own trailer, so the police ended up coming and surrounding us and the tow truck. After explaining that we definitely weren't stealing our own trailer, we gave them some CDs, and they took us to our host home. My favorite Doc Martins are still in the cab of that tow truck somewhere.
Katie Larson: One time, we were coming off the mountain from Colorado to California and we lost the brake line between the trailer and the van, and the 5000lb trailer rode the van brakes until they overheated and quit working entirely. We had to take one of those 18-wheeler off-ramps filled with gravel to stop the freefall and avoid hitting a solid wall of mountain. Everyone was awake after that, and it took a bit to extricate ourselves (including trailer full of gear) out of three feet of gravel (that was close). We limped into LA and found a mechanic who swapped us a new brake line for some merchandise for his kid. That guy saved our lives, as later that day we found ourselves traversing the inside wall of a dormant volcano with no guard rails. That's a whole other story.
Sav: My personal fav was when we were in Oregon and we pulled off the highway to see where Twin Peaks was filmed on our way to Salt Lake City UT. While we were coming around a curve, the tow bar on the trailer just broke in half, and we skidded into (Brandon's) front lawn at 8pm. The trailer was too heavy to lift and still sitting half in the road bend, so Brandon, a good samaritan wearing only flower-print shorts (whose front lawn we had just destroyed) called a friend and rounded up his "cherry picker." Once again, a flatbed truck showed up to tow us to a junkyard, where said trailer still resides.
The next morning we bought a brand new, bigger trailer, with a good hitch and braking system for a "great deal" more than we would have paid anywhere else in the US. We had to load all of the gear out of the trailer sitting at a 90-degree angle in the junkyard, and carry it through a foot of mud and chain link fence to the new trailer. The motel we stayed in that night was among one of the most colorful experiences of our touring career.
How do you eat cheaply and/or healthy while on tour?
Katie: We have a band game called "under 20" where we go into a Whole Foods and fill a bag with tour food. Whoever gets the most food for the least amount of money wins, and you can't go over $20. This is serious competition.
Sav: We also stay with some of the most amazing host families a band could ever hope for, and they make sure we don't go hungry. We always look forward to playing Chicago, Fort Wayne, and Denver, because our host families make cookies or cakes EVERY TIME. …Okay, well maybe that isn't super healthy…but it nourishes the soul. Our Patreon FAM and the FAMgrove send us gift cards for Panera and Whole Foods, and batteries and grocery cards stand in place of alcohol on the riders. Also, that rider hospitality is super healthy, and it doesn't go to waste. We gladly take it with us when we travel.
How many strings do you break in a typical year?
Sav: We're The Accidentals… We carry $1500 a year worth of insurance on the gear alone. A couple years ago, we were playing an outdoor show on a huge collapsible stage, at a festival, when the audience (2000+) just left. They just got up, started packing up, and left. We were like "??? Do we sound that bad?"
After a few moments of serious self-doubt, the promoter jumped on the stage and grabbed a mic and told everyone that was left to take immediate cover. Behind us, past the stage wall, was a huge green tornado coming directly at us. We had $30,000 worth of gear out there and most of it got left right where it was (aside from the console Evan was trying to cover with his body) as we hunkered down in our van squished between two tour busses while the world blew up. Needless to say, most of that had to be replaced before our show at SXSW in three days (including the console).
Katie: Then there was that one time when Sav's custom violins – the electric and the acoustic – were in a double case together, and the trailer ran over it in the dark. That was pretty devastating.
Did we mention Michael's drums getting swapped out backstage at SXSW? And never getting swapped back? Yeah. It's brutal out there.
How much does it cost to replace them?
Sav: This is the point in the show where we just go all teary -eyed. We have the most incredible sponsors. Shure Microphones have saved our ears and our livelihood more times than we can count. They are our heroes. Roland/Boss, Takamine, NS Design, Liquid Violins, Knudsen Violins, SKB Cases, LR Baggs, Dream Cymbals, D'Addario, Allen and Heath, Mark Schwartz Violins, and Fender all sponsor us. They have moved mountains to keep us relevant when things go south. They have replaced gear, hosted us, hired us, and supported us for years. We owe them. Go buy their products, please.
Katie: What they haven't covered, our FAM base has taken care of. We're still out here because of them. We're not sure what travel looks like after COVID, our van deal fell through with our 200+ shows, but we don't doubt the universe will see to it. We've still got some tour life left.
Where do you rehearse?
Sav: Rehearsal? Who has time for that? (Kidding…)
When we start a new album cycle, we hold rehearsals for a couple of weeks with Evan, our Front of House Engineer. We have used spaces like a moldy basement, a hot attic, a cold warehouse, this great empty venue called The Williamsburg Theater that the owner let us borrow; a house that was on AirBnB in our hometown that the owner traded a week for a charity show; Soundcheck in Nashville; and studios across the US with the occasional in-van rehearsal. In this business, it's feast or famine. So based on what's being served, you might have a warm, dry place to rehearse, or wing it with whatever space is available where you are. We've gotten pretty good at winging it.
Katie: I think our favorite rehearsal space story might be at Soundcheck in Nashville. We were trying to nail down the Odyssey Album live show, and Sony set us up at Soundcheck in Nashville in a gorgeous space with all the bells and whistles. It took us a full minute to figure out how to fire up the power. Later in the week, we were putting in 13 hour days and were deep into the stage show when suddenly food started arriving. Huge trays of fruit and cheese and sandwiches – amazing, beautiful catered food, ice buckets filled with drinks – just an amazing array of goodness. We'd been running into Country Music superstars all week in the halls of Soundcheck, so we were sure the food was intended for one of the other rehearsal spaces, and we were afraid to eat it…but it looked soooo good, and we were starving. We were about to go door to door to find the owner when we got a call from a friend of ours who was working makeup for a video shoot with a MAJOR Country music artist. They had wrapped up before the food arrived, so she asked if she could reroute it to us and he said, "Sure." We invited all the Soundcheck techs to join us for the feast. That's Nashville.
What was the title and a sample lyric from the first song that you wrote?
Sav: Oh boy. This is really taking it back…I wrote my first song when I was 16 years old. In fact, the first five songs I ever wrote all appear on the very first album we ever made together, back when we were called ourselves The Treehuggers. The album is called Tangled Red and Blue.
The VERY first song I ever wrote was called "Eye to Eye", and it was just a big sappy "I love you" to all the people who were and are special to me. One of the first lines is "The scorching sun melted the glue in your car / The felt couldn't stand it, it all fell apart / but you pinned it up in the shapes of the stars…"
That's based on a true story. When my dad (a musician himself) was living in Texas, it got so hot in his car that he had to use thumbtacks to pin the felt back to the ceiling, and he got creative with it and created constellations out of thumbtacks.
That line is immediately followed by "You say bay-gels like bag-els," so there's…there's hits, and there's misses. Haha.
Katie: The Band-Aid song: "You evil Band-Aid you are a jerk / You made it better then you made it hurt / You promised me that I'd get well / That's just a lie, you can go to hell"
Describe your first gig.
Sav: It was in the basement of a bookstore. Bookstore gigs are still our favorite – right up there with vinyl shops and thrift stores. They told us we had to play all original material if we wanted to play there, so we wrote the Tangled Red and Blue Album that week and performed it for the very first time that weekend. We played guitar, ukulele, violin and cello. There were probably 30 people there, reading books, drinking coffee and listening to the music. Pretty sure the tips went to our science teacher so he could finally get a pet jellyfish for the classroom. Honestly? A great way to spend your tips, and we'd do it again.
What was your last day job? What was your favorite day job?
Sav: Katie and I became business owners at 16 and 17. We started playing music while we were in high school, and landed a production deal when we were 18. We started touring full time that year at about 80 shows. I remember when we thought that was a lot.
We hit the 200+ shows a year mark in 2015, and kept going. Michael joined us on drums after the Bittersweet Album came out in 2013. It's been full tilt for six years. We signed a major label deal when we were 21 and haven't looked back.
That's not to say we don't have a day job. When we are not on the road, we really do run a business. We design and order and count merch; we create and edit videos; we teach workshops, do session work, and coordinate the schedule for the year; we run our own social media; we host a podcast, write tour blogs, host trivia nights and deep album dives on Patreon; write, record, plan album releases and make sure everyone gets paid for the time they put in. We've become pretty good problem solvers.
How has your music-related income changed over the past 5-10 years?
Katie: Every year the touring has amped up as our Fam base has grown. The asking price for a show is really attached to how many people will come. We've steadily grown our base and our asking price. As your base grows and your asking price grows, your overhead grows. We were told early on not to expect to make money for the first 8-10 years. To break even was the goal. We've done that, and we're about 8 years in, so…it's about time 🙂
What do you expect it to look like 5-10 years from now?
Sav: It's hard to say how we'll recover from COVID and what the next couple years will look like in the touring department. There's a bit of a bottle neck happening in the live show world, and where album releases are concerned. Fewer venues, and lots of bands that have been waiting to get back to work…it's going to be tricky for a while. We are lucky to have a killer booking agency/agent that has stayed relevant this last year and looked out for us.
We are hopeful that there will be a new appreciation for the arts. Absence makes the heart grow fonder, and all that. Seeing full venues would be the goal.
Katie: We have definitely seen the decline of CD sales, so unless streaming platforms figure out better ways to take care of indie artists, we're in trouble. There are a lot of hoops to jump through in this business to get paid. As writers, we often have to pay people to chase down the money. As musicians, everyone gets a cut before we do. We're not bitter about this as much as we are hopeful that as we go forward, technology will demand a better, more accessible accounting. Can you think of a memory, story, show, movie, that doesn't come with a song, a melody? Music is an emotion. We need music. We need to make music. The industry is going to have to see music as an essential commodity, and balance taking care of the creator with making a profit. There's room for both if we don't get greedy and truly want to work together for everyone's benefit.
What one thing do you know now that you had wished you knew when you started your career in music?
Sav: One thing I know now that I wish I had known then was that it's okay to spend a little bit more time on things, and it's okay to stay in one spot. I am someone who struggles with patience, and I surge through life at a really fast pace. And while that can make you really efficient and good at your job, after a while you start to notice that you haven't been living in the moment. The details of the days start to slip away. You take it for granted. You stop writing it down.
Nowadays I don't judge anything that I choose to put to paper; I don't worry about getting to the next place. I know that there's a time and space for everything, and sometimes where you are is exactly where you need to be. Less worrying, more living, more self-forgiving.
Katie: Learning to slow down has been a real eye opener. On the road we were constantly forced to reckon with our physical health – staying safe, taking care of our bodies, limiting ourselves to one midnight Taco Bell run per tour. Off the road, mental health is a lot harder to control. I used to think success would come if I pushed hard enough, but I've learned that the best music comes from a healthy headspace. Practicing gratitude, making goals, and being a support system for each other has helped a lot.