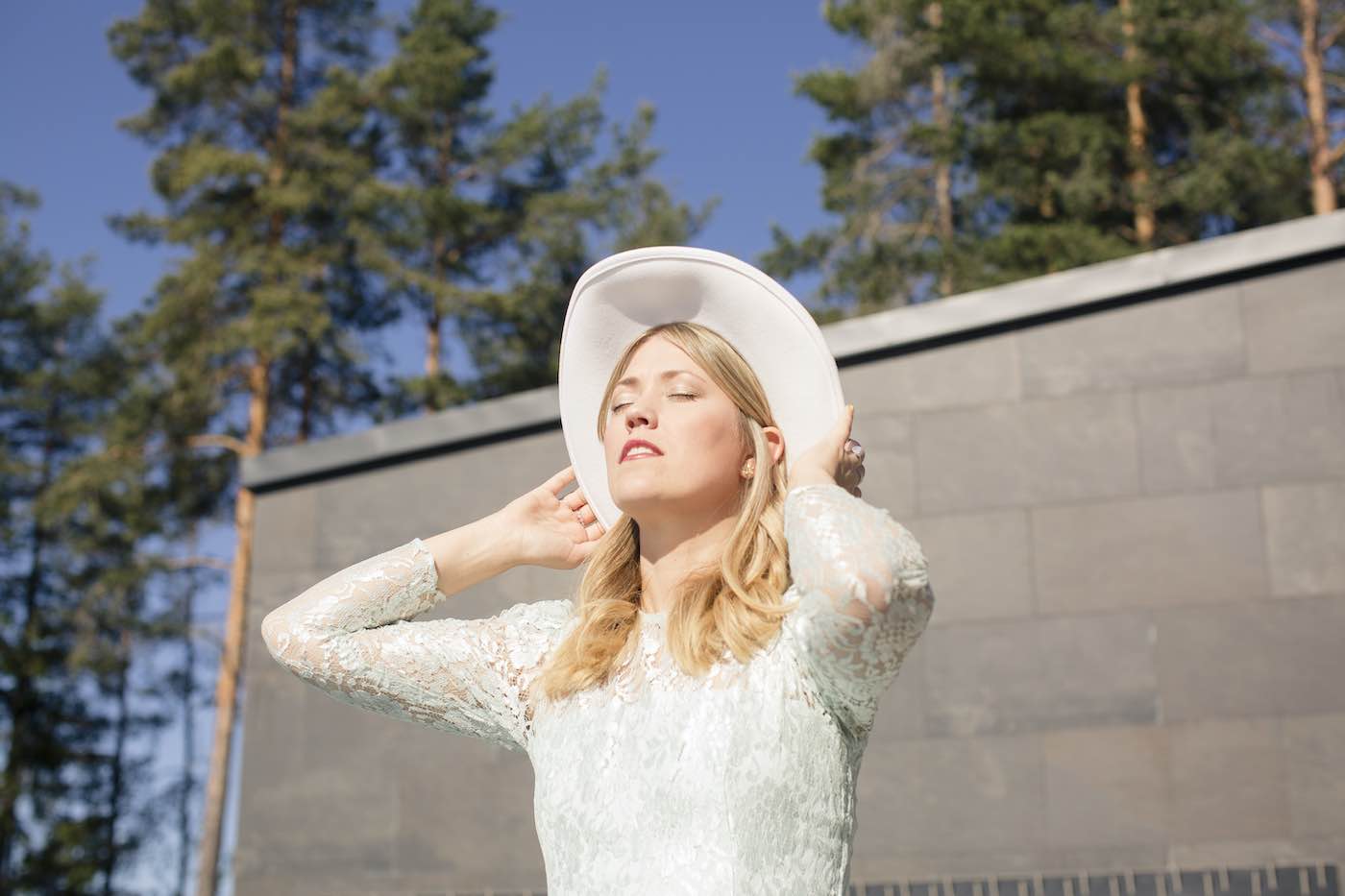 Tell us about your tour vehicle.
I can't drive, so I've never owned a car. I know this is shocking to a lot of musicians and Americans! But our bass player used to have this sweet Toyota Hiace that was fit for every fight. Her name was "Bodil" I think. We are lucky because we can travel by train almost all over Norway and it's super sweet. So now we only rent a car if we need one and try to think about the environment when we travel here at home.
How do you eat cheaply and/or healthy while on tour?
Well, we don't. It's hard to find healthy food along the roads in Norway! So our diet while we're driving is often coffee from the nearest gas station and whatever they have on the menu, or whatever is being served on the train. But I've started making my own lunch and bringing it with me, and some venues are really helpful and bring us food made by the locals. That is the best! One good thing in Norway is the cheeses and local goodies you'll pick up and bring home. One year we even played at a goat cheese festival. YUM!
How many strings do you break in a typical year? How much does it cost to replace them?
I have no idea. I just keep the receipts and make sure I can write it off on my taxes.
Where do you rehearse?
The one that we've got now is brand NEW! That is the greatest feeling. Newly painted, new furniture (some hand me downs) and just ours. And we've got enough space for all our equipment. The last one we rented was a run down shit hole. I had to stand while peeing cause it was just nasty and I was afraid to catch something. But that's just part of the game and a part of your upbringing as a musician.
What was the title and a sample lyric from the first song that you wrote?
I had to check my Boss BR-600 recorder. I got it from my mom and dad when I started writing songs. The sad thing is that I've deleted a lot. But I recall one song about being dumped. I think I called it "Sleep Is My Lover Now". A bit sad and pathetic, but love can do that to you.
Describe your first gig.
My band, The Northern Belle, had its first gig at this cool bar in Oslo called Revolver. I still play there whenever I get the chance. They have hosted some Corona-friendly gigs in their backyard the last couple of months and it's been a lifesaver. The first gig we had we shared the stage with a band called Rattlers and I've never seen someone so drunk on stage ever before. It was hilarious. Now I play in a band called Silver Lining with two of them. The show was sold out. That blew my mind. I remember we covered the song "Hell on Heels" by Pistol Annies and just went for it. The crowd loved it! The night was hosted by our friends (and today our label) Die With Your Boots On and it was actually the first time they had invited bands to play live. Before that they only DJ-ed and spun records. We danced all night long and it was magical.
What was your last day job? What was your favorite day job?
My last day job was as a manager at the record store Big Dipper in Oslo. It's a good place for a music lover to work. Not good for your wallet, 'cause I'm a collector and can't help myself. We held concerts and sold vinyl there! After we expanded the used section there was even more gold coming our way! That was also my favorite place to work! Or I also loved working at Platekompaniet (also a record store). I fell in love with my boss and I'm proud to say that we still are going strong.
How has your music-related income changed over the past 5-10 years? What do you expect it to look like 5-10 years from now?
I work as a full-time musician and have been doing that for almost 2 years. Before that I had a day job on the side. I get by, but it's not like I'm becoming rich or anything. But that's not my motivation. I love my work and I hope we can keep on making music and play all around the world! I love meeting new people and seeing new places, like Dallas – the Twangville porch concert was so much fun! A dream of mine is to play at the Ryman Auditorium and The Grand Ole Opry in Nashville one day.
One thing which is great about Norway is that you can apply for a lot of funding and grants. I've been really lucky this year and I'm actually getting paid by the government to work as a writer and a composer for both of my bands. I get monthly checks and it's been a lifesaver. We all know that it's been hard on the industry with this pandemic and that as a musician you mainly earn money through touring.
What one thing do you know now that you had wished you knew when you started your career in music?
Trust your guts and don't take things personal. Whenever you need help and hope for something to happen, just ask. The worst thing that can happen to you is that you get a no or not a response. People are busy, but most of them will help you if they can.