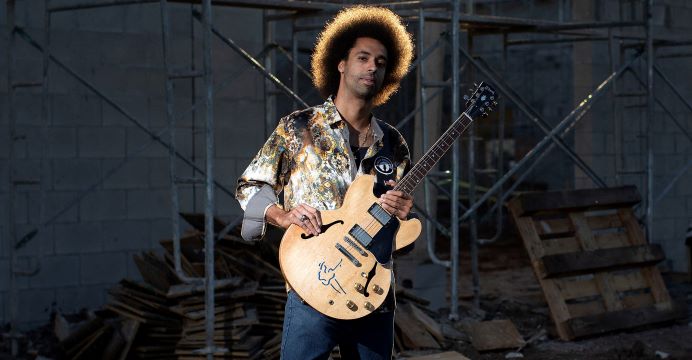 Tell us about your tour vehicle. Any notable breakdown stories?
Things were going GREAT, tour-wise, PRE-PANDEMIC! I had just upgraded to a brand new Sprinter-style Ford Transit about a year before. Plenty of space, windows all around it and tall, so you can actually stand up in it. That space makes all the difference when you're traveling very long distances.
My van before that turned into a money pit, although it wasn't old. I put over 250,000 miles on it in almost 4 years. She kicked the bucket about a mile into the United States after we had just crossed the border from Canada! I was glad we made it across the border. We would have been held under some serious scrutiny and questioning had we have stopped and not moved near the border patrol!
How do you eat cheaply and/or healthy while on tour?
It is definitely DIFFICULT, if not impossible at times! You are at the mercy of whatever is open and available when you have time before or after the show, whatever time that may be. I always tried to stock fruit and some healthy options whenever we passed a grocery store en route; in case we got stuck with Taco Bell as the only option at 3:00am. 🤮
How many strings do you break in a typical year? How much does it cost to replace them?
I don't break strings too frequently with the guitars that I have now. You can try to alleviate the breaking by oiling the bridge and making sure it's filed and doesn't have any spurs to "cut" at the strings while you're playing.
I also try to replace the strings frequently so that they are strong and not sounding "dull." I'd love to have new strings each show, but it gets expensive at $6 a pack. So I end up changing them every 2-3 shows.
Where do you rehearse?
We rehearse everywhere and anywhere we are able. Normally have rehearsals at my place in Florida when we are home. But end up doing the "hotel rehearsal" or soundcheck run-through a when in a pinch on the road.
What was the title and a sample lyric from the first song that you wrote?
I don't really recall a "1st" song because I had always been writing from a young age. It was always a good outlet to do creative writing and poetry. It would just later evolve into music as I got more into music.
Describe your first gig.
My first paying gig was at a tiny blues bar across from the University in my hometown called "Underground Bluz." I was 17 or 18. We didn't get paid much of anything as a local band just playing for the "door." But I was excited to be able to play music and make ANY money. I also got some college girls' phone numbers that night, so that didn't hurt either!
What was your last day job? What was your favorite day job?
My last day job was a high-stress sales for not much pay. Worst job I've ever had!
How has your music-related income changed over the past 5-10 years? What do you expect it to look like 5-10 years from now?
I've never had any expectation of making a ton of money playing Blues music. If you're into it for "money" than your heart isn't in the right place and I believe this music is all about heart.
What one thing do you know now that you had wished you knew when you started your career in music?
I knew it was a blessing to be able to perform for crowds of people. I didn't know it was a blessing for people to simply be able to form crowds.