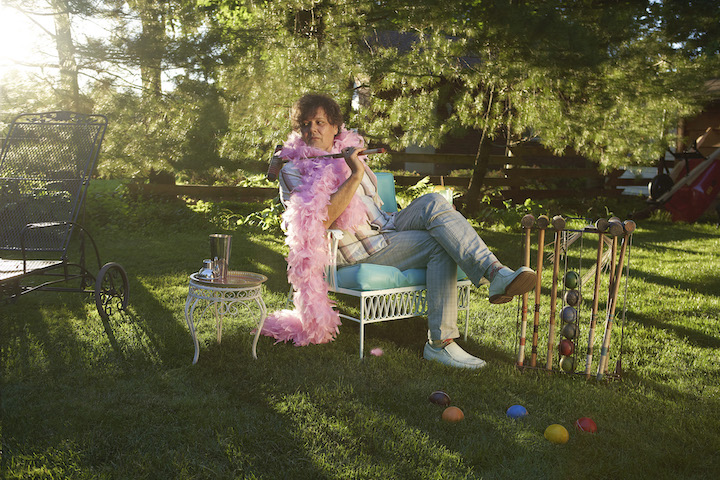 Tell us about your tour vehicle. Any notable breakdown stories?
I don't really have a tour vehicle, we usually rent a "Splitter Van" if it's a full band tour or just a rental car if it's just me and my road manager.
Can't think of any breakdown stories, but once my whole band got kicked off our tour bus in Phoenix. He left us by the side the road at 3 in the morning with all our gear.
How do you eat cheaply and/or healthy while on tour?
I bring instant oatmeal to eat in my hotel room for breakfast, I usually just eat what's in the dressing for dinner which is normally chicken and salad, wine, etc. so it's pretty healthy.
How many strings do you break in a typical year? How much does it cost to replace them?
I break maybe one string a year…I don't use a piece so I don't break many.
Where do you rehearse?
We usually just rent a rehearsal space, or my drummer Don will let us rehearse in his studio sometimes. Nothing that peculiar ever goes on, just a lot of gallows humour.
What was the title and a sample lyric from the first song that you wrote?
I had a song when I was 15 called "Carry It On". The first line I think was
"First step walk out in the rain. You've got to carry it on" but that's all I remember.
Describe your first gig.
The Lions Tavern in PORT DALHOUSIE. I was 17 and not old enough to be in a bar but I got a special license from the Government to be there. I was playing mainly cover songs but I'd slip one of mine in every now and then.
What was your last day job? What was your favorite day job?
I was courier for 7 years. Even when I got signed to Interscope I kept working there
until it was time to make my first record.
How has your music-related income changed over the past 5-10 years? What do you expect it to look like 5-10 years from now?
I never made much money in music but I made a living and I suspect I always will.
At least I hope so.
What one thing do you know now that you had wished you knew when you started your career in music?
I think I sing better now…I may have had more success with radio if I sang better on my early records but c'est la vie.