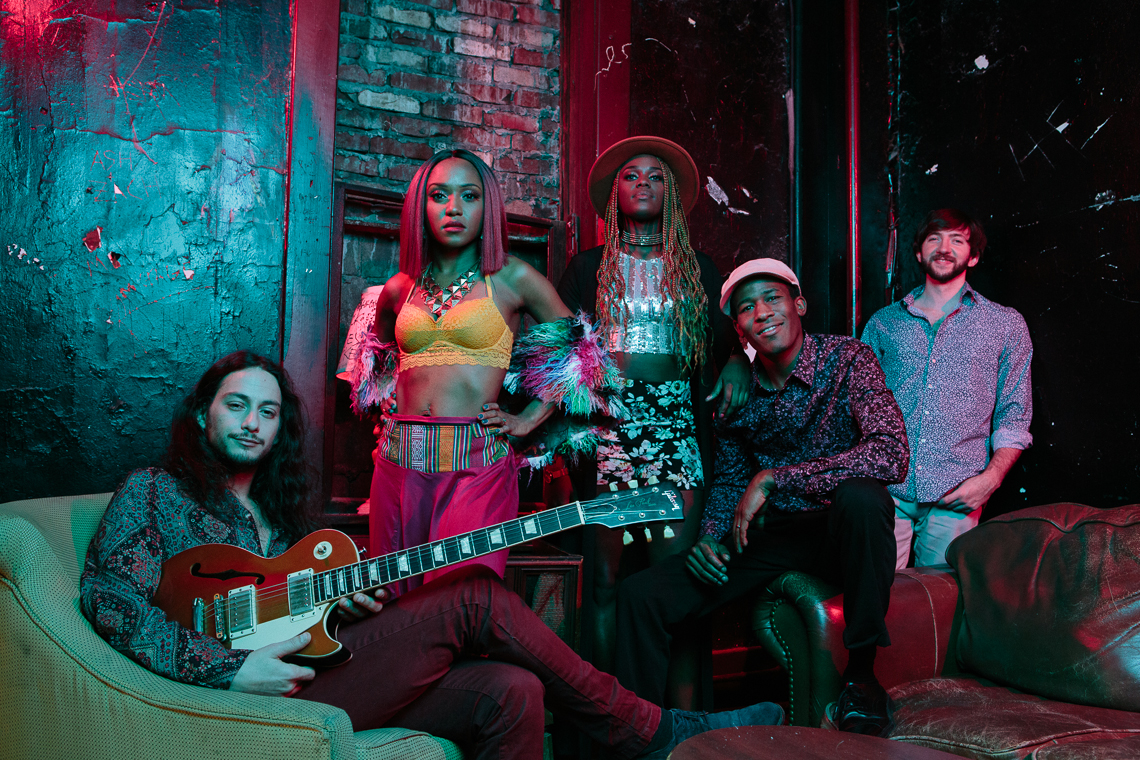 Tell us about your tour vehicle.
We started with a GMC Yukon, we managed to fit four band members and all of our gear. Then saved enough to buy our first van. We broke down at least twice a year while every "off day" became an "auto shop" day. About a year ago we finally bought a newer van with 30k miles on it. We are at 135k right now and had minor issues. In total, we replaced a whole gear, suspensions and fuel pumps. But it's all part of the journey. As a company that does 99% of its work on the road, van repairs and upkeep is normal and part of life. The van is our zip code!
How do you eat cheaply and/or healthy while on tour?
We don't eat cheap because we won't make it past 50 if we keep settling for the faster, easier options. We have to "fight" for our dietary needs everyday. The interstate does not provide healthy options. So we drive into towns more, we Uber eats to the venue options that before we didn't have time to go pickup. So yeah we will have the occasional pizza night, but it's rare these days. We go out of our way to eat food we actually like.
How many strings do you break in a typical year? How much does it cost to replace them?
I break my E and B strings quite often. That's why I always have two guitars on stage just In case it happens. I am proud to endorse DR Strings, a company I've been buying their products since I was 6 years old. I remember my dad getting me "Pure Blues" and they are my go-to strings for all of my life.
Where do you rehearse?
We practice everywhere. Backstage at festivals, condos and Airbnb's, our own living rooms. But of course when we need to get something done we usually rent a recording studio so the environment is professional. We couldn't afford practice spaces and studios for a long time. I can't recall any crazy experience other then being under a lot of pressure to get the stuff I wanted done.
What was the title and a sample lyric from the first song that you wrote?
The title was "Like the Rain". It is in Hebrew so I'll try to make a good translation, but it won't rhyme as nicely.
Like the rain that is dropping on my window, That is your love
Coming down hard but then softens as it slides down the window.
Describe your first gig.
I was 9 years old I guess and it was two shows in one week actually. On Friday I played 5 songs with my teacher (switched between rhythm and solo) at my music school end of the year show. Then on Sunday I played at school the same show but this time solo in front of my entire school. I remember this very well.
What was your last day job? What was your favorite day job?
I am a certified Microsoft system engineer and worked for 3 years as a technician. Other then that I worked as a construction worker for years, security guard, clothes store salesman, website builder and SEO expert, I worked at a candy store and drove their truck all over Israel to distribute candy. I also washed windows of retail stores at the mall. I did almost everything.
How has your music-related income changed over the past 5-10 years? What do you expect it to look like 5-10 years from now?
It looks better but the expenses are growing. I hope I'll be able, that all of us will be able to be in the positive in the next few years, after a long investment period.
What one thing do you know now that you had wished you knew when you started your career in music?
Not really. I started my career at 5 years old. I had two mentors that changed my life and explained to me what is music and how to make it right and how to put my ego aside and let the music and the song lead the way. At a very young age I learned about respect. I learned to listen. All the mistakes I've done were meant to be and led me to where I am today. I love my journey. The ups and downs I've had in just 6 years of a lifetime. I wouldn't trade the bad with good. I didn't give up and that is the biggest lesson, consistency is key. Thick skin will only get you so far…you need a big heart too, so you can accept the journey on all of its sides.