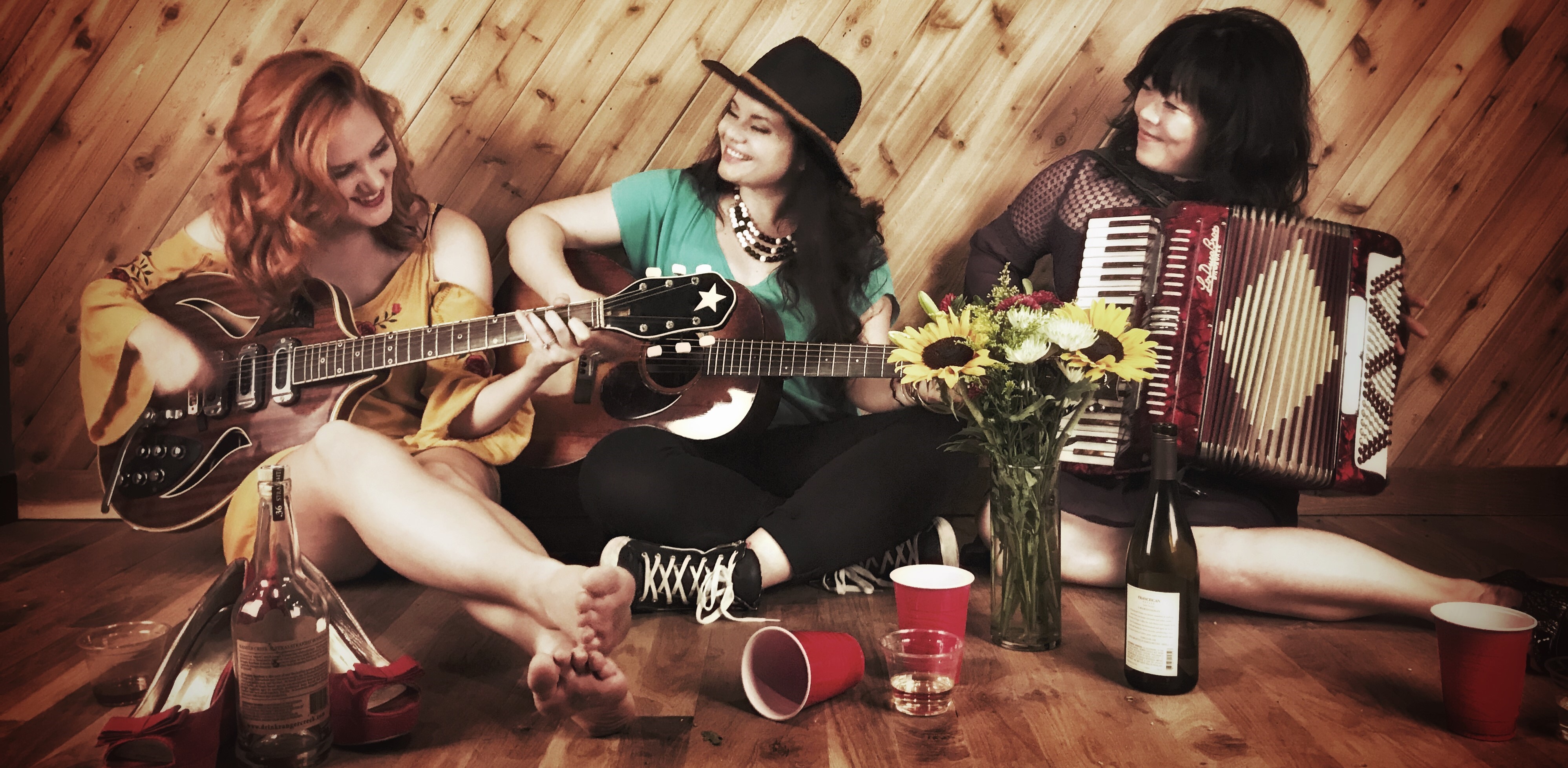 Tell us about your tour vehicle.
Rebecca Loebe: Currently, I drive a mint green 2007 Toyota Prius with just over 100k miles on it. It's practically a baby! It's by far the most reliable car I've never owned, so it's a little boring in terms of repairs and breakdown stories. My previous car, though, was a 1992 Toyota Camry Station wagon that I drove up to 250k miles and that thing kept me on my toes.
I loved that car. The back bumper came with a sticker featuring an illustrated bald eagle atop an American flag and the slogan "Nothing Ever Whipped Old Glory But the Wind." So I called the car Old Glory, obviously.
Old Glory had all kinds of ghosts under the hood. She'd shake at low speeds, sometimes the electronics would just turn off on the highway. The spark plugs and fuse blew constantly. I had to go to mechanics all over the country for tune ups and repairs and top offs…Sometimes she'd run fine for months, other times there were problems every few days. Once, in Northern Louisiana, I broke down on the highway and by the time the tow truck came I was running late for my gig… so the driver towed me straight to the venue!
Although I don't miss the intermittent air conditioning and constant worry that the car wouldn't start, I do miss Old Glory's V6 engine and spacious back seat. I still get a little misty when I see an early 90's Toyota wagon on the highway.
How do you eat cheaply and/or healthy while on tour?
BettySoo: Everyone who had frugal parents growing up knows a good cooler in the car can help you save a ton of money, as it allows for grocery shopping rather than only eating at restaurants. It also helps you to snack on real, fresh foods rather than relying on pre-packaged processed foods.
How many strings do you break in a typical year? How much does it cost to replace them?
BettySoo: I never break strings. And I love the sound of old, dead strings. So I change my strings MAYBE twice a year. That costs me about $20/year. That said, I think the question is really about the maintenance and upkeep of our instruments. That might easily cost me $1,000 per year, between re-fretting, repairs, other instrument maintenance, replacing worn out cases, etc.
Where do you rehearse?
Rebecca Loebe: We usually rehearse in the converted garage of my house in South Austin. It's got recessed lighting, a slightly slanted stained concrete floor, burgundy walls covered in a decade's worth of tour posters and vibe for days. I've recorded many demos and videos in there and love setting up my PA and cranking it as loud as I can…it feels like what I always hoped adulthood would be like when I was a kid.
What was the title and a sample lyric from the first song that you wrote?
Grace Pettis: So, I don't have the first title and lyric from the first song I ever wrote because I literally started singing and making up songs as soon as I could talk, according to my parents.  I would go around the house and just sing about whatever I was doing, ♪"I'm getting some juice. Now I have to go potty,"♪ etc.  And then, when I could write, I started writing them down, filling up notebooks.  Those notebooks are buried somewhere in my garage.
But I did find this scrap, written when I was 10.  My mom helped me pluck the melody out on our piano and notated it for me.  When I was a little girl, I had juvenile rheumatoid arthritis, which meant I was in chronic pain for much of my childhood.  Because of that, and maybe because of my personality too, I was very much an internal, indoors kid.  I liked to draw (lots and lots of horses), read, make up stories, play the piano, listen to music, and write songs.
I sang constantly and would get really sucked in and obsessed with whatever I was singing or doing, to the point that sometimes I wouldn't hear people talking to me.  I actually remember writing this little song.  It's pretty dramatic for a 10-year-old.
"Someday, someday, it will all change. It will all be different in every way! I will fly like a bird, high like a bird that day.  And I'll be waiting for that day."
Describe your first gig.
Grace Pettis: My first (real) gig, aside from open mics and contests was a house concert outside of Dallas. The guy that ran the series was named Tom Noe. He actually passed away recently, so he's been on my mind a little bit. He was an atheist and a telescope builder- an interesting combination of a man with a deep reverence for the natural world, the wide universe, and the power of music. We had the best discussion about God, life, death, and music and I played my first show at his house. There was a potluck/music circle afterward. A lot of my friends from Kerrville Folk Festival were there and I made new friends too, including cellist Dirje Childs, who is still one of my all-time favorite people on the planet. She's the only musician to have played on all three of my full-length records.
What was your last day job? What was your favorite day job?
Grace Pettis: I'm always hustling. I drive for Uber and Lyft at the moment. Even when things are going really great – when I have a calendar full of shows and good stuff is happening in the press, etc.,I still like to drive for Uber and Lyft on the side. It's a nice way to make a few extra bucks out of a Tuesday afternoon and I meet lots of interesting people. Plus it makes me feel more in control of my income. Because musician wages are so sporadic, you know? Some months are great. Other months are terrible. It's nice to have some kind of a cushion. I also love that I don't have a boss and that I can turn the app on or off whenever I want. It gives me more flexibility and freedom in my life. It's a great day job for a musician.
My favorite day jobs were Starbucks and Office Depot. Both times because I had really great bosses who made my work life easier. Having a good boss is the difference between having a good job and a bad one. My bosses gave me time off to play gigs. All those caffeine, copy and print, and customer service skills were dead useful for a young musician. I made my own business cards and my own cappuccinos. Ha!
How has your music-related income changed over the past 5-10 years? What do you expect it to look like 5-10 years from now?
BettySoo: I sell fewer CDs than I used to, despite performing to a larger fan base. Part of that may be the decline in CD sales everyone talk about, but part of it may be that I just don't release albums as frequently as I once did. My expectation is that more and more music purchasing will be wrapped up in memberships – consolidated as bulk music services as we have started seeing in the past few years.
As for musicians' income, my guess off the top of my head is the next generation of professional musicians entering the market (or their business partners) will have to be extra savvy in creating an omni-media presence in order to even penetrate awareness among potential listeners/fans. We've already seen things headed in this direction. But then again, who knows? Maybe we'll have a back-to-the-land movement in our overall culture, in the wake of all the political awakenings, that also affects how people support and consume art. And maybe fans and listeners will rebel against glossy media campaigns and return to a garage rock culture, following one band at a time who doesn't give a flying f*** about having a self-fostered media presence.
What one thing do you know now that you had wished you knew when you started your career in music?
Rebecca Loebe: It's taken me a while to learn that there is no "one next thing" that's going to make me feel like I've arrived or achieved my goals. I realize now that by the time I reach today's goals, a set of entirely new ones will have sprung up in their place.
Time and time again, I've met my musical heroes, folks whose careers seem like a total fantasy to me, only to realize that they're fixated on achieving their next set of goals.
On the one hand, I think that this kind of drive is what keeps artists creating. On the other hand, I think it's important to be kind to ourselves, to appreciate how far we've come and to recognize that we might not ever "get there," because "there" is a dot on the horizon that keeps moving forward with us.