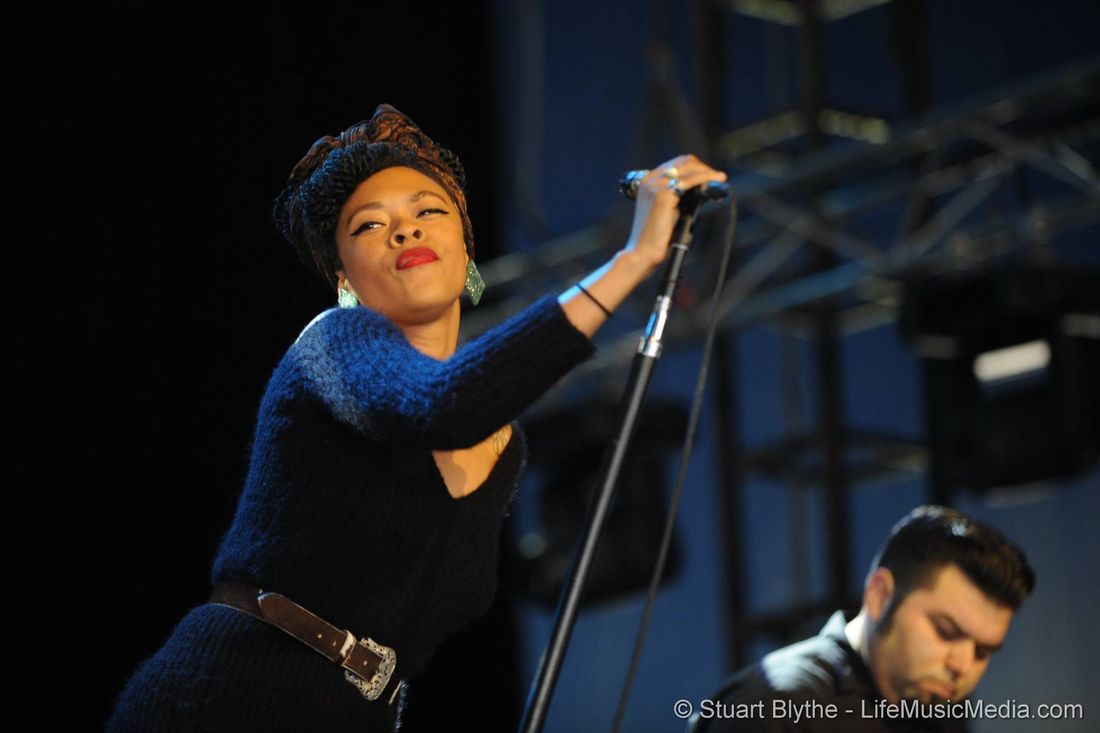 Tell us about your tour vehicle.
We trek the states in Big Connie – a Ford Econoline van. I really wish it was easy to find them because, despite having to do a little bit of tetris, I love the feel. I personally adore that van. It's like a living room on wheels. She's right at about 290k and I'm real sad about it, the end is near. I've sunk quite a bit of money into her, but no hard feelings. We've never missed a show or anything because of the van. We had a close call once, somewhere on the Rust Belt, and the van started overheating. Thankfully we were within miles of a Sears to get a quick diagnosis, and then to a local shop a couple miles away that had the time to work on her. Ended up having to bypass the heating system so that we could get back on the road fast enough, and so I wouldn't have to drop a couple grand that I didn't have and miss the show. It was a trip, but we got really lucky, it all kind of happened really fast considering.
How do you eat cheaply and/or healthy while on tour?
Cheap is really easy with fast food. But, I really like exploring the local fare with the places we visit, and food is a good way to do it, and a get a solid dose of what the city is about and in a condensed amount of time. I often look for Vietnamese and Mexican restaurants to stop. A couple tacos or a banh mi are the price of a fast food combo, and make you feel a lot better, so that's my go to. I love the challenge of finding "the one".
How many strings do you break in a typical year? How much does it cost to replace them?
Matt replaces his strings every show to every other show depending on the various factors. Laura not as much. I've broken a few heavyweight Atlos stands, and way too many heels before I figured I better switch to boots.
Where do you rehearse?
If the tour is able to start from home, we rent a rehearsal room at Studio 101 in New Orleans. Great folks, 24 hour spot. Studio cat that hangs around the building. If the tour doesn't start at home, I find a spot with the wonders of Google. Some cities it's definitely more difficult than others. We once ended up in a place that they advertised as a music studio, but it was a dance studio, floor to ceiling mirrors, really faulty power. The "backline" covered in dust and not very functional. But the guy that met me to unlock the door said the Psychedelic Furs had rehearsed there recently. They must have found the same link I did!
What was the title and a sample lyric from the first song that you wrote?
One of the first songs I wrote is called "Right on the Brink".
"Quit lookin' up at the sky baby
I'm that storm rollin' up on you."
Describe your first gig.
The first gigs were brunch gigs and duo stuff that Matt and I could do to make cash to survive when we moved to St. Louis. That moved up to playing sometimes as a stripped down trio with guitar and drums. Then, one of the kindest guys in the world, Vinnie Valenza, offered me a show at his deli. This tiny, family-owned place is known in St. Louis as a nice local hub where roots musicians touring nationally stop through and pack into this spot and throw down. It was instant energy, that's for sure. I also got a gig at this now closed Mexican restaurant in town. Tequila.
What was your last day job? What was your favorite day job?
My last day job was working as a personal trainer and group exercise instructor during the day, and waiting tables at a local music venue at night. I've had a lot of interesting paying jobs over the years – Secretary, lab technician, cadaver lab assistant, Chuck-E-Cheese rat, retail, caterer, piercer, dancer, hostess, waitress, bartender, security, door person, background vocalist, and vintage clothing/housewares seller (which I still do now between tours) – and now becoming a musician and bandleader, that list has doubled with the experience I've gained.
How has your music-related income changed over the past 5-10 years? What do you expect it to look like 5-10 years from now?
I just finished doing my taxes, so I don't even feel like talking about this. Business is a necessary part of this, but I think about it and work at it way too much as it is!
What one thing do you know now that you had wished you knew when you started your career in music?
To be truthful, I feel like being a black woman set me up really well for this. And especially as someone that is used to doing their own thing, and often being an outcast amongst the outcasts. I just try to face as much of this as possible with the strength I know I have, with as little fear as possible (unless I can channel that fear into something useful). I'm no games when it comes to business and intentions, I don't suffer fools, I'm nurturing and treat my band like the amazing people they are, and I'm used to and willing to put in the work to make my own seat at the table, or just build my own when it's clearly not gonna show up for me. I've been like that since the beginning honestly. I just no longer shield that in order to make other folks feel good. Believing in myself is important.