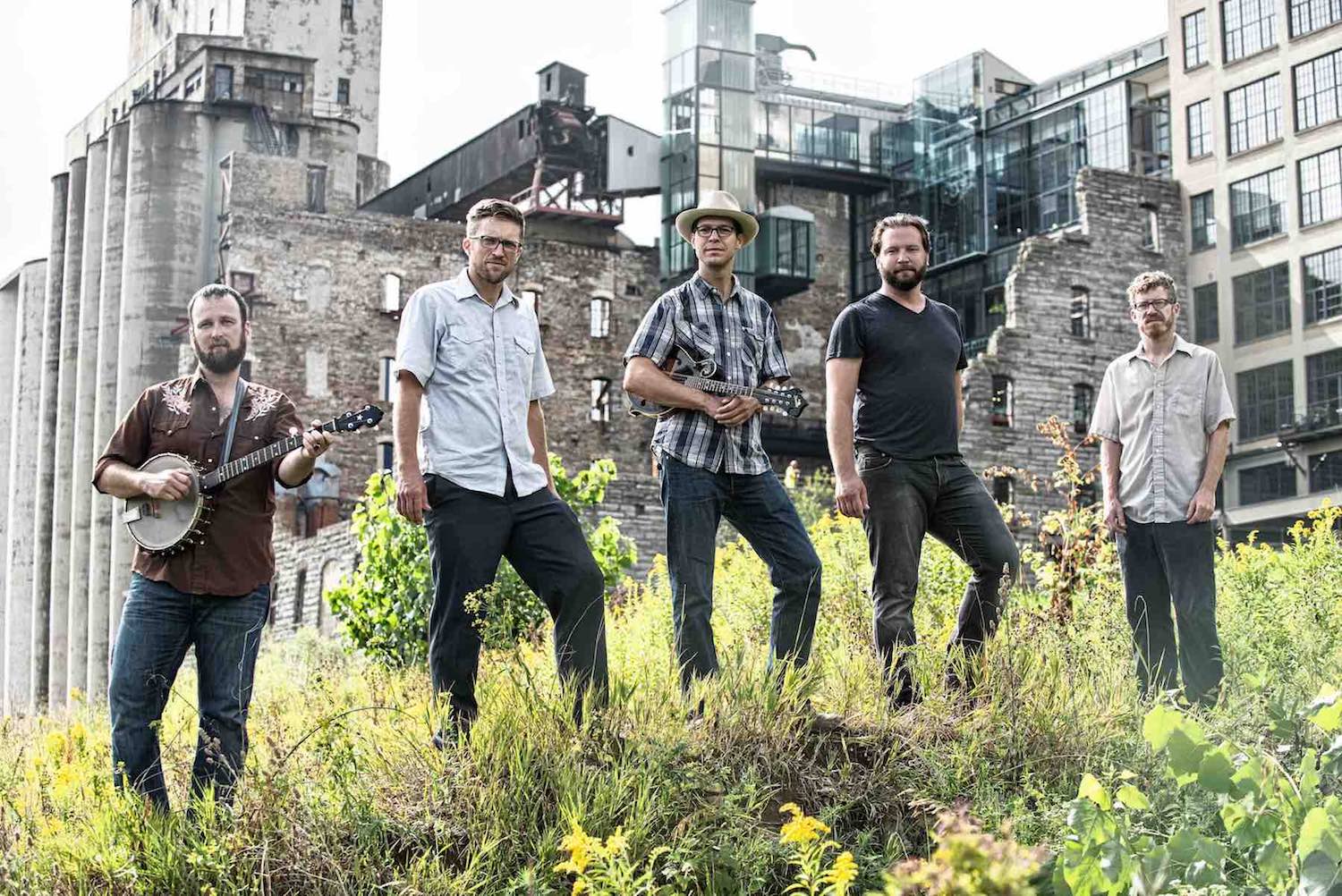 Tell us about your tour vehicle. Any notable breakdown stories?
Pert Near keeps buying older 15 passenger vans of every make. They have bench seats that are more comfortable for laying down in and are fairly cheap and available for replacement. We tour pretty lightly as a benefit of playing acoustic music and therefore do not need a trailer or extra room for a crew. Every few years we lose our van to a deer collision or an engine repair that exceeds the cost of purchasing another used one.
One memorable breakdown was heading home from Telluride, CO: The van was disabled and had to be towed 198 miles to Lincoln, NE. Thankfully our AAA membership covered up to 200 miles. It was a cramped ride in the tow truck. The next week I was on a Greyhound bus to retrieve the repair.
How do you eat cheaply and/or healthy while on tour?
I almost always fill a box with food from the grocery store before heading on tour. This replaces gas station food if you can resist the comfort craving of processed junk. At restaurants or venue meals I try to eat the options with an equal portion of vegetables to the protein. I have also come to appreciate that vegan and vegetarian meals now actually have flavor and variety rather than "side salad." A good veggie burger hits the spot without gut rot which is important to consider before performing.
How many strings do you break in a typical year? How much does it cost to replace them?
On a good year I will only break a half dozen strings on stage. Hopefully they are mandolin strings rather than fiddle which can be pricey to replace, Another benefit of the mandolin is the double string courses, which allow me to tune quickly and at least make it through the rest of the song. Our guitarist will usually break one string a night on average. A humid festival can wreak havoc on him however; his record is 10 strings broken in one show…It was not pretty.
Where do you rehearse?
As an acoustic band we rehearse wherever we can all gather. This ranges through hotel rooms, backstage, garages and living rooms. We've grown accustomed to rehearsing among children playing Legos and eating dinner or neighbors walking past and stopping to have a listen. In the basement where we practiced for years with regularity there still hangs the million-dollar check that was given in exchange for a CD from a broke fan who instructed us not to cash it.
What was the title and a sample lyric from the first song that you wrote?
I don't recall the first song I wrote, but the first that was recorded with Pert Near Sandstone is "Rounder's Blues." One of the lines is: "I used to think of you like a jackass thinks of clover. If I were to lose you I'd search this wide world over." Ha, that's good stuff!
Describe your first gig.
Aside from house parties, an early band of mine performed at the high school's pep rally. We were a grunge band in its heyday of the late 90's. The same event also featured our now banjoist singing country songs to a jukebox and our guitarist sitting on the throne as Homecoming King.
What was your last day job? What was your favorite day job?
My last real day job was working security at The Walker Art Museum in Minneapolis. It was a self-imposed art education and many hours standing alone with contemporary art and pocket notepad informed some really interesting songs and creative writing.
My favorite day job was at the Podium Premium Guitars in Minneapolis where I was merchandise manager and instrument sales. I met several of my heroes while working at that legendary guitar shop that dated back to the late 50's folk revival.
How has your music-related income changed over the past 5-10 years? What do you expect it to look like 5-10 years from now?
I wish I could report that there has been a change but not so much. I now pick up a bit more recording session work that actually pays and occasional side gigs that are good paychecks. I would love to compose more music for the performance stage or commercial recording (with my non-commercial music). The extra annual income the band has been able to secure we have used to fund tours to Europe and album recording; and then there's buying used passenger vans….
What one thing do you know now that you had wished you knew when you started your career in music?
This question gives me pause. Now I'll have that La La La's song stuck in my head the rest of the day. If I knew that Pert Near Sandstone was going to continue for 16 years and more I may have suggested a different band name, one more commercially appealing. We've thought of a hundred others that are funny, witty, and more befitting but Pert Near is just who we are. It's pure midwestern gibberish, which is a great band name!