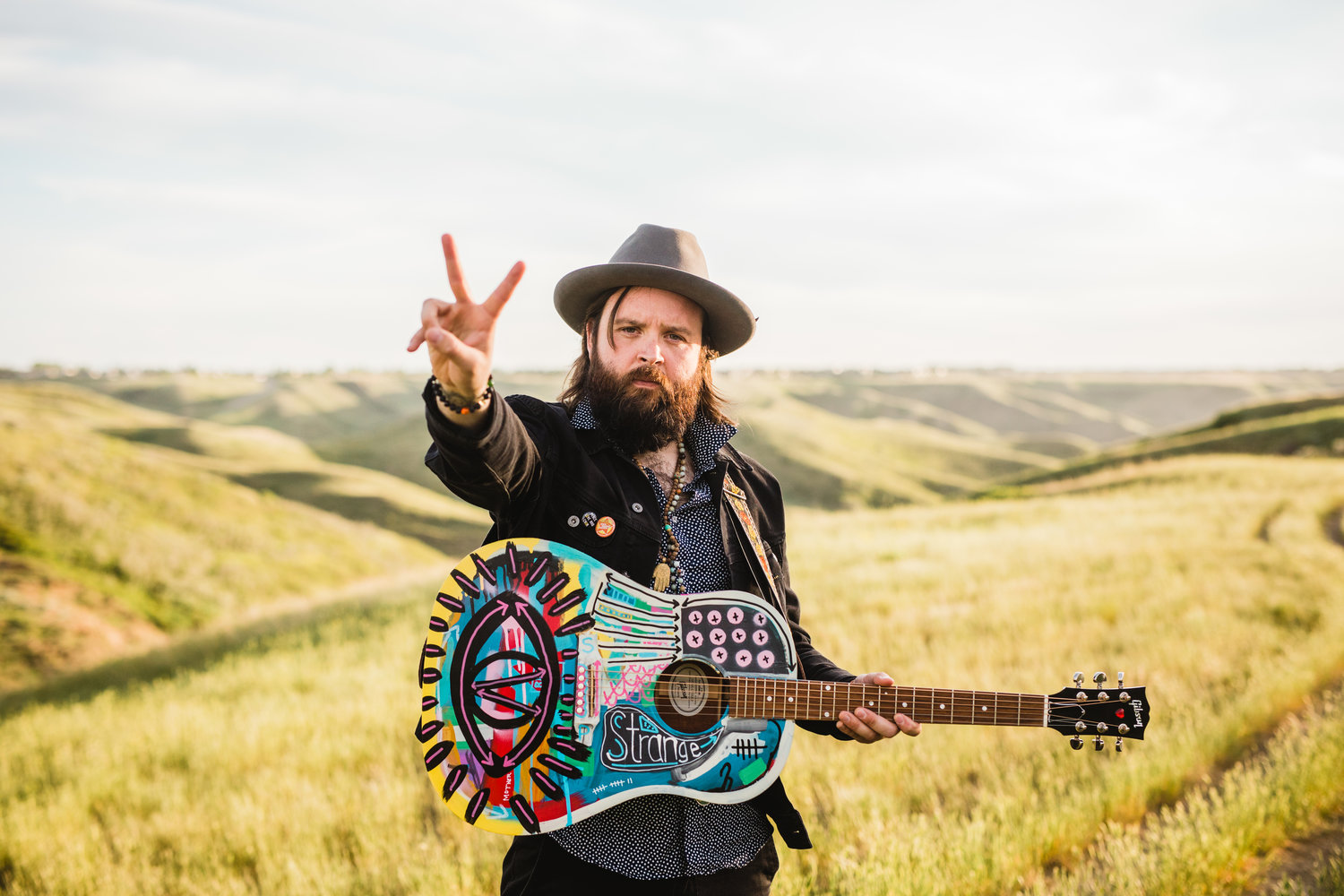 Tell us about your tour vehicle.
That's a great first question, well we just sold our 15 passenger Ford e-350 Diesel van. I swear I was gonna go deaf riding in that thing. It felt like a womb to us for a long while but like anything in life, there comes a time to leave the womb.
I took my publishing advance for the new record and bought a 2017 GMC Yukon XL, it is comfy and safe as all get out, leather captains chairs (cooled and heated), 2 DVD players and Bose surround system. It's nicer than what we should be in, but I tour a lot and safety and comfort is a priority. Plus it hauls my kids and our Airstream when I'm not touring.
How do you eat cheaply and/or healthy while on tour?
Lots of rice and beans. I don't eat meat anymore so I can eat pretty cheap. There's Taco joints everywhere these days, even here in Canada thankfully! I don't mind spending a few extra bucks on a really healthy smoothie as opposed to three stops at a shitty chain coffee shop. Eat like a peasant, lots of vegetables.
How many strings do you break in a typical year? How much does it cost to replace them?
I'm not a lead guitar player so I don't really have that issue. My manager also co-owns a guitar shop so we get a good price on strings. I'm not sure you need to break strings even if you're ripping on 'em? I change my strings about once every three weeks or so if we are playing a lot.
Where do you rehearse?
Well right now it's insane, I built a 1000 sq ft studio from the ground up a few years back, The Rebel Tone Ranch so it's pretty spacious and full of great gear. It's got wood everywhere and lots of natural light, super high ceilings. All my crazy experiences in there have been mostly musical, Pete Thomas has come up from LA for my last two albums so having him hit the drums in there is pretty crazy for me. I'll tend to get stoned and do some things in there too.
I've done my time in dumpy, piss soaked rehearsal spaces over the years, I like this one better.
What was the title and a sample lyric from the first song that you wrote?
I don't have a great memory for these things but I'm 100% sure it was self indulgent, about a woman and mentioned getting drunk and smoking a lot.
Describe your first gig.
I used to live beside a famous bar in Victoria called Logan's Pub, it was amazing and so many great people had played there over the years. Including Neko Case, Murder City Devils, Crooked Fingers to name a few. My pink band played there, I got pretty drunk and threw a plastic cup across the room during the first song and it beaned this poor fellow who was obviously on a first date, right in the forehead. Later that night I remember trying unsuccessfully to walk through the Wendy's drive through until these nice university gals let me hop in, they even drove me home!
What was your last day job? What was your favorite day job?
The last real job I had was working with at-risk youth at a drop in program, it was pretty great. I've worked on a stucco crew, washed cars, slung coffee, built furniture, worked at a guitar store, worked at a record store, did landscaping, was a carpet layer, worked on a film crew and god knows what else I'm forgetting. I didn't particularly care for any of them all that much, hence my current occupation.
How has your music-related income changed over the past 5-10 years? What do you expect it to look like 5-10 years from now?
I've been really fortunate, my deal with True North records has been really great for me and I've gotten some really great breaks in my career. I've never made so much money in my life but I'm always on the road and hustling. I still sell albums off the stage, not as many as 15 years ago maybe but they are priced higher now so it has kinda evened out. We sell a lot of shirts too, my fans are super supportive, they are in it for the long haul, like us.
I don't know what the future will look like, we'll keep adapting like we've always done. Maybe I can send a hologram of me on tour and hang out with my kids more?
What one thing do you know now that you had wished you knew when you started your career in music?
I'd like to say I wouldn't change a thing, but honestly I wish I didn't drink as much and would've eaten healthier back then, I've been running pretty hard for the last 4 months trying to get rid of 20 years of tour gut. I'm getting there but I could've made it easier on myself, Oh well.
Also, I wish I'd known to find my own path instead of trying to emulate my heroes back then. In the end, a life is meant to be lived with love, empathy and joy. It doesn't matter how cool your shoes are or how many patches you have on your jean jacket, Go out and be you, have fun and don't take it all so seriously.