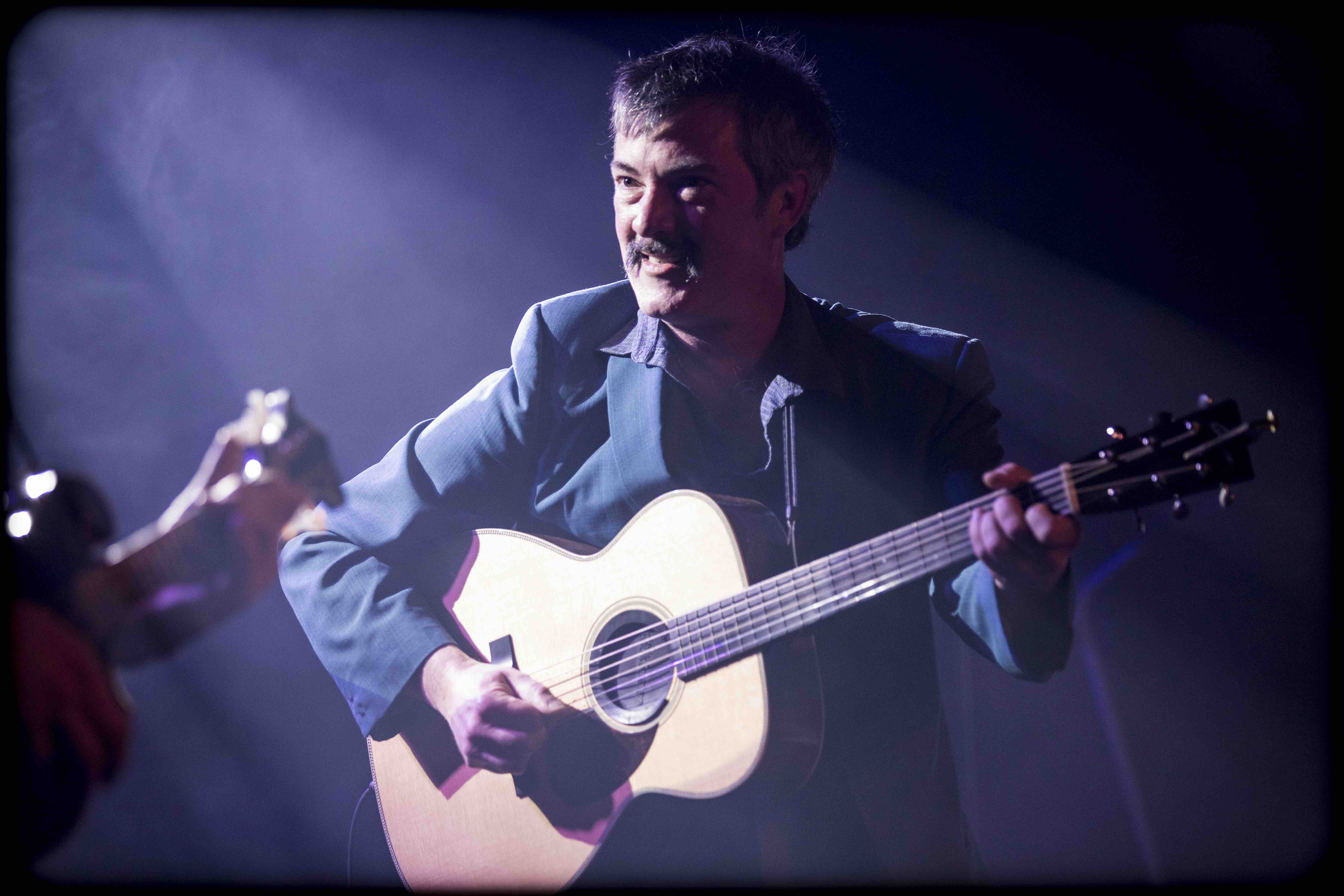 Tell us about your tour vehicle. Any notable breakdown stories?
For the last 20 years or so, we've gone with the E350 Ford 15-passenger van series, running them up to as much as 390,000 miles on one of them. They've been really dependable and suitable vehicles for touring with a band with lots of gear and luggage (no drums in my act, though!)
Of course there have been flat tires and the occasional alternator that goes bad out of the blue, but nothing too major, except on the last one when the transmission went out literally just a few miles past the extended warranty we had on the vehicle. That was a sore spot for us – having to cough up $4500 for a new transmission – just a few miles past what should have been total coverage on a major part like that! But we have stuck with the big Ford vans.
This year we got a newer version of this old standby, the Ford Transit van. We had to get it in a rush, after being rear-ended by a drunk driver on our way to a video shoot in West Virginia. The crash totalled the van we were in, so we got the new Transit and kept on touring. We're liking it pretty well so far.
How do you eat cheaply and/or healthy while on tour?
For the past several years I've really tried hard to eat healthy on the road, making the extra effort to find places that offer better quality, whole foods on the menu. It's been years since I ate a fast-food burger, but occasionally if we're REALLY pressed for time and super limited on options on the interstate or some remote place, we'll suck it up and do something like Subway or Wendy's, trying to make the best choices we can at a low-budget chain restaurant. I've learned to ask the sandwich maker to scoop out a lot of the bread at Subway (or other sub shops/deli's), so I can load up on more veggies instead.
My favorite choice, especially for lunch, is to find a great ramen or pho shop and get jacked on steamy broth and noodles and crisp vegetables. Finding a good grocery store with a nice food bar (like Whole Foods, Earth Fare, etc.) is always ok with everyone. Eating clean food like that just makes us all so much happier and strong on the road.
How many strings do you break in a typical year? How much does it cost to replace them?
I can't really say an exact number of strings I break in a whole year, maybe about 70-80 total? I guess I'm a pretty intense player at times, and I demand a lot out of a guitar and all my gear. I seem to only break strings when I can't hear myself playing well enough, so I play much too hard, and the high strings can't take it. Most of the time I have my own sound tech, so he makes sure I can hear the guitar exactly the way I want and I don't tend to break strings when he's running my monitor mix. I do have a string endorsement with Elixir, so that helps!
Where do you rehearse?
I don't have a special rehearsal space. I play around the house when I'm in the mood or when a song idea comes over me, and that usually happens while I'm sitting in my comfy chair with a great view of the hills around my home, with lots of bird activity near the house (I love having bird feeders close by, so I can check out the birds all day long). Most of the rehearsing I do happens with my bandmates or whoever I'm collaborating with, often in my tour van while riding, or in the backstage and greenroom areas where I'm performing. That could be part of a theater or club venue, or a tent or RV or trailer for an outdoor festival event… I'm adaptable to wherever I need to play and get the music worked out.
What was the title and a sample lyric from the first song that you wrote?
The first song I ever wrote that really stuck with me was when I was about 17, and it was an instrumental… so, no lyrics. It's called "Trance", and it came together when my friend and I were pickin' guitars in a corn field. He was sort-of like the Bob Weir rhythm part, and I was sort-of like the Jerry Garcia lead part.
Describe your first gig.
My earliest gigs were with my father and brother playing 'Paul Jones' dances (my brother is 12 years older than me, and he bought me my first guitar when I was 7 and really got me started learning to play). I feel blessed now that I got to experience the joy and beauty in watching people dance and seeing how music lifted everyone and made for such happy gatherings.
I was probably around 9 or 10 when I was getting good enough to get on stage with the pro's, which included my dad and brother and a rotating cast of incredibly talented musician-friends that lived in our area and jammed with my family every week somewhere or another. There were a couple of legendary weekly pickin' jams that happened in Fauquier County, Virginia, where I grew up. The locals like my dad, brother and I were always there, as well as incredible singers, fiddlers, banjo players, and dobro players. Famous acoustic and country musicians like Tony Rice, The Country Gentlemen, members of the Seldom Scene, etc. would pop by these jams from time to time, just because the music and the scene was so good and so real.
What was your last day job? What was your favorite day job?
I started as a professional musician making good money when I was 18 years old and was hired to work at Tokyo Disneyland in Japan for about a year. Back in the states, I played gigs and still had to work other jobs for a couple years. But now, I haven't had a day job in about 23 years. It's been all music this whole time.
The last day job I had was doing cabinetry work, and I didn't love it. My favorite day job way back when would have been working in a greenhouse, and also I made fine craft clay pots for a Virginia-based artists for several years. That was a cool job and taught me a lot about running a small business by watching how my boss handled things.
How has your music-related income changed over the past 5-10 years? What do you expect it to look like 5-10 years from now?
My music-related income has steadily improved over the past 10 years. The company that my wife and I run, which is essentially the band and all the staff-related folks who work to book and promote my music, has grown and prospered due to a whole bunch of hard work and dedication and persistence. Thanks to all these people (and especially to the wonderful fans and music lovers), I feel inspired and encouraged to continue to create and perform and enjoy being a musician. I'm so grateful for all that support, and I truly hope and expect to keep doing this for the next 10 years or however long I can. Musicians never really retire if they don't want to!
What one thing do you know now that you had wished you knew when you started your career in music?
I'm glad that I have learned what I have learned about every particle of the music business for someone of my level, from the absolute ground up from the beginning, with no management help or investor help or anything like that. I took it all on because I saw that at times, it was hard to find people to handle my business that were good for their word and accountable for the job they were doing for me. So I would let them go, and I would do the job myself.
Later on, I was psyched to connect with some very competent, smart and dedicated people who helped with booking and publicity and so forth, and that made life so much easier to allow me to just concentrate on creating music… which is what I got into all this for in the first place!
As frustrating and discouraging and overwhelming as it can be to have to learn and do all the jobs that go along with building a career in music from ground zero, it's still very gratifying to know I know all those ins and outs and that no one can take that experience and knowledge away from me.
If I could remove the bummer parts of the journey, I don't think the journey would have been nearly as full and valuable to me. I can't really say that I wish I had known early on that there would be let downs and failures and blow-ups… how else can a person learn and grow without all that?
Along the way, I've felt that I should enjoy every second of life as much as possible, and I've tried really hard to not let the 'machine' of career-climbing dictate how I do things. This has always been my motto for better or for worse!