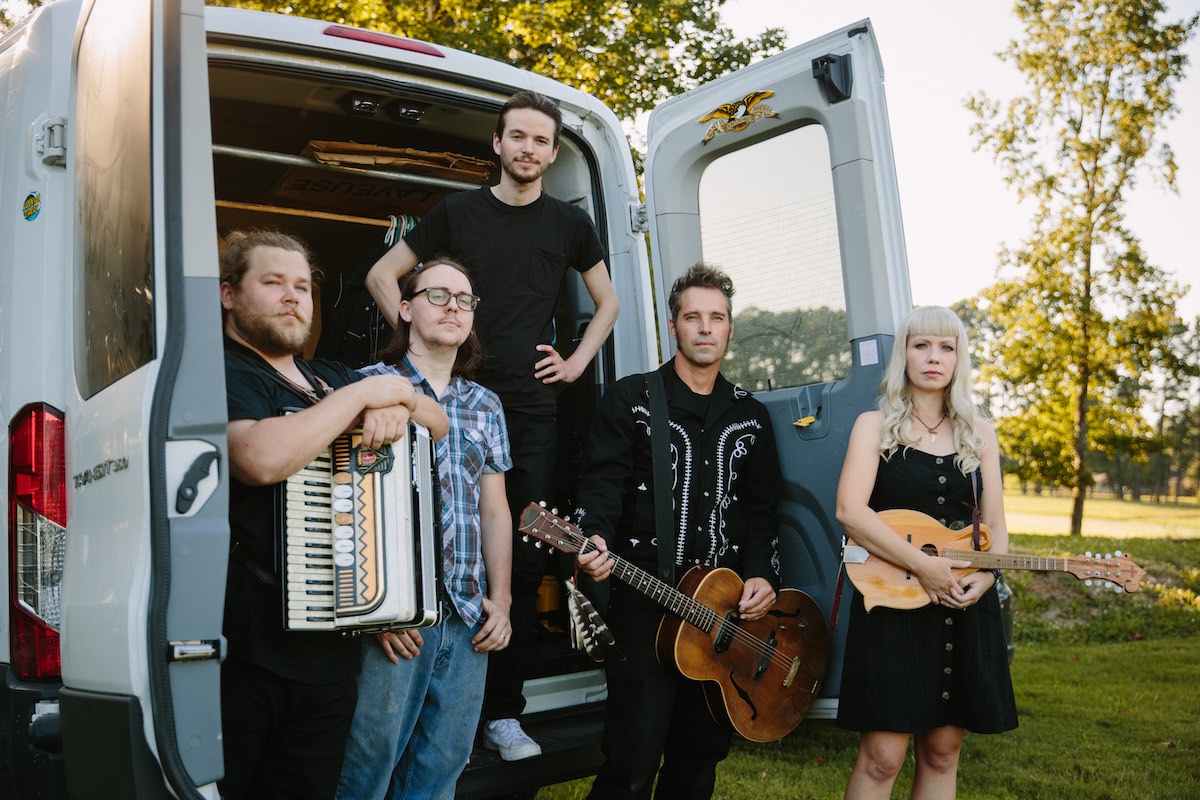 Tell us about your tour vehicle.
I would describe our tour vehicle as a comfortable, cozy, gas guzzling beast. It's a 2016 Ford Transit.
How do you eat cheaply and/or healthy while on tour?
The best way to eat healthy, the only way for us at the moment, is to get to each town a little early and cook out with pals/homies. We know enough folks in most places where we can just go to the kitchens of various friends and cook food.
How many strings do you break in a typical year? How much does it cost to replace them?
I break little to none. Maybe a string a year. I enjoy playing old strings; I just have figured out how to make 'em last longer I guess…
Where do you rehearse?
We have no rehearsal space…I guess our rehearsal space would be the stage! We play a lot of shows "off of the books", like fish fries and that sort of thing, so we can usually learn out in the woods, or out in a field, making music while some event is going on.
What was the title and a sample lyric from the first song that you wrote?
Well, the first Haints song would be "What is a Haint"…I had written songs for bands years and years prior. "…what is a haint….please tell me great grand maw…well a haint ain't nothin but distant kin..the ghost of an old Choctaw…"
Describe your first gig.
We played a number of shows with no band name. The first official show, where we were on a flyer, was in Auburn, Alabama at a place called the Malformity House, with an incredible band named Milemarker.
What was your last day job? What was your favorite day job?
I've been self employed for 20 years, as a screen printer (Black Owl Trading Company), and a record label owner (Arkam Records).
I guess this is my favorite job. I've cut grass, bailed hay, made shave ice, worked construction, worked fast food….
How has your music-related income changed over the past 5-10 years? What do you expect it to look like 5-10 years from now?
It's so small…I've never made much at all playing music. But it was a big deal to go on tour, and finally start making money as opposed to losing money. So I guess it's slowly increasing. But still waaaay below minimum wage for sure.
What one thing do you know now that you had wished you knew when you started your career in music?
I sorta wish I had been a bit more serious about the dark terrible side of it all. Tried to fight a little harder. I truly believed it was a "us against the system" type of situation, and that the underground was gonna forever exist in its own way. Idealistic, foolishly romantic I guess. I could have tried harder to get "bigger" a long time ago, but I still just don't care. I just love music. Period!!!