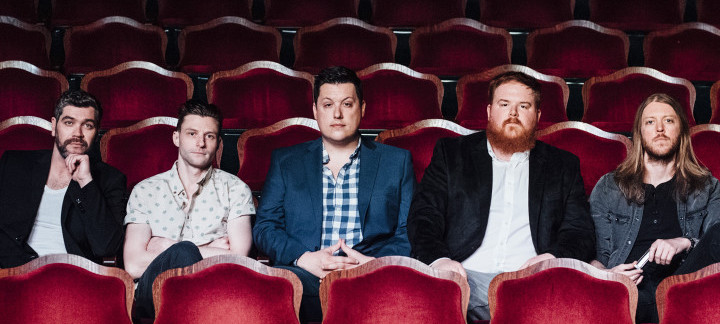 Tell us about your tour vehicle. Any notable breakdown stories?
We purchased a new Ford Transit in 2015 when we did our first national tour, 55 shows in 45 days in 40 states, and it's been with us every step of the way since. Honestly, it was once of the smartest choices we've ever made. The "Skyship MkII" now has 255,000 miles on it and is still running like a dream. The only notable breakdown was on our way to a show in New York City, we broke down turning the corner coming out of the Lincoln tunnel when our coolant tank ruptured. We also got stranded in the Mojave desert, but that wasn't the van's fault.
How do you eat cheaply and/or healthy while on tour?
We do our best to hit up grocery stores and entirely avoid fast-food. Sean has a preternatural ability to find incredible meals in every town we roll into. We've met some of the most incredible people around the country taking our chances on small, family-run restaurants.
How many strings do you break in a typical year? How much does it cost to replace them?
Easily hundreds. I tend to shred through strings, usually replacing them after a few shows. However, I'm not always fortunate enough to have them last that long. I always use D'addario strings, they're affordable and have a great consistent sound.
Where do you rehearse?
It's changed through the years, from basements, living rooms, and porches. We sometimes would set up in public parks and use the rehearsals to busk and play in front of gathering crowds. Now, we use a incredible artist space and venue in Portland called Sun Tiki Studios. We'll usually set up and practice for a couple days in a row. When we recorded our new record, we took up residence there for a month and did four or five eight hour rehearsals a week to prepare for recording.
What was the title and a sample lyric from the first song that you wrote?
The first song I wrote that made its way into the band was the song, "Ghostland". I had written when I was 19 but it didn't find its home until we played it all together. We eventually went on to name our festival after it. The chorus has actually been tattooed on a few people and it goes:
Well I'll drive all night to nowhere,
Just to chase the sun.
I said the battles almost over,
But my god, which side has won?
Thunderstorms and bad news,
They always make it through.
Till you find yourself screaming,
"Are you living in a Ghostland too?"
Describe your first gig.
I was doing a monthly slot at a small bar in Portland called the Dogfish Bar and Grill. I'd sing and play for three hours for a little cash and free beer. Max and Sean would jump up and song a few tunes with me, eventually bringing instruments. One day we decided to do the full three hours together, and the Ghost was born. We've known each other since we were three so really, our first gig was in high school.
What was your last day job? What was your favorite day job?
I have been a full time musician for five years now. My last full time job was managing an art store in Portland. I went to school for fine art, but it's tough to pay the bills as a painter and installation artist. As the band picked up, I started substitute teaching. My favorite job though was building and installing custom playhouses for kids with a good friend of mine that looked like they were straight out of a Dr. Seuss book.
How has your music-related income changed over the past 5-10 years? What do you expect it to look like 5-10 years from now?
When I decided to pursue this career fully, there were very lean times, to be sure. I think, though, that I have those years to thank for becoming much more thrifty and fiscally responsible. These days, we can all afford to live in moderate comfort. Our income is entirely dependent on live shows, people just aren't buying records like they once did, and that makes this current world situation even more stressful for most musicians I know. We make a lot less than most, I'd say, but we're doing what we love. For us, that's a trade-off we're happy to make.
What one thing do you know now that you had wished you knew when you started your career in music?
Well, that extreme hard work and devotion can help you achieve what you want out of this life. Also, don't sweat the small stuff. Moments where you make mistakes exist to teach you valuable lessons. If you can allow yourself even brief moments of forgiveness, you can achieve greater things.