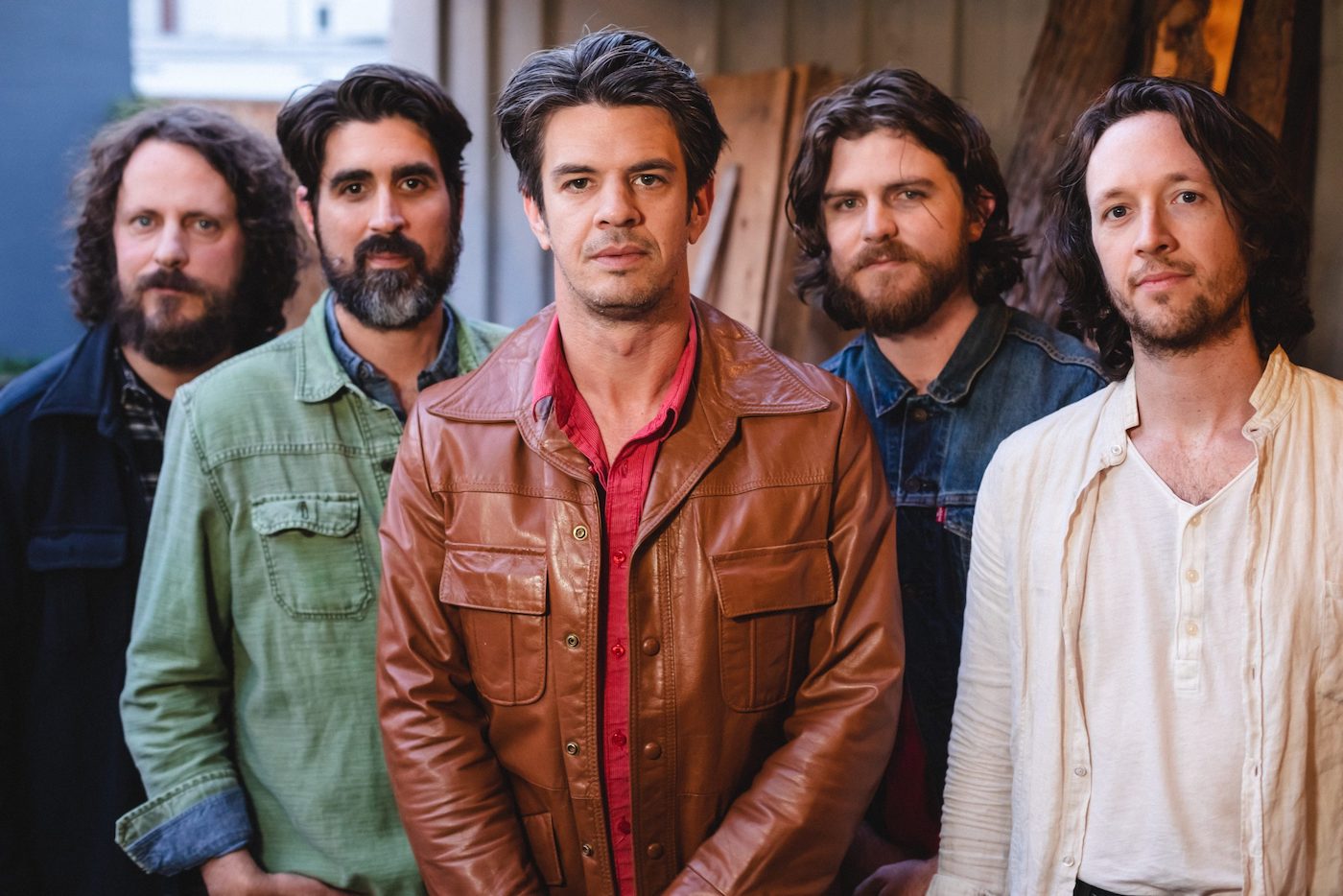 Tell us about your tour vehicle. Any notable breakdown stories?
In 15 years of touring we've used a variety of different vehicles… Ford Econolines, Mercedes Sprinters, Ford Transits, an occasional Prevost bus, countless trailers. We've been pretty fortunate with only a handful of breakdowns. In the early days, maybe 12 years ago, our Sprinter broke down in the middle of the night on our way to the first show of a 3 week run. We did the whole rest of the east coast tour with a rented cargo van for our gear and a rented Honda Accord for our asses. There weren't enough seats so we took turns with one person at a time lying down riding with the gear in the back of the van. If that's not rock n roll, I don't know what is.
How do you eat cheaply and/or healthy while on tour?
We try to eat pretty healthily, which hardly ever means eating cheaply… two guys in the band lean towards the vegan side of the culinary spectrum, which means we're often stocking up on road-groceries at any Whole Foods or any Farmer's Market we can find. If that's not rock n roll… well, nevermind.
How many strings do you break in a typical year? How much does it cost to replace them?
Honestly, I don't break very many strings in a year. Maybe 4 or 5. Probably means I'm not trying hard enough. And I usually don't change the strings on my guitars unless I break one, which means all of my guitars typically have really old, dead-sounding strings, which is how I like them to sound. Especially on acoustic guitars. 
Where do you rehearse?
We have two rehearsal spaces… one of them is the two hour sound-check on any stage at any venue before each of our shows. That's where most of our rehearsing for the live material gets done. With the band living spread out between Austin, Nashville, Asheville and Los Angeles, that's usually the best we can do. When we're all together in Austin, the other rehearsal space is my recording studio called the Finishing School. It's a great space our friend George Reiff started 10 or 15 years ago where we recorded and mixed a bunch of our albums. When George passed away from cancer a little more than 3 years ago, I took over the space to try to keep the Finishing School alive, and it's remained both a great creative space for the Band of Heathens, as well as a place for producing records and collaborating with other artists. I've been remodeling and redesigning the space for the last 9 months with my friend Mark Neill (produced the Black Keys' "Brothers" album, re-designed Sound City in LA and Toe Rag in London), who is an amazing producer, musician, studio-designer-guru. It should be finished in the coming weeks. 
What was the title and a sample lyric from the first song that you wrote?
When my girlfriend of two weeks broke up with me right before Thanksgiving break of my sophomore year in high school, I wrote my first gem of a song. The chorus went something like, "I'm standing at the crossroads, looking for a place to call my home." Not good, not original, and frankly, I don't even know what it has to do with being dumped by this girl I hardly knew, but somehow it made me feel better. It was my first dose of writing music as personal therapy, and it goes to show you gotta write a lot of bad ones to get to the good ones.
Describe your first gig.
I was probably 15 years old playing guitar in a cover band called "Tequila Mockingbird" or one of the many other names we went through. We were hired to play a private party in an airplane hanger where there was no stage, no lights, we rented a terrible PA, and we were surrounded by concrete floors and metal walls. It actually sounded worse than you can imagine it sounding.  
What was your last day job? What was your favorite day job?
The last day job I had was as a substitute teacher for Austin ISD back around 2007 or 2008. At the time there was a shortage of subs for the school district so it was a great job for a touring musician. If you were home and hadn't had too late of a night, you could wake up most mornings and snag an unclaimed substitute teaching job. The flexibility was nice, but the work itself was challenging. I definitely gained a whole new level of respect for teachers and asked forgiveness for all the horrible things we'd done to substitute teachers when I was a kid. 
How has your music-related income changed over the past 5-10 years? What do you expect it to look like 5-10 years from now?
We're fortunate that our business has slowly but steadily been increasing over the years. We don't have to do 250 shows a year any more, which is good because we wouldn't have survived doing that any longer than we did. Pre-pandemic we had been doing 80-120 shows a year for a few years and we hope to get back to that when things stabilize with Covid and venues opening back up. I'm also grateful to see a lot more studio work producing albums and collaborating with other artists in the recording realm. 
What one thing do you know now that you had wished you knew when you started your career in music?
I wish I had figured how to make quality pour-over coffee many years ago. I would have been traveling with my own coffee rig early on, back in the days before you could find a hipster coffee joint making the good stuff. I would have consumed way less bad gas station coffee, and I would have saved a lot of money. All the other bits of wisdom I'd rather keep my younger self blissfully ignorant of… If I knew then what I know now, I'm not sure I would have gotten here.