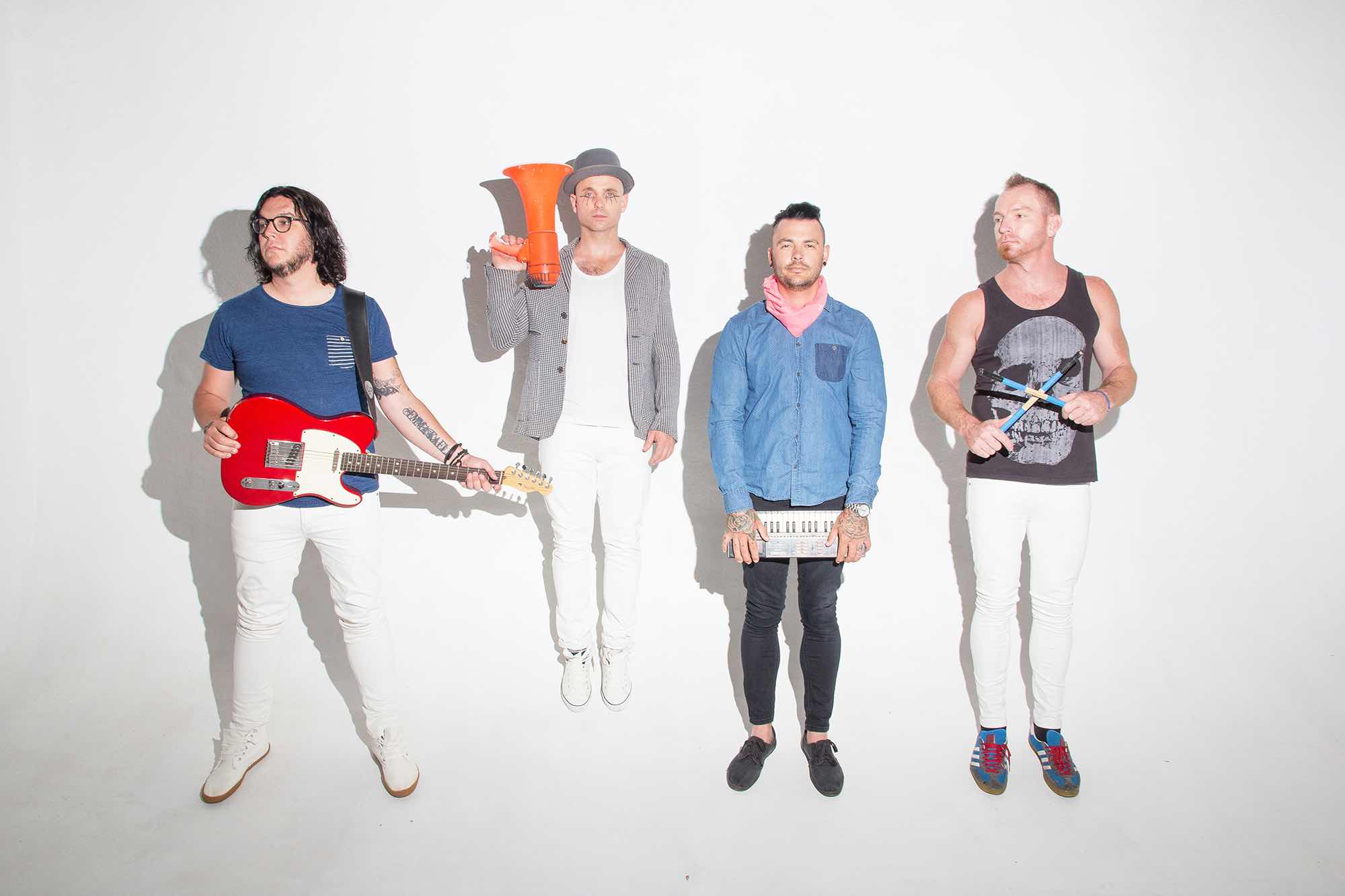 Tell us about your tour vehicle.
Locally (in South Africa) we have a Ford passenger van and a big ol' trailer, for the gear etc. It's relatively new, around 30-something odd kms on the clock, so no breakdowns as of yet.
Our previous van, an older, higher version of the same model had many breakdowns and repairs to it's name. Somehow we managed to get through them all and still make all our shows. Here's holding thumbs.
When we tour abroad we generally hire a Mercedes Sprinter van and just make sure our packing skills are finely tuned. Sometimes, when necessary, we have to rent a proper tour bus, but we all prefer the van when it comes to touring.
How do you eat cheaply and/or healthy while on tour?
I'm the only non-carnivore in this band of carnivores, so I've got my own process when it comes to buying food, but vegan options are relatively plentiful on the road – contrary to popular belief. Generally the venues we play at cater for everyone's dietary needs, otherwise there's a lot of fast food involved, especially post-show when the 'on the way to the accom' hunger sets in.
How many strings do you break in a typical year? How much does it cost to replace them?
As a bassist, not many… generally none. But I do make a point of changing all 4 strings on each bass at least once or maybe twice a year. That works for me. I've no idea how much bass strings cost as I have been fortunate to have a bunch of sponsorship's over the years that I am super grateful for. Paul (Hodgson) and Kahn (Morbee) change their strings fairly regularly (at least once a month) and having a number of guitars are really chuffed to have those sponsored too…
Where do you rehearse?
Our rehearsal space has changed so much over the years. We started meeting in Neil's (Pauw) parent's garage when we began in '98. That worked for a while until the neighborhood couldn't deal with the noise anymore so we rented space for a bit and then flipped between Neil's garage and Kahn's in-house studio but we have settled in Kahn's in-house studio for sometime now as our setup evolved to what it is today, which is a perfectly quaint, professional rehearsal space in a cottage on Kahn's new property that has been converted to a studio / rehearsal room. We lug all our gear in there, set up the desk, and rehearse with in-ears and everything as if it were an actual live performance – we are totes the professionals ya know. Rehearsals are timed to take place before shows and tours so we generally load everything back into our tour trailer for when we head out on the road – alternatively our team and crew arrange everything when we fly.
What was the title and a sample lyric from the first song that you wrote?
Title: "Angry Kid" was the first song Kahn brought to practice
Lyric: "I like all the pretty girls, but when I look around I'm not that pretty myself."
Describe your first gig.
It was at a LIVE venue / pub called 'Morgan's Cat' and it was a 'Battle of the Bands', contest. We thought we were good but we are absolute garbage listening back and made it to the 2nd round but that was where it ended. That day we thought we were just the coolest kids in town. We wore hoodies and shades, and had perfectly timed jumps. I even shaved a mohawk and dyed it blue for the occasion.
What was your last day job?
I was Kahn's PA at a financial institute – he was a financial advisor. The band went full-time shortly after that, and many clients lost money due to mid-week interviews and TV shoots.
What was your favorite day job?
I have never really had a real day job as I was studying teaching at the time before we went full-time as a band. I did give drum and guitar lessons, and waitered for a bit in my late high school and early University days. I also worked at a few after-school care centres. I would say that my favourite job was tutoring a special-needs child for a couple years when I was studying – it was very fulfilling.
How has your music-related income changed over the past 5-10 years? What do you expect it to look like 5-10 years from now?
Well, we went from earning zero money for years to being able to quit our day jobs in a matter of 8 or so years, and it's stayed that way ever since. Most of what we earn goes back into keeping this machine running as we have never been with a major label, however I'm sure I speak on behalf of the whole band and team that we hope to become multi-millionaires (preferably sooner rather than later).
What one thing do you know now that you had wished you knew when you started your career in music?
How to be and remain single! Seriously tho I feel that we've learnt everything we need to know through experience over the years, and even the bad decisions (like signing contracts without reading them first) have made us who we are today.