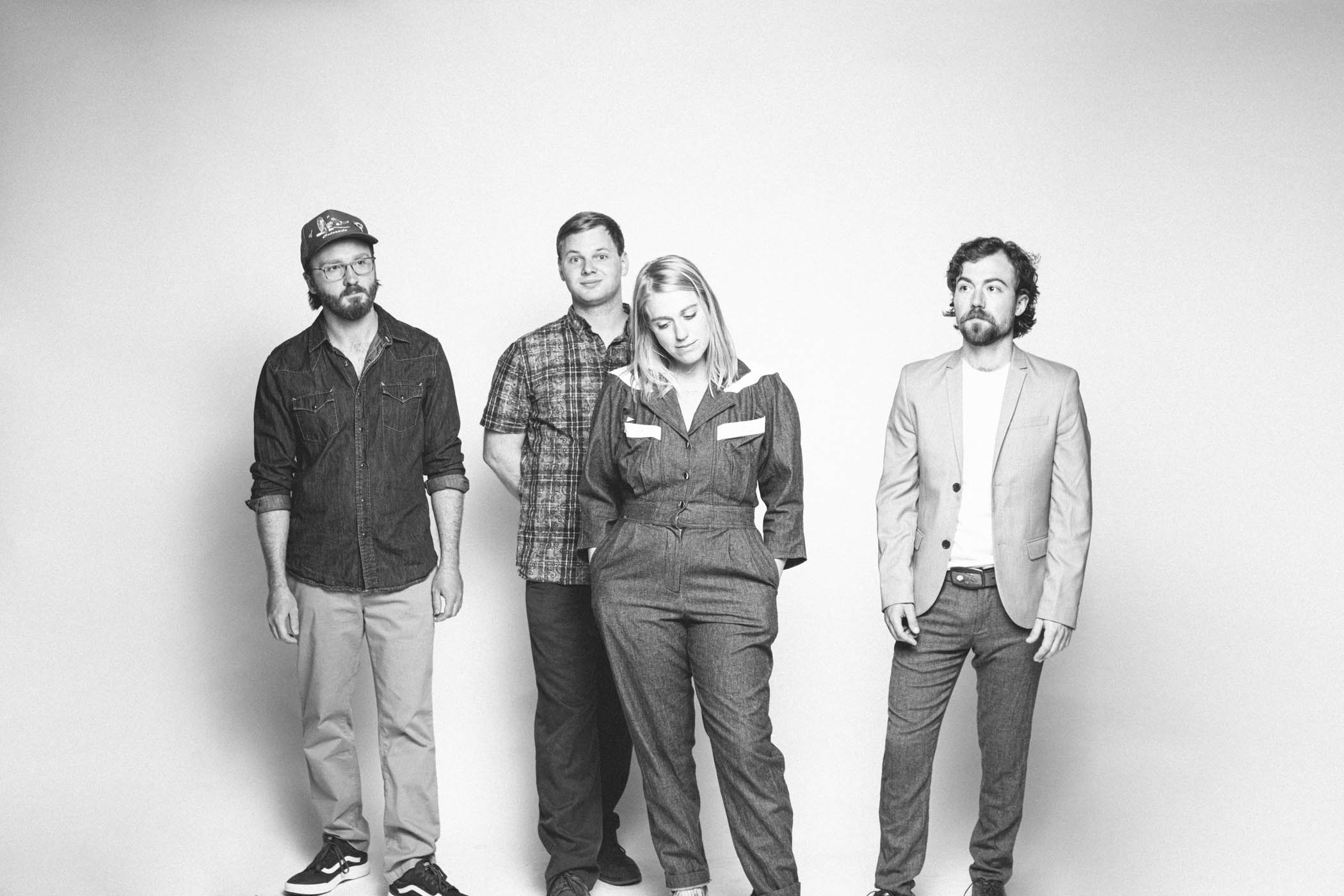 Tell us about your tour vehicle. Any notable breakdown stories?
We have a 1996 Ford Econoline Van. Up until 2018, it belonged to Allen Cooke (dobro player's) family, and I bought it off his dad. She's got a good 144,000 miles, and the Cooke family took great care of her. Fun fact: Dylan McCarthy (mandolin player) and Allen drove to Texas in that very same van when they were 18.
The most notable breakdown story is when we were on 1-80 in Wyoming and the axle snapped on the back right wheel. We got to the shoulder safely and watched the wheel roll in huge circles around the highway until it landed in the median. We got out of the van and the place where the wheel was was on fire, and Dylan was trying to put it out with a bottle of Topo Chico. That image always makes me laugh, even though at the time we were pretty stressed. We had to get towed to the nearest town and rented a minivan for the rest of the tour.
How do you eat cheaply and/or healthy while on tour?
It can be really hard! Last tour we hit up a Whole Foods in every city we went to. Not necessarily cheap, but at least we could all get some greens. I wish I was better at food prep, but for the most part it's the pizza that the venue gives us and salads from Whole Foods.
How many strings do you break in a typical year? How much does it cost to replace them?
That depends on which instrument you are talking about. I (Erinn, the guitar player) used to break strings frequently when my technique wasn't as good, and it would always upset me on stage. Dylan and Allen (mandolin and dobro) replace their strings probably once a week on tour.
Where do you rehearse?
We don't exactly have a rehearsal space. We don't have a drummer, so we are much more portable. Lately we've been practicing at my house in Golden. Two band members live in northern Colorado and the other in Denver, so Golden is a nice middle ground.
What was the title and a sample lyric from the first song that you wrote?
One of the first songs I wrote was called "White Horses" and to this day I think it is a beautiful song. I was only 14 and crushing hard on someone, and the chorus was "we'll ride white horses/ into the sunset/ if you smiled I would bet/ I wouldn't crumble/ I wouldn't fall/ I wouldn't cry for anything at all/ with your arms around me I'm protected / let's ride white horses into the sunset."
Describe your first gig.
One of my first paid gigs was when I was in college and there was some sort of health fair outside of a strip mall where I was living in Seattle. My best friend accompanied me, and I played after a band of big biker dudes. I realized I forgot my capo, and after their set one of the guys hopped on his motorcycle to go home and get a capo for me. I'll never forget that guy!
What was your last day job? What was your favorite day job?
Currently, I teach guitar lessons to kids, but I also just got a part time job hiking dogs on Colorado Trails. It sounds fun, but there is a definite art to walking four dogs at once and I am still learning.
How has your music-related income changed over the past 5-10 years? What do you expect it to look like 5-10 years from now?
In the past 3 years, I've been able to make more money playing music than with any other job I've had. I've only worked food industry, childcare and pet care jobs, which don't pay much, but every day I look around at my apartment, instruments and clothes and feel lucky that music has allowed me to support myself and my lifestyle. In 5-10 years, I am going to buy a house in Golden (where I live in Colorado) with money from a hit song – I know it!
What one thing do you know now that you had wished you knew when you started your career in music?
When I started out, I was extremely naive. I'm the only musician in my family, so I had no basis for what a musician's life is like. For a very long time, I was under the impression that I would play a coffee shop in NYC and get "discovered" and life would be gravy from there (thanks musician biopics). I would say I wish I had known that the music business is not like that anymore, but I'm actually glad I didn't know better when I was younger. Being so dreamy and green gave me a lot of stamina to survive a lot of unpaid, terrible gigs that I will never do again.