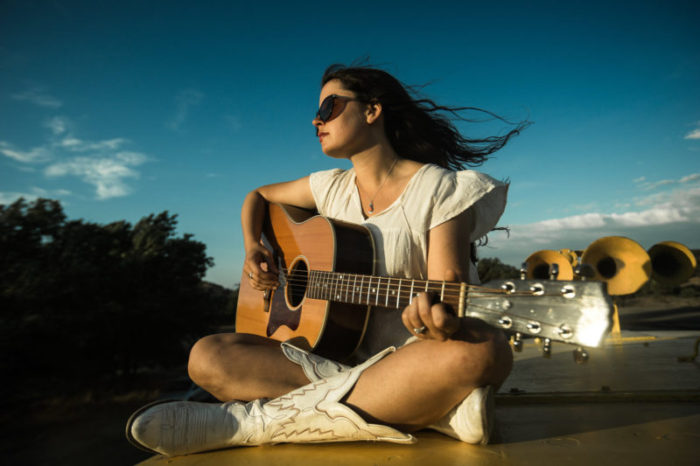 Tell us about your tour vehicle. Any notable breakdown stories?
My tour vehicle is a 36 ft Class A motorhome and we tow a little Toyota hatchback behind it. The motorhome has 45,000 miles on it — we park it in one place for somewhere between a week and several months and we live in it, then I use the Toyota hatchback to drive to gigs. We treat it like a moving home base. Colorado for the summer, West Coast in the fall, Texas in the winter. We're basically snowbirds, but in our 30s.
Major repairs? Most notably, our toilet in the RV broke this summer while we were driving across west Texas in 110-degree heat. My husband spent three days trying to fix it before we gave up and just bought a new one. The silver lining is that we camped out in Waylon Jennings' Free RV Park in Littlefield, Texas (his hometown) while we made the repair. Getting stuck in Littlefield was awesome because Waylon's younger brother and sister-in-law run the Waylon Jennings Museum (which is also a liquor store and a gas station) and it's a national treasure.
How do you eat cheaply and/or healthy while on tour?
It's incredibly helpful to have a full kitchen in the RV. I cook a lot! But when I'm on "tour tour" and logging a lot of miles in my car, I hit up the salad bar at a grocery store or I buy hummus and carrots and apples and rice cakes. Or I drink coffee until noon, then I eat a burrito from Chipotle the size of my head (veggie burritos there are like $6.50 and guac is included). That's basically my one big meal of the day.
How many strings do you break in a typical year? How much does it cost to replace them?
Well I'm a folk singer, so I've literally never broken a guitar string in my life! But I replace my strings every 6-8 weeks with a $10 set, so I guess that runs me around $60 per year!
Where do you rehearse?
My rehearsal space is my cozy little RV bedroom. It's the only place where I can close a door and be by myself! I hate rehearsing in front of people. I make my husband put on his headphones in the RV living room so he can't hear me.
What was the title and a sample lyric from the first song that you wrote?
I wrote my first song when I was 21 and it's called "Prospects." One of my favorite lines is: "You make just enough now to keep us on our feet, but every night is chilly even in this summer heat. We don't make love anymore, we just sleep side by side, and it breaks my heart our love could grow so cold in late July."
Describe your first gig.
One of my first steady gigs was playing covers in a bar on Thursday nights in Chattanooga, Tennessee for $75. I sang a lot of Prine and Patty Griffin and started throwing my own songs in the mix and experimenting. People either loved me or yelled to talk over me while they got drunk at the bar. I don't play bars anymore, but that gig taught me how to sing through distractions and how to banter with an audience.
What was your last day job? What was your favorite day job?
My last day job, which I quit in 2016, was working as a Spanish interpreter at a hospital. I loved it because I felt like I was serving a good purpose. I wasn't supposed to advocate for my patients, but I definitely did. The medical system is hard enough to navigate as an English-speaker, but if you've just landed here from Guatemala and you're pregnant? Phew. That's so hard. I worked primarily with women in the OB/GYN setting. I loved connecting with them and hearing their stories and helping them through their pregnancies.
How has your music-related income changed over the past 5-10 years? What do you expect it to look like 5-10 years from now?
A mentor once told me that I should treat my music career like building a business — that it takes time and investment— and that I shouldn't expect to turn a profit for the first five years. Since I launched full-time in 2016, I've steadily made more money. I'm playing better gigs and growing my income through multiple channels, like touring, digital streaming and sales, and Patreon. But I'm still investing almost every dime back into the career. It's paying for itself right now and I'm in this for the long haul. With continued steady growth, I expect that in 5-10 years I'll be able to own a home and make a comfortable living. Honestly, is there anything else we could ask for? I dream of living comfortably enough to be creative, to say yes to the projects that excite me, and to be able to give abundantly to non-profits and humanitarian causes.
What one thing do you know now that you had wished you knew when you started your career in music?
When I first started my career in my music, I was self-conscious about how much of a beginner I was. I'd never taken voice or guitar lessons, I'd spent most of my twenties working in the non-profit world, and I had no experience in the music business. Now I see that as a blessing. I didn't have anyone to influence my style and I wasn't writing trying to get cut. I made my first album for $200 in single-take sessions in a little studio with my guitar and a vocal mic. It's totally vulnerable and raw, and now I see that as a really good thing. I wish I could go back and say to myself, "Everything that makes you different is your strength. Don't try to fit in."