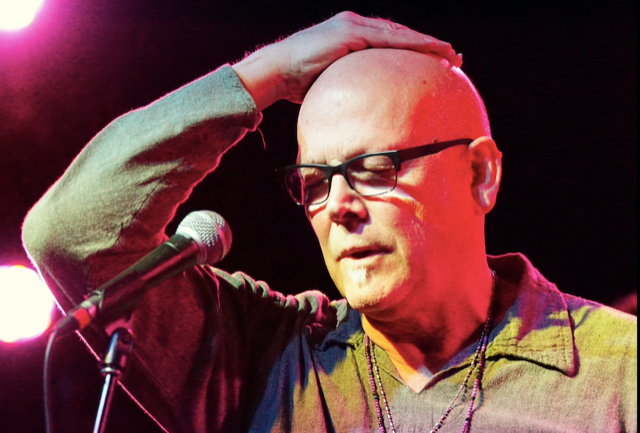 Tell us about your tour vehicle. Any notable breakdown stories?
Back in the 70's, I was living in Chapel Hill, NC and had a band called Arrogance. After we sold our Cadillac limo, Arrogance went through two Ford Club Vans and a 28' International truck. I have used a Ford Taurus station wagon, a Saab 900 and a couple of Dodge Caravans over the decades since. The Caravans both made it close to 300,000 miles.
Breakdowns have occurred so many times it's hard to pick a time that's more memorable than another. Maybe the time a brand new vehicle with 364 miles on it broke down on a Friday at 5pm in rural Maryland and stranded me and Marti over the weekend while we waited for the closest dealership to open on Monday morning. We sat in that dealership all that day waiting for a part to show up. We did get to see a couple of good movies over the weekend though.
I have spent much of my time on the road with Mary Chapin Carpenter since 2010. When we're touring in the USA it's by tour bus. Bus life suits me well. Actually all the travel suits me well.
How do you eat cheaply and/or healthy while on tour?
With Mary Chapin Carpenter, it's easy because the catering rider indicates that I'm a vegan and there's always something I can eat.
When Marti and I are out touring we've found a lot of great vegan restaurants around the country. Thanks to Yelp it's much easier than it used to be.
How many strings do you break in a typical year? How much does it cost to replace them?
I seldom break strings and I like the sound of old strings. I primarily play bass. Some of my basses have strings well over a decade old.
I use flat-wound strings on the guitars I play the most, an old Silvertone arch top and a Fender D'Aquisto arch top. Those strings last a long time too. Breaking strings is not a big issue for me.
Where do you rehearse?
Marti and I rehearse in the dining room of our house in Canton. I also have a recording studio in the house. Your typical, modern-ish, ProTools project room with a lot of ancient compressors and mic preamps.
Rehearsing with Mary Chapin varies wildly. We've prepared for tours in practice studios in Nashville, in historic theaters, in a house on her property in Virginia, once we even worked up the show in a ballroom at a winery. Spent a week there. Nothing very peculiar seems to happen at rehearsals. You just put your head down and do the work, try to survive. It's not misery but it's the least favorite part of my life as a musician.
What was the title and a sample lyric from the first song that you wrote?
I began writing songs (trying to fool my sisters into thinking they were real songs) when I was around 4. I don't remember any of them. The earliest one I can remember off the top of my head was from my 13th year of life. It's called "What Do We Know of Love"
Girl, you are like a summer breeze that fills my soul, you see

You are like a tender warm and graceful melody

You are young and beautiful in every way to me

Oh, girl, what do we know of love
Pure poetry. The melody was kind of like something Dennis Yost & the Classics Four would have done.
Describe your first gig.
I grew up in a small town in South Carolina. One of the first shows I remember was with my 7th grade band, The Racquets, playing a talent contest at school. I played trombone, there were two clarinets, two trumpets, two alto saxes and a drummer. We played "Java", a song written by Allen Toussaint, as it turns out. He is a songwriting hero of mine.
The next year, 1964, I bought a bass so I could join the band I admired in town. The Cavaliers. They were a grade ahead of me and played instrumentals only. Serious American Songbook stuff. This band consisted of organ, tenor sax, guitar and drums, the organist playing bass parts on the pedals until I joined.
We played some talent shows early on but primarily we provided the music at dances for the country club set. And beauty pageants. We were a tuxedo wearing group of boys that could read music therefore popular with small town pageants working on a budget but wanting more than a piano.
I had the opportunity to work multiple times with several Miss Americas and all the Miss South Carolinas in the years 1964 to 1968.
We were making as much money playing on weekends as the guys who worked all week on third shift at the cotton mill.
What was your last day job? What was your favorite day job?
I have never had a job other than music. Not true. I was a lifeguard for a couple of summers and I worked at a wildlife refuge in Northern California the summer of 1968. I helped grow rice for migratory birds near a little town called Willows about halfway between Sacramento and Redding.
Later, when I was living in Chapel Hill, NC, I used to hang around at a stereo shop called Woofer & Tweeter. Though I never was an employee, I would wait on customers sometimes. I remember when Michael Jordon came in to buy a stereo. It was his freshman year and I was excited that he had decided to come play basketball at UNC so I begged the manager of the store to let me install Michael's system in his room at Granville Towers. He bought a Harmon Kardon receiver, two Infinity POS II speakers and a BIC turntable with a Grado cartridge.
How has your music-related income changed over the past 5-10 years? What do you expect it to look like 5-10 years from now?
I have always made money with four different income streams:
Live performance
Writing songs
Selling records
Producing records
My income fluctuates based on what is going on in these different areas at any given time. Up until the pandemic of 2020, live was the most consistent stream. Years that you have a record out, you are obviously making more on writing and selling than you are for the in-between years.
I've consistently produced recordings for other folks and that has been (and continues to be) a fairly constant source of income. I've also been lucky enough to have songs recorded by other artists that sell pretty well so there are years when royalties for songwriting out strip all the other sources.
Obviously, streaming has decimated royalties on sales and even airplay. My income from mechanical royalties and airplay is about a tenth of what it was in the 90's & early 2000's.
What one thing do you know now that you had wished you knew when you started your career in music?
I think that ignorance of the pitfalls of this kind of life is crucial to success. Coupled with blind faith. I'm glad I didn't know anything. Had I known what I was in for, I might not have had the will to persevere. There is the love of making up songs and singing them, the excitement of performing, the camaraderie of being in a band, the next record deal, hearing yourself on the radio…all of these carrots dangling in front of you to make you keep going.