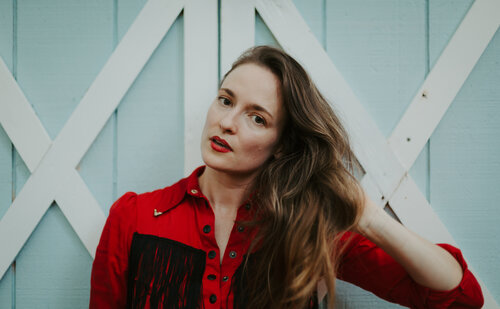 Tell us about your tour vehicle. Any notable breakdown stories?
Oh my. I've had many a touring vehicle, VW wagons and busses, rental vans, other people's tour busses, a stint owning a Sprinter (while living in Brooklyn, parking was tricky to say the least!). For my most recent European tour I took trains for the first time and that was really nice.. easy to do when you're traveling as a solo act, not so easy with a band.
Quite a few notable breakdowns- one that comes to mind was en route to a gig in Wisconsin in the middle of a winter blizzard. I was touring with a drummer and bass player when we got stuck in traffic on the interstate for over 7 hours, our heat went out and we had to climb in the cabin of the Big Rig behind us to keep warm. The driver shared his snacks with us and we listened to his CB radio for updates. Apparently a truck had overturned on the county-line and neither county wanted to pay to send help. It was pretty scary for us and others too. I learned the next day that one woman had to deliver her baby in a car, stuck in that same epic traffic jam.
How do you eat cheaply and/or healthy while on tour?
It's tough. If there's time I'll seek out the cool healthy spots but most of the time unfortunately it's gas station food, God Bless Marks and Spencer's on the motorway in the UK, I wish our gas stations had healthily options like that in the states. As long as we have some good food on the rider, fruits and veggies will make their way into the van. I rely on Yelp and promoters to recommend good spots in the area. Also, playing the same towns over the years, I've got some favorite stops.
How many strings do you break in a typical year? How much does it cost to replace them?
I try not to change strings that often and hardly ever break em. I love the sound of the dull salt-worn ones. I probably change my strings two to three times a year and still haven't finished the box of D'Addario's I've been working on for a few years now.
Where do you rehearse?
I had a basement rehearsal space in Brooklyn for many years which was necessary because I always had roommates! Since moving out of NYC I've been able to rehearse at my house or musician's homes for smaller configurations and rent out a space here and there if there's a full band gig coming up.
What was the title and a sample lyric from the first song that you wrote?
"Today I got my wisdom teeth out and it reminded me of how much I hate you."
From the song "Gretchen" written for my brother after he got his heart broken by, you guessed it… a girl named Gretchen.
Describe your first gig.
My mom was a wedding coordinator when we lived in Branson, MO and I sang at a few of the weddings she put together. I was 12 or 13. "A Whole New World" was definitely in my repertoire!
What was your last day job? What was your favorite day job?
The last day job I can remember was over a decade ago. I had a temp job at Pratt University in Brooklyn, answering phones in the tech department. I liked the crew down there, we were a motley mix of Ren-Faire goers, fishermen and wizards… it felt a little like Freaks and Geeks. My favorite day job of all time was working at Unoppressive Non-Imperialist Bargain Books on Carmine Street in the Village. I worked there on and off for about 5 years and still love the place.
How has your music-related income changed over the past 5-10 years? What do you expect it to look like 5-10 years from now?
It's consistently inconsistent enough that it seems not much has changed in the past 10 years but now I have a lot more expenses (a house, a car, a wonderful kid and family)… I hope to stay afloat, but I really have no idea what's coming next, especially in the middle of this pandemic. I hope that streaming services will eventually pay a fair rate to songwriters but there's no guarantee. I just feel lucky to be here.
What one thing do you know now that you had wished you knew when you started your career in music?
Slow down on stage. It's so easy to get carried away in the excitement of a gig that the songs can speed up too much. When your heart's racing the tempo often follows.