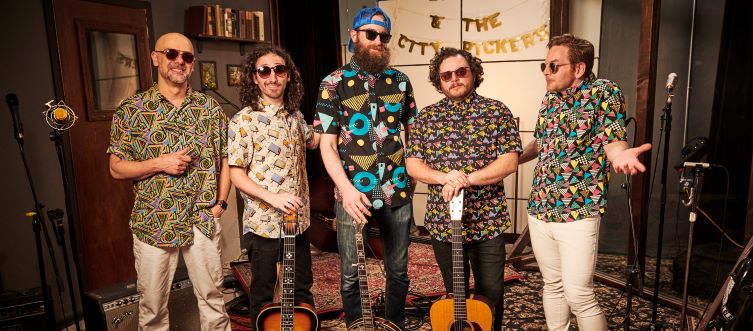 Tell us about your tour vehicle. Any notable breakdown stories?
We don't really have a "tour vehicle" per se, but most often it comes down to my car, which has changed over the years. I used to have a tiny two door coupe, which required us becoming professionals at tetris-ing each and every item just to make sure we could fit our clothes (obviously instruments come first). On a number of occasions we were so limited in space, that we found it best to get each person into the car, packed them into their spot while covering them with items, admittedly including filling large chunks of the windshield and even me driving with a suitcase on my lap. Not the safest method for ensuring we got to the festival. Since then, I've upgraded to a larger car.
We did have a notable breakdown story:
While on tour in Florida we rented a Cruise America RV. If you recognize the name, then you know that they're covered in advertisements, stickers of dogs/scenery, and aren't exactly the "road kings" in terms of quality. We picked up the RV, only to immediately notice water leaking from the reservoir. We had them repair it and we were on our way. We noticed that on the highways as we would reach higher speeds the RV would shake unbearably. We pulled over, inspected the vehicle and noticed nothing. We continued on our journey, but over time it got worse and worse. On the last day, we had breakfast with a dear friend, and started on our 2 hour drive to drop the RV off and subsequently get on our flight back to NY.
About 30 minutes into the drive we were unable to go above 60 miles an hour, the shaking was out of control. Sure enough, an hour into the drive we heard a huge bang, like a shotgun, and the RV was thrown. It felt like the RV was blown onto its two driver side wheels and then came crashing down. What felt like an instantaneous reaction, I held the wheel and told the guys "get Cruise America on the line now!"
We pulled over and spent the next 1.5 hours trying to find a tow truck that could come and change our spare tire. The pressure was on, not only were we going to be charged fees for returning the vehicle late, but we were in jeopardy of missing our flight! We called Cruise America, we called every tow truck within 100 miles, which resorted even to us calling personal phone numbers of tow folks referred to us by sympathetic dispatchers in hopes that they might pick up on their day off. No luck. Then, all of a sudden a tow truck arrives! The man gets out and immediately starts to help us, I asked how he found us (as we hadn't given an exact location to anyone we talked to). He said he was driving by and saw us and pulled over. It was a miracle! At this point we were severely behind schedule.
He had us fixed in 15 minutes, we jumped in the RV and put the pedal to the literal metal for the rest of the drive. We scheduled an uber pickup at the RV dropoff for the exact time we pulled in, we threw all of our gear into a van, floored it to the airport, sprinted to security and that's when we saw the line. We anxiously waited, counting every second that passed until we reached the front. As we went through, we were pulled aside by security because we had metal electronics in our cases. He took every single item out of every single instrument case we had (5 members). One of the band members said "guitar guys go and we'll grab the rest and catch up", 2 bandmates and I grabbed our instruments and started sprinting to our gate. I could literally hear them over the loudspeaker saying "last call for New York" as I screamed "hold the plane!"
I got to the gate, and of course, like every other "instrument on an airplane" story goes, the stewardess says "you'll need to check those instruments". I gave one swift counter argument and then caved, "fine, give me the gate check slip". I took the slip, started running down the bridge, and stuffed the slip in my pocket. When I got to the plane the stewardess again said "You'll need to check your instruments". With an out of breath but firm tone I said "just give me one chance to try and squeeze it in a compartment". The stewardess reluctantly obliged and sure enough the last compartment in the last row was open and our instruments perfectly fit.
Relieved, we sat down only to hear over the loudspeaker "the cabin doors have been closed please buckle your seat belt". "No!" we thought, "our other bandmates aren't on the plane yet!" But before the thought finished we saw the two remaining friends appear from behind the first class curtain. We made it. The remainder of that plane ride ended up becoming hazy as whiskey and celebratory cheers over our luck, both good and bad, were shared.
How do you eat cheaply and/or healthy while on tour?
A combination, our band is like a family, we're all very good friends and like to operate as a unit. We normally mutually decide on a location and get what suits us individually. Oftentimes treating ourselves to unhealthy eating habits, but of course we make sure to get our greens too (ugh we're getting older).
How many strings do you break in a typical year? How much does it cost to replace them?
As a dobro player, I've never broken a string, and surprisingly our banjo player hasn't ever broken a string either, but our harmonica player does need to have his harps tuned once a year. We're a pretty low maintenance band.
Where do you rehearse?
Our rehearsal space is mostly just the convenient middle ground for the band on a given day. Our banjo player lives in NJ, our guitar and bass players live in Brooklyn, I've moved several times in the past few years around Queens and Brooklyn, and our harmonica player lives in Manhattan, in the lower east side. We often just end up at our harmonica player's apartment because it's free and the least inconvenient. Plus it's in proximity to some of our favorite venues and drop in bars, in case we get the need for more picking or an after rehearsal drink.
What was the title and a sample lyric from the first song that you wrote?
I can't remember the first song I wrote, but the first song that I wrote which I convinced other folks to play with me was called "Buy Me Back Barry". At the time, I was living and playing with friends who lived in Queens, our guitar player, Christian, being one of them. We would frequent the bar at the end of my street, The Quays, for a jam every Sunday. In fact, that's where I got my start playing bluegrass music and where I met a majority of my now closest friends.
The owner of the pub, and a damn fine supporter of drunk amateur musicians, Barry, would sling us drinks until we could barely stand. He had a rule "You buy two drinks, and I'll buy back the third." That became the phrase and I built the song around it. "I don't know what I'd do, god forbid him any bad health. We need him more than ever, a blood diamond in whiskey wealth…buy me back Barry, I could use another drink, buy me back Barry, one more whiskey for me."
Describe your first gig.
My first gig was at The Delancey, with our band at the time, The Idiot Brigade. The band name was fitting for the venue, it was in a dingy poorly lit basement filled only with a bartender, my girlfriend at the time, and one of her friends. Luckily, there was only room for improvement at that point in my career.
What was your last day job? What was your favorite day job?
Actually, our situation is a bit unique. Most of us have day jobs that provide decent flexibility that allow us to tour when needed. Our harmonica player, Matheus, works at Apple. Our banjo player, Banjo Mike, works in product photography and videography production. I'm an engineering manager at a startup. Our guitar player used to teach music in public schools but dropped it all to live the full-time musician dream which our bass player has been doing for a number of years. We all have different schedules so it's remarkable that we're even able to find a time to rehearse!
How has your music-related income changed over the past 5-10 years? What do you expect it to look like 5-10 years from now?
Arts related income has historically always been a challenge. As the son of a mother, who grew up poor because her father was an artist and her mother a dancer, they didn't have much income. I have always been passionate about the arts but know that choosing that as a sole means of income and career affects all of those around you. I was given a unique opportunity of a high-level education and interests in many areas and so I split my focus between the arts and science. That is why I've aimed for a different financial model for my music career. I got a degree in Computer Science and Math, and continued with my arts in parallel. Now, I'm at a point where my day job, and therefore the disposable income that comes with it, has become the fuel for my art instead of a burden on it. I do my best to put money and resources back into the community rather than deplete from it, by hiring artists and friends that I believe in, and donating my skills where I can.
In the future I expect the arts community to continue to struggle as it has, and under that assumption I'll continue to pour resources into my communities and the arts economy. Although, now with NFTs and social media, I do see a small potential for a large shift in this area and I'm curious to see how it plays out. I have a few artist friends that have become very successful by means of the digital world. For example, income from selling NFTs or selling advertising spots for viral video art content that contains pairing of sonic creations with computer generated graphics to create truly new aspects of art that are weird, gross, hilarious, creative and different. You know, art.
P.S. Check out Cool 3d World to see what I'm talking about.
What one thing do you know now that you had wished you knew when you started your career in music?
How to practice better. With the possible exceptions of the world's most elite players, teaching yourself is one thing that will never go away and can keep being a musician new and fun for years to come. Over the years, I've spent time learning how to teach myself how to get better. It's always changing as my skill level and abilities change, but I wish someone could have shown me how I learn and what I should be spending my time working on. Sounds obvious, and I had teachers growing up, but it's always been something I want to do better.