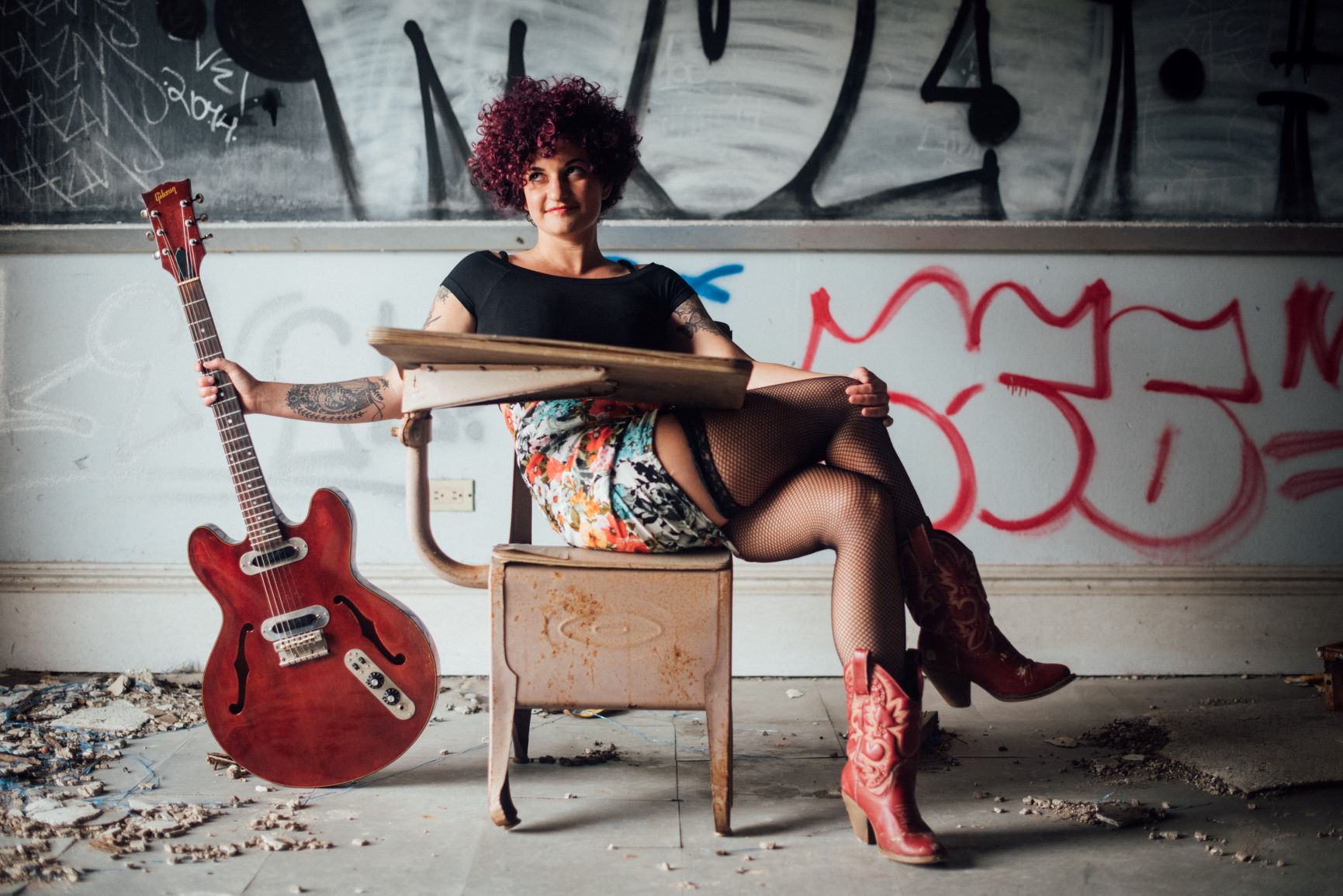 Tell us about your tour vehicle.
My current tour vehicle, Rhonda, is a 2016 CR-V with only like 100k miles on it!!! Our previous tour vehicles were a series of decades-old station wagons and minivans: Jujube, Stan, Midge.
Midge had an historic breakdown about two blocks from The Southern in Charlottesville, VA, like twenty minutes before sound check, and we rolled the car to the venue. The next day I got it towed and found out that a new transmission would be $1600. I had a nervous breakdown in the parking lot (sobbing, snot, the whole nine), and my bass player and dearest friend (the illustrious Joe Plowman) had to talk me out of quitting music. Luckily he did a good job.
How do you eat cheaply and/or healthy while on tour?
HA, how indeed! Ain't that the question! We are all food geeks as well as music geeks so we are constantly sampling the "local cuisine", which is rarely healthy but sometimes cheap. Favorites includes the "Five-Way-Coney" in Cincinnati (look it up, it's almost as amazing as its name) and deep fried tacos in southern California.
How many strings do you break in a typical year? How much does it cost to replace them?
I don't know, and I don't want to know.
Where do you rehearse?
I have a rehearsal space/writing studio in my backyard (in New Orleans) called The Watermelon. It's about 10×10 with one huge window, painted green on the outside and watermelon-pink on the inside. It's got just enough space for a daybed and a desk and a bookshelf and two guitars. I have had nothing but crazy experiences in there; it's a very highly charged mojo-attractor. There have been love affairs and lust affairs and 24-hr songwriting sessions; it's been a crash pad for artists from all over the world; it's been host to a memorial service for our neighbor and a series of boudoir photo shoots. It's also launched a couple bands and a few relationships and several relationship-maelstroms, some of them fatal. It is possibly the cosmic center of the creative universe.
What was the title and a sample lyric from the first song that you wrote?
I THINK the first song I completed was called "Take Me Down"? It was one of those rambly Lilith Fair/Jewelesque numbers, something like "Take me down from the wall, let me breathe."
Describe your first gig.
The first gig I ever got paid for (I had played a few open mics) was at a restaurant in Sperryville, VA, called the Blue Moon Cafe (long since defunct). I believe I played three songs as an opener for a local band, and at the end I got a check for $50. Fifty dollars!!! I was thirteen so that was an astronomical amount of money; think of all the cassette tapes and Hot Topic makeup products you could buy for $50 in 1998! I remember looking at the check and thinking, this the most amazing thing I can imagine happening. I still haven't really gotten over how amazing it is, actually, to get paid for (to quote Tom Waits) "doing interesting things with air".
What was your last day job? What was your favorite day job?
My last day job was as a barista an Steel City Coffee House in Phoenixville, PA, which is a cafe and music venue – I quit in 2007 and have been a full-time musician since.
My favorite day job is a tie between working at a self-service dog wash called "Suds 'Em Yourself!" in Eugene, Oregon; and my teenage summer job at a canoe rental place in Luray, Virginia (there were a lot of cute boys on staff and we had a lot of squirt gun fights).
How has your music-related income changed over the past 5-10 years? What do you expect it to look like 5-10 years from now?
I am lucky/unlucky in that I didn't get started in music until 2006, which was roughly the last year that any person bought a physical CD in a record store. So the whole streaming revenue debacle doesn't particularly hurt my income – I didn't have any royalties or record sales income to lose; I have been subsisting primarily on gigs and crowdfunding for the entirety of my career. I use Patreon now, which is a subscription model (my fans pay a monthly fee to support me and get access to digital content), and that is providing a huge chunk of my income (as well as most of the release budget for my new record).
My guess is that the patronage/subscription model is the wave of the future; I'll be surprised if a majority of working artists don't have a Patreon page (or some similar model) in 5-10 years.
What one thing do you know now that you had wished you knew when you started your career in music?
Can I do two?
1) No bullies, no drama queens (don't work with, date, or hire them). It doesn't matter how talented, famous, or hot they are.
2) Your relationship with your muse is the most important relationship in your life. Don't let career, money, perceived success/failure, or other people distract you from it.