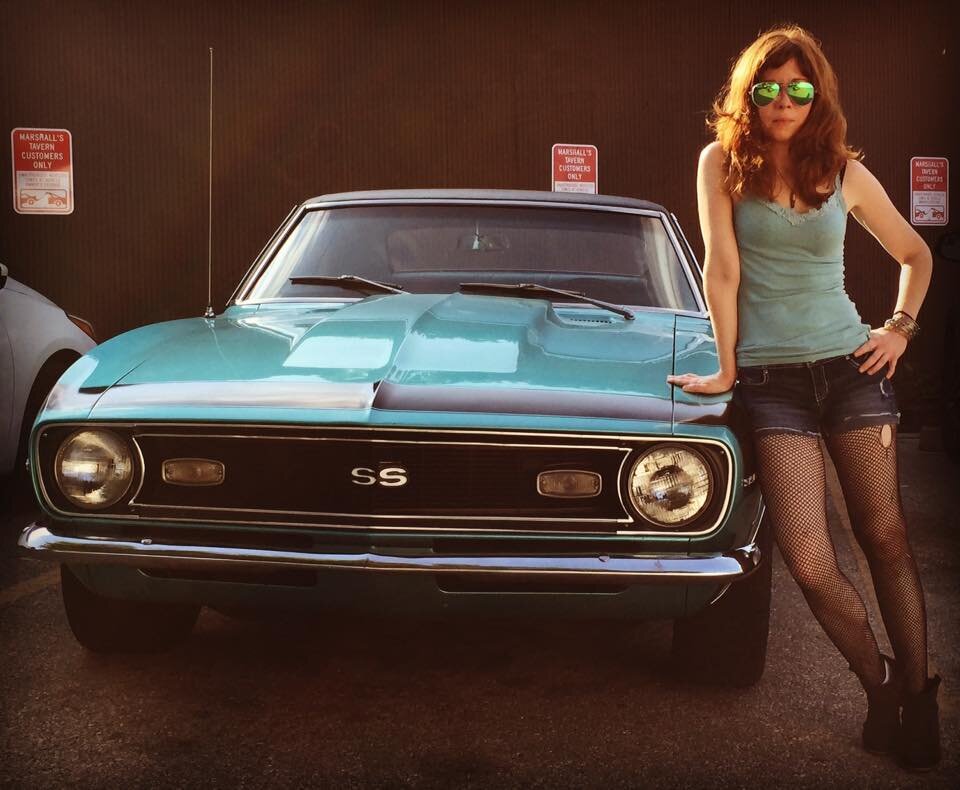 Tell us about your tour vehicle. Any notable breakdown stories?
My tour vehicle over the past several years was a 2004 Toyota Sienna minivan, with over 200K miles on it. We were able to fit 4 of us, all of our equipment, and a P.A. in there. It was a tight squeeze to say the least.
Once in the middle of a tour we left to go to a gig in Indianapolis and it wouldn't start. After a phone call to my mechanic and some googling from my bass player, we figured out that the gear shift cable was no longer working. We had to manually shift the gears every time by reaching down into the engine. It was a pretty comical 2 person endeavor until we realized we could just put on the parking brake. Unable to make it to a shop on the road in time, we ended up driving like that all the way back home, the whole second leg of a 2 week tour.
How do you eat cheaply and/or healthy while on tour?
Eating cheaply and healthily on tour is a pretty big challenge. It's great when we can get fed by the venue, but oftentimes it's just burgers or fried food, or pizza. Occasionally we play a venue that also doubles as a restaurant and has a great menu. Since I'm pescetarian, I try to stick to fish dishes, but with all the truck stops and Waffle Houses on the road, inevitably I get stuck eating eggs and potatoes for half the meals.
How many strings do you break in a typical year? How much does it cost to replace them?
I used to break a string on my acoustic guitar every other show. I haven't actually paid for strings in a long time because my guitar player has an endorsement deal with GHS. I had taken to changing my strings before every show, or every other show. I had a one night where I embarrassingly broke 3 strings on one gig, and these are acoustic strings. I had always pounded into them so hard. I finally took my guitar in for a set up and developed a technique that wasn't quite as abusive to the strings. I also got a new acoustic that doesn't seem to have the same issue.
Where do you rehearse?
I lived with my bass player for about 8 years and when I moved in, the garage was stacked with boxes and old furniture.  I slowly cleared it out and turned into our music room.  I would go out there at night and work on songs and we would have rehearsals in there when we needed them. 
What was the title and a sample lyric from the first song that you wrote?
One of the first songs I ever wrote was called "Something Wrong". The chorus was "He sends me roses with the thorns still on. Everything right has always got something wrong". I guess I was fairly cynical even back then.
Describe your first gig.
I used to go to the open mics at the Cactus Cafe at the University of Texas when I first started playing. After about a year, the host asked me if I would do a showcase she was putting together for a show at Central Market. I played a 20 minute set of original material with a couple of other songwriters, including Susan Gibson, who wrote the (Dixie) Chicks hit "Wide Open Spaces".
What was your last day job? What was your favorite day job?
My current day job is working at a food truck called Tender Thighs, at a venue in South Austin called Sagebrush. We make fried chicken and tempeh for the vegans. I'm enjoying learning how to work in a kitchen, and I'll be relocating to their sister trailer, a cajun food truck, in a few weeks. I think the most fun I've had at a day job was waiting tables. There's certainly something gratifying about interacting with regulars and creating an enjoyable dining experience.
How has your music-related income changed over the past 5-10 years? What do you expect it to look like 5-10 years from now?
I was making a negligible amount of money from music 5 years ago. Once I started touring and playing over 150 dates a year, more money came in, but expenses usually take a pretty big bite out of the profit. I try to do a fair number of solo and duo gigs to make up for the several weeks a year where I'm paying for or barely breaking even on band tours.
What one thing do you know now that you had wished you knew when you started your career in music?
I wish I knew what commitment and discipline it takes to make a living as a musician. Sometimes you don't always want to write a song or pick up the guitar. The passion and inspiration doesn't always come easily. You sometimes just have to force yourself to write or play in order to remember why you're doing it all in the first place.