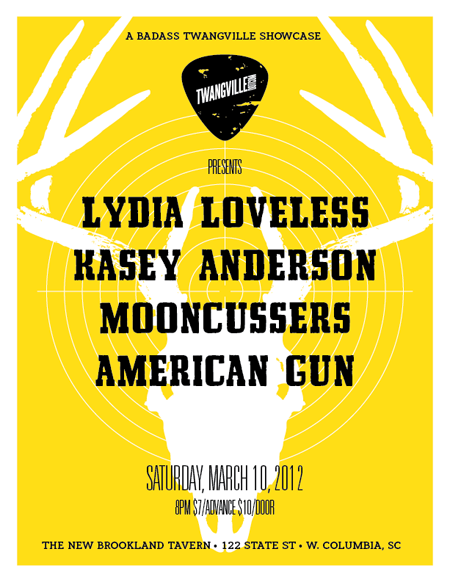 Yup, you read it right. The Twangville posse is headed to Columbia, South Carolina. And being a music site, our visit wouldn't be complete without a show. So we've made arrangements to take over Columbia's New Brookland Tavern and invited some of our favorite artists to join us for a raucous night of rock & roll.
Check out this badass line-up:
Audio Download: Lydia Loveless, "Can't Change Me"

Audio clip: Adobe Flash Player (version 9 or above) is required to play this audio clip. Download the latest version here. You also need to have JavaScript enabled in your browser.
Audio Download: Kasey Anderson and the Honkies, "Mercy"

Audio clip: Adobe Flash Player (version 9 or above) is required to play this audio clip. Download the latest version here. You also need to have JavaScript enabled in your browser.
Audio Download: The Mooncussers, "Worcester Boy"

Audio clip: Adobe Flash Player (version 9 or above) is required to play this audio clip. Download the latest version here. You also need to have JavaScript enabled in your browser.
Audio Download: American Gun, "Therapy"

Audio clip: Adobe Flash Player (version 9 or above) is required to play this audio clip. Download the latest version here. You also need to have JavaScript enabled in your browser.
Do you live in Columbia? Can you get to Columbia? Then come join us! In fact, we'll make it easy for 'ya. We're giving away two pairs of tickets. To win, post a comment with the name of the appearing artist that you're most excited to see. Winners will be selected at random when the contest ends on Tuesday, 21 February 2012 at midnight ET.**
Special thanks to Lydia Loveless, Mooncussers and Kasey Anderson for making the trip to join us and for American Gun for being our gracious hosts. We're looking forward to a great night of music!
---
**By participating in Twangville contests you agree to allow Twangville to post the winner's name and city on our web site. We pass along the winning addresses to the record company for fulfillment. Twangville will not use your address for any other reason. Contest open to US and Canadian residents.

Photo credits: Paula Masters Travis (Lydia Loveless), Hilary Harris (Kasey Anderson), Dan Focht (Mooncussers), and Jonathan Boutknight (American Gun).
---
About the author:
Mild-mannered corporate executive by day, excitable Twangville denizen by night.
---