Timeless.  That's the single word that best describes the latest release from Berkeley, CA-based songstress and multi-instrumentalist Laurie Lewis.  Skippin' and Flyin' is a sort of tribute album to Bill Monroe.  The tribute is an abstract though, that includes Monroe songs, songs from others that were inspired by Monroe, and even songs that just evoke Monroe's style or approach to music.  In some ways the album is performance art–you really need to get the physical disc so you can read the liner notes to get the full experience.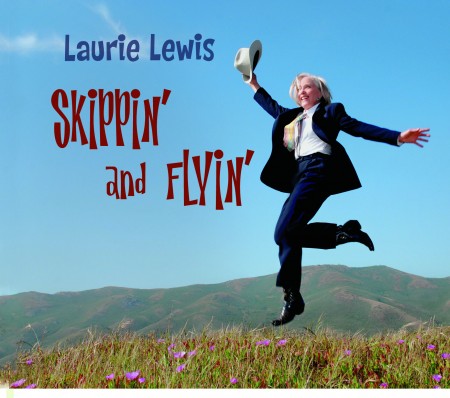 The album starts off with Old Ten Broeck, a traditional song that has a Monroe version.  Lewis' version includes additional lyrics uncovered by folk archivist (and half brother to Pete Seeger) Mike Seeger.  Lewis' notes give a little bit of the history of the song and the horse the song is named after.  In a microcosm, this is what the whole record is like.  A song, with some changes to the original, and notes on how they came about.
From Old Ten Broeck the record moves to What's Good For You, a tune recorded originally by Flatt & Scruggs, and featuring Linda Ronstadt on harmony on Laurie's version.  Next up is The Pharaoh's Daughter, a Lewis original that elevates the courage of the woman who rescued tiny Moses in the reeds.  Then comes Harfordtown 1944, about a tragedy that killed many people that's made a little more personal by the anecdote included in the notes.  Musical highlights abound here, but others worth noting are the vocals on Jimmie Rodger's Tuck Away My Lonesome Blues, the Lennon Sisters-like harmony with Nadine Landry on I Don't Care Anymore, and the tasty instrumental solos on I Ain't Gonna Work Tomorrow.
Skippin' and Flyin" is an extremely personal album, maybe best highlighted by the reprint of the picture Monroe autographed for Lewis that leads off the liner notes.  The record is filled with traditional and traditional-sounding bluegrass.  Unlike Gillian Welch's release earlier this year, it doesn't have a modern production sound: it could have been recorded yesterday or 40 years ago.  But it's that lack of technical identity along with the song selection and the insights from Lewis herself that transforms a tribute album into a love letter to Bill Monroe that's being shared with the world.
---
About the author:
I've actually driven from Tehatchapee to Tonopah. And I've seen Dallas from a DC-9 at night.
---