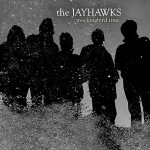 It is time for another collaborative review here at Twangville. So here are a few perspectives on the Jayhawks new release Mockingbird Time:
Eli –
I am surprised by how much I like Mockingbird Time. Now you may be asking yourself "surprised? really? what's wrong with this sap—it's the Jayhawks—the original line-up with Louris and Olson back together again." And you would be right, such a momentous reunion of one of alt. country's defining bands and one of my personal favorites to boot would ordinarily involve me drooling for months on end awaiting the release date. The problem here being that Louris and Olson have been playing for a couple years now and recorded a duo album in 2009, the Chris Robinson produced Ready for the Flood. And I was psyched for Ready for the Flood, perhaps way too psyched, as the album was a good, but not great, set of fairly relaxed songs. My favorite part of the album may have been the cover art. So, when I heard the Jayhawks were reuniting and recording a new album, my ears perked up a little, but I wasn't foaming at the mouth and preaching to random people in the street about its impending release.
Well maybe I should have been. Mockingbird Time features all the same hallmarks as the band's heralded records of the 1990's (Hollywood Town Hall, Tomorrow the Green Grass). Olson and Louris haven't missed a beat with their achingly beautiful harmonies or their top-notch songwriting. The influences are all fairly predictable given the band's back catalog (Neil Young, the Stones, the Kinks, The Band, etc.), but the influence I was most struck by this time around is The Beatles. Certainly the post-Olson Jayhawks veered towards a more elaborately produced pop-rock sound, but what we get here is the gruffer side of the Beatles. "Highwater Blues" and "Hey Mr. Man" strike me as the kind of songs that Lennon would have smoked 4 cigarettes and then belted out. The piano coda of "Mockingbird Time" sounds like a McCartney number, or a Harrison one, or for that matter a late-era, Lennon solo composition.
Not that any of that matters too much, because this album sounds like the Jayhawks. In other words, it sounds awesome. Check out "She Walks In So Many Ways", "Closer to Your Side", or "Stand Out in the Rain", it'll take you back to the glorious 90's and the heyday of the alt. country revolution.
Jeff –
"Even though they haven't made an album together as the Jayhawks in over 15 years, Mark Olson and Gary Louris have never been that far apart. They seemed to be moving back toward this reunion for a long time. First impression is, where's Gary? He's there for harmony and guitar, but where are his songs? It seems like Mark Olson, the absentee songwriter, has come back and replaced Gary Louris as a frontman. I've always been a bit more of a Gary Louris fan and the interplay between the two was never more perfect than on Tomorrow the Green Grass. The record feels a bit more like Hollywood Town Hall but not as confident.
A lot of the more poppy elements are subtle in favor of Mark Olson's rather solid but unexciting batch of songs. Louris and Olson's harmonies certainly shine through the mix but they don't have the beautiful poppy hooks of "Nothing Left to Borrow" or "Blue." Those songs were instant classics. Even compared to Rainy Day Music, Mockingbird Time seems much less assured and more tentative. It's as though the band is getting to know itself again. Perhaps their next foray will be a bit more exciting."
Chip –
It was suggested, when this Jayhawks tag team review was assembled, that there would be many Beatles references for Mockingbird Time. However, a contrarian's perspective reveals a more diverse set of influences. On the Jayhawks new release, The Byrds influence is ever present with the harmonizing of Louris and Olson. However, there is also a strong Neil Young influence that comes through on songs like "High Water Blues".
Mockingbird Time is more than a showcase of influences. The Jayhawks have expanded their sound with rich guitar textures. In prior releases, the guitar work was more understated. This time around, a melodic and at times almost psychedelic feel moves to the forefront, and enhances the characteristic vocal harmonies. Certain songs even revisit old territory. Consider "Pouring Rain at Dawn", which conjures up memories of Hollywood Town Hall. With the release of Mockingbird Time, Louris and Olson have given their fans a welcome reunion. Fortunately, there is an obvious rejuvenation, which suggests this reunion is also a new beginning.
Audio Download: The Jayhawks, "She Walks In So Many Ways"

Audio clip: Adobe Flash Player (version 9 or above) is required to play this audio clip. Download the latest version here. You also need to have JavaScript enabled in your browser.
---
About the author:
Chip and his family live in Birmingham, AL. Roll Tide!
---