---
Here's the latest installment of my playlist series highlighting the latest and greatest in New England music.
---
FEATURED ALBUM
C'Mon by Barnstar!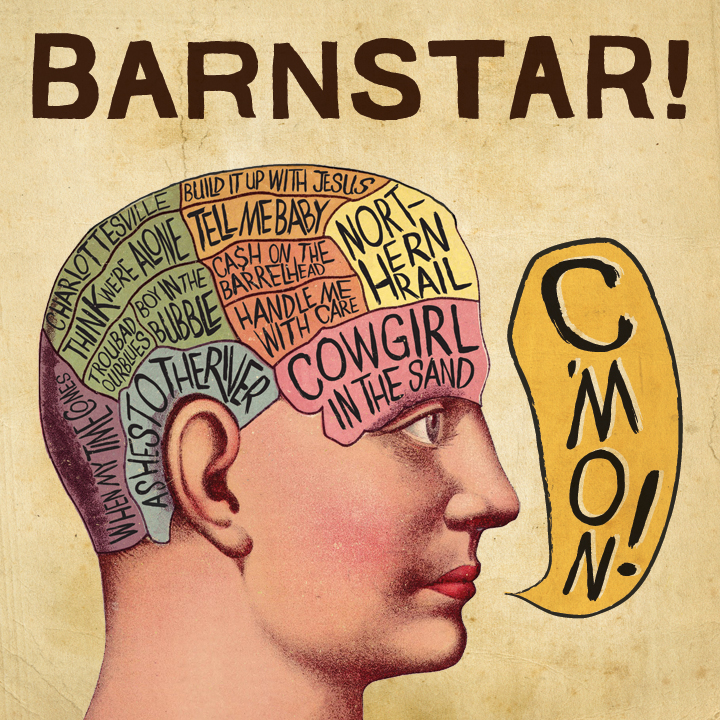 There's a lot to be said for just getting in the studio for a few days and just having fun. Now while I can't confirm that this was the case with Barnstar, it certainly sounds that way. Over the course of a handful of originals and choice set of covers, the band picks, strums and fiddles in glorious fashion.
So who are these guys? Mark Erelli is a staple on the folk circuit, known both for his own songs and his work as an in-demand guitar sideman. He's also got a greatest voice for Americana, with a warm and rich tone possessing the right amount of twang. Taylor and Jake Armerding, father and son, are also regulars on the New England folk scene and play the mandolin and fiddle, respectively. Rounding out the quintet are Charlie Rose on banjo and bassist Zack Hickman, the latter gentleman known for his work with Josh Ritter and a host of other artists. Let's call 'em a badass bluegrass quintet.
Among the originals, Erelli offers up "Charlottesville," a song with an enchanting melody that almost overshadows the tale of a man heading South to find a new life after a failed relationship. "I wish you well, that probably don't seem like much but we both know its true," he sings, "of all the ways two people can fall out of love, babe, I never quit on you." Armerding's "Northern Rail" hums along like the train it chronicles, punctuated by some impressive solos by all of the musicians. "When you're running away there, you ain't gonna be looking back," he sings in this break-up tale, "I never wanted to do it this way but there was no good reason to stay when the feelings die."
The covers are a treat. Do you remember "I Think We're Alone Now" by Tommy James and the Shondells, later recorded by Tiffany? Well, you've likely never heard it in this arrangement, with banjo and mandolin leading the charge. The percussive feel of bluegrass lends itself perfectly to Paul Simon's "Boy in the Bubble" while the Neil Young ballad "Cowgirl in the Sand" gets re-worked with an up-tempo beat and a haunting fiddle solo. Erelli's voice shines on a brilliant cover of Dawes' "When My Time Comes," maintaining the sense of longing of the original and showcases the group's brilliant harmonies.
The group closes with a take on the Traveling Wilbury's "Handle With Care." It is a fitting conclusion that, true to the original, finds each of the five singers taking a turn at the microphone.
Thanks, gents, for sharing this exclusive download from the release.
Audio Download: Barnstar!, "Northern Rail"

Audio clip: Adobe Flash Player (version 9 or above) is required to play this audio clip. Download the latest version here. You also need to have JavaScript enabled in your browser.
THE PLAYLIST
I Hate the World (And Everyone In It), John Shade (from the self-released All You Love is Need)
You know that you're in for some intelligent and clever songwriting from an artist who takes his stage name from a Vladimir Nabokov novel. Exhibit A is this track, a song that finds the protagonist moving from hopelessness to solace in a scant two minutes.
Well perhaps I've had a few too many, but a penny saved is only a penny,
Take a look at the world, it's an oyster with no pearl, no caviar, no frankincense and mirth.
Cynical, yes, but sharp and incisive.
Audio Download: John Shade, "I Hate The World (And Everyone In It)"

Audio clip: Adobe Flash Player (version 9 or above) is required to play this audio clip. Download the latest version here. You also need to have JavaScript enabled in your browser.
So Easy, The 'Mericans (from the self-released So Late It Hurts)
There's an uneasy comfort in the 'Mericans music. Singer-songwriter Chris Daltry sings with a vocal warmth that recalls Jeff Tweedy, surrounded by harmonies and jangly guitars from the rest of the band. The melodies and lyrics, however, have a sense of wanderlust and abandon. "From here it seems everything's alright, but I still don't know where nowhere is," considers Daltry in a lyric that captures a sentiment reflective of this impressive release.
Audio Download: The 'Mericans, "So Easy"

Audio clip: Adobe Flash Player (version 9 or above) is required to play this audio clip. Download the latest version here. You also need to have JavaScript enabled in your browser.
Try To Tell Me, The Rationales (from the self-released The Distance In-Between)
I find it humorously ironic that my DC-based comrade Tom brought this release to my attention. Why ironic? Because the band in based in Boston and regularly plays clubs in walking distance from my house. That said, I'm glad that he did. These guys know their way around a power pop hook, serving 'em up by the barrel with choruses that stick in your head for days on end. Don't believe me? Listen to this.
Audio Download: The Rationales, "Try To Tell Me"

Audio clip: Adobe Flash Player (version 9 or above) is required to play this audio clip. Download the latest version here. You also need to have JavaScript enabled in your browser.
Living In a Country, Rose Polenzani (from the self-released The Rabbit)
It is hard to get past Polenzani's voice, simultaneously haunting and enlightening. Once you do, you'll find an impressive depth to her songwriting. Her latest release is filled with evocative folk melodies, surrounded by rich harmonies and accompanied by a haunting guitar wail on this particular track.
Audio Download: Rose Polenzani, "Living In a Country"

Audio clip: Adobe Flash Player (version 9 or above) is required to play this audio clip. Download the latest version here. You also need to have JavaScript enabled in your browser.
Are You Coming Around?, The Vivs (from the self-released ep Why So Dark?)
Singer-songwriter Karen Harris writes angular pop songs that are perfectly complemented by the dark tone of her voice. Lest the songs sound too sinister, Keyboardist Terri Brosius adds some terrific harmonies to give the songs a polished sheen.
Audio Download: The Vivs, "Are You Coming Around?"

Audio clip: Adobe Flash Player (version 9 or above) is required to play this audio clip. Download the latest version here. You also need to have JavaScript enabled in your browser.
Lights Are Changing, Mary Lou Lord (from the Kill Rock Stars ep Mary Lou Lord)
There was a period in time that one couldn't travel through Boston without finding Mary Lou Lord busking, mostly on the subway or occasionally a street corner. Lord built an exceptional reputation on the strength of these live performances, one that led to a brief ride down the major label track. Alas, it wasn't meant to be and Lord retreated from active performing. Twas a shame, really, as she was as likely to champion her favorite songwriters' material as she was to showcase her own impressive songs. The silver lining? She has recently launched a Kickstarter campaign in support of a new release. Not surprisingly, it will include a mix of originals and covers. I, for one, am eagerly waiting.
Audio Download: Mary Lou Lord, "Lights Are Changing"

Audio clip: Adobe Flash Player (version 9 or above) is required to play this audio clip. Download the latest version here. You also need to have JavaScript enabled in your browser.
---
About the author:
Mild-mannered corporate executive by day, excitable Twangville denizen by night.
---