DAY PARTIES EVERYWHERE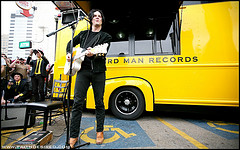 Unofficial day parties have exploded in the past several years to the point that they now outnumber the official showcases. By my count there were over 120 day parties taking place on Saturday and I know that my list wasn't complete. With that many shows it takes some creativity to stand out, or at least to find a spot to play. I missed out on the show at the dentist office but did catch shows at a bike shop and empty garage.
Busking on the street also re-established itself. I saw at least one band play a showcase one night and a street corner the next day. Even Jack White took his turn on Thursday afternoon.
YEAR OF THE FOOD TRUCK
In previous years I relied heavily on SXSW sponsor Zone Perfect and their energy bars to provide nourishment as I ran around Austin. Alas, Zone Perfect was nowhere to be found this year.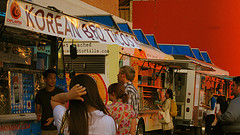 More than filling the void was an explosion of food trucks all across Austin. Everywhere one turned there was at least one, if not a collection of food trucks. CNN reported a mind-boggling 1307 trucks licensed for the event! And it wasn't just the basic pizza faire. There was Mexican, Asian-Mexican fusion, cupcakes and bbq to name just a few. Let's just say that spread my business around and was never disappointed.
Oh, and I suppose there was a replacement in the "product placement" category this year. "Batter Blaster," pancake mix in a spray can, was omnipresent on Friday morning and afternoon.
BEAST OF BURDEN: ALEJANDRO & FRIENDS BRING IT HOME
The Sunday night "Alejandro & Friends" show at the Continental Club, curated by Austin resident Alejandro Escovedo, is the unofficial close to SXSW and a permanent fixture on my schedule. It's just that good, and this year was no exception.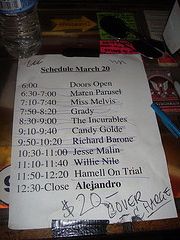 Part of the charm is the laid back atmosphere of the show. I'm sure that many, like me, are so exhausted from four days of non-stop madness that some of it is the bittersweet realization that SXSW is winding down. Yet it is also the realization of the "& friends" nature of the show. There is an impressive camaraderie among the musicians – and crowd for that matter. Where else would you see Lucinda Williams, Jesse Malin and Willie Nile having a casual chat (and blocking the way to the bar, I might add!).
Escovedo went with a partial theme this year, inviting quintessential New York performers Willie Nile, Hamell on Trial, Richard Barone and Jesse Malin to join the festivities. Nile and Malin, in particular, delivered shining sets with a full dose of NY attitude. Malin closed with a rousing version of John Lennon's "Instant Karma" and later rushed the stage to sing back-up on Nile's rock anthem "One Guitar."
"This is how we fucking roll in Austin Texas," declared Continental Club proprietor Steve Wertheimer as he introduced Escovedo. And roll we did. Escovedo hit the small stage with a nine piece version of his orchestra that featured organ, trumpet, strings and two back-up singers accompanying his standard rock band formation.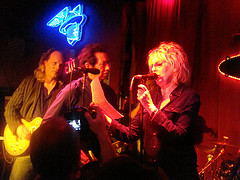 The set tended towards selections from his most recent album but also featured some real chestnuts such as "Castanets." Soon the guests started joining in the action. Lucinda Williams joined for a duet on Escovedo's "Pyramid of Tears." Charlie Sexton cranked up his guitar for the Rolling Stone's "Miss You" (which also featured Charlie King from Asylum Street Spankers) as well as a soulful take on one of my favorite songs, the Band's "It Makes No Difference."
The night wound down, or rather ended with a flourish, with the band jamming on the Rolling Stone's "Beast of Burden." It was the perfect end to yet another SXSW.
---
View more Twangville coverage of SXSW 2011 here.
---
Photo Credits: Shantel Mitchell (Jack White), La Pham Nikita (Food Trucks), Sean Phillips (Alejandro & Friends set list; Alejandro & Lucinda).
---
About the author:
Mild-mannered corporate executive by day, excitable Twangville denizen by night.
---