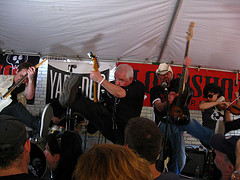 For me, the true harbinger of spring is the arrival of the SXSW Music and Media Conference in Austin, Texas. Or rather, spring begins for me when I arrive in Austin for SXSW. With upwards of 2,000 bands and 13,000 attendees, SXSW is the world's premiere music conference. Even better, it is one heck of a party. Over the next two weeks or so, I'll be sharing some of my highlights from SXSW 2011.
---
THE 2011 MUSICAL THEMES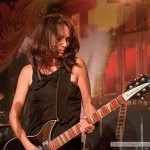 If there was one theme that stood out this year, it was a return to the music of the 1980's and early 1990's. Leading the charge were many of the original artists from that era: Duran Duran, the Bangles, Hanson, Linda Perry (of 4 Non Blondes) and even Men Without Hats. Joining them were newer artists like Neon Trees, Doll & the Kicks and Kid Canaveral that mine a similar sound.
Rap music continued to maintain a strong presence. I caught some mighty fine performances by Canada's Buck 65, Australia's Bliss N Eno and US representatives B.O.B and P.O.S. That doesn't even account for the unofficial closing night appearances by Jay Z, P Diddy and Kanye West!
Elsewhere, some of the expected fare was particularly strong this year. Indie rock, such as Wild Flag, Yuck, Sharon Etten, Dale Earnhardt, Jr. Jr. delivered strong performances and the rock brotherhood of Dawes, Deer Tick and Middle Brother made their presence known.
The rock contingent was in fine form, with barn-burning sets from J Roddy & the Business, the Jim Jones Review, The Biters, and Jason Isbell & the 400 Unit. These guys hit the stage with a rock and roll attitude that never let up.
Singer-songwriters and balladeers were equally impressive, led by The Civil Wars, Tristen, Jeremy Messersmith and Slaid Cleaves. What they lacked in volume, they more than made up for with captivating lyrics and songwriting.
All in all, it was a great year for music at SXSW.
MUSIC IS ALIVE AND KICKING, EVEN IF THE MUSIC INDUSTRY ISN'T
Jon Dee Graham summed it up best. "If music is dead," he asked, "then how do you account for 900 bands from around the world and thousands of people. It's the contract between you and I. Thank you for honoring the contract." His numbers were a bit off – there were somewhere in the range of 2000 bands playing around Austin, but his point still stands. The energy and enthusiasm was electric.
Only at SXSW would you find Peter Buck standing in a small crowd of about 100 people – in an alleyway behind a strip mall, no less – watching the Autumn Defense, a band led by two members of Wilco.
MAKING MUSIC A RELIGIOUS EXPERIENCE
Some of this year's most impressive showcases were held in two churches that were used as venues. The acoustics were breathtaking and were the perfect venue for singer-songwriters like Sharon Van Etten, Josh Ritter, Kevin Devine and Fences. Hearing Ritter perform "In the Dark" in a darkened sanctuary was spine-tingling. Churches and temples should book more rock shows.
MUSIC GETS SOCIAL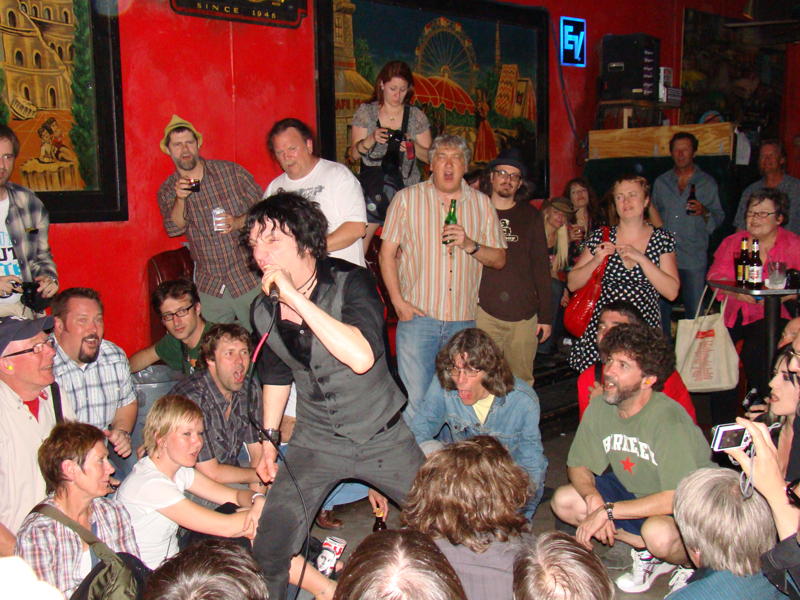 Social media was a major topic at SXSW Interactive and the Music crowd certainly didn't want to be left out. Many artists that I saw this year made an effort to break the stage to audience barrier. Their approaches ranged from stepping into the crowd to play a solo (The Stone Foxes, Maxim Ludwig & the Santa Fe Seven) to having the audience crouch to the ground before exploding into the air for a song's conclusion (Janelle Monae, Jesse Malin).
Special credit, however, goes to Andy Clockwise and Peelander Z. Both recruited members of the audience to replace band members on stage. Clockwise drafted a guitarist who simply strummed while sliding a beer can (taken from another audience member) up and down the strings. Watching the guitar strings pierce the can to send beer flowing all over the guitar and stage made it that much more amusing.
Peelander Z took it a step further and held up "help wanted" signs to draft a full band from the audience. The result was entertaining, to say the least.
---
View more Twangville coverage of SXSW 2011 here.
---
Photo Credits: © Michael Piantigini for Clicky Clicky Music (Waco Brothers), Erica Bruce (Susanna Hoffs), Me! (J Roddy Walston and the Business); Jamie Eng (Jesse Malin).
---
About the author:
Mild-mannered corporate executive by day, excitable Twangville denizen by night.
---