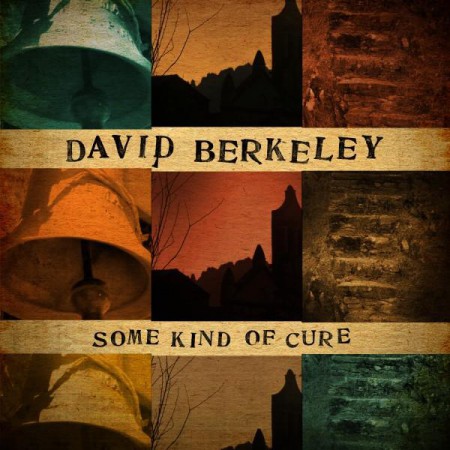 While the image of David Berkeley from the album cover and his stage persona may suggest otherwise, David Berkeley's music sounds like anything but. . . . The songs have subtle orchestrated textures and thoughtful but not self-indulgent lyrics. Berkeley spurns the folk-singer norm, but his voice won't let him fall fully into the Americana scene either. Some songs are simple portraits and some are lively and upbeat.
The more low-key Berkeley tunes can unite a metaphor and a classical croon. It truly sounds like the type of song you'd hear in the mountains of Corsica in some forgotten bedroom. It has an otherworldly appeal that appears particularly in the love song "Blood and the Wine." Piano accents from Peter Bradley Adams and subtle horns make this song sound like an orchestrated story. Berkeley sings "You have put the dreams back in me." It doesn't seem earnest.
An immediate standout is "Steel Mill." The 12/8 swinging time signature and lightly picked banjo give way to tight harmonies. The song embodies the community feel of the record. Berkeley stands out front while the backing pops up in all the right places. The banjo in particular draws comparison to early Iron & Wine. It feels lo-fi without trying too hard. The only strange thing about the song is a Berkeley's straight smooth pipe. They're the antithesis of the hard edge of the lyrics.
From here Berkeley pushes even further into simple melody with "Shenandoah." He sounds like he's from a mountain church when he sings unaccompanied on the tune. Then like a congregation, voices appear to back him. "Soldier's Song" breaks from the quieter tune to a building electric guitar crescendo. "Marie" is another building folk rock anthem. Berkeley and the harmony are seamless.
Some of the rock tunes like "Parachute" and the title track "Some Kind of Cure" don't carry the same kind of authenticity. Berkeley's lyrics are still intriguing but at times a bit more buried. The tracks want to build to a huge crescendo but don't reach the emotional heights that they strive for.
Still, Berkeley's prowess as a lyricist and storyteller are both consistent and compelling. If you take the time to let the songs, they will surely grow on you. While not as fresh and simple as "the Confluence" or as lush as "After the Wrecking Ships," Berkeley is poking around in between. The rock edge and his emotional instrument of a voice are not always the best match. But who knows, after a few weeks, I may feel differently. The tunes often surprise me.
The record comes out on January 25th in conjunction with a book entitled 140 Goats and a Guitar – the Stories behind "Some Kind of Cure."
---
About the author:
Jeff is a teacher in the Boston area. When not buried correcting papers, Jeff can be found plucking various stringed instruments and listening to all types of americana music.
---