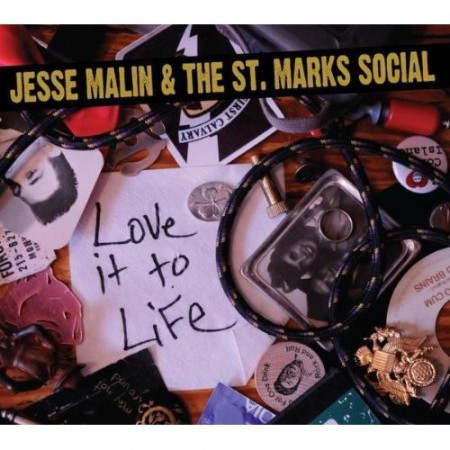 It seems like everything written about Jesse Malin refers to his punk years in the band D Generation. If not about that, it's all about the Bruce Springsteen or Ryan Adams comparisons drawing from his solo career. For far too long, I've ignored the chit-chat. I wanted to like Malin's music as much as everyone told me I should. Nothing ever stuck until 2010's "Love It to Life" backed by the assembly of St. Marks Social. One listen to this album and punk-infused Springsteen/Adams comparisons come to light in the most glorious of ways. If anything, "Love It to Life" is an older, wiser, and more refined return to the D Generation days.
But let's put all comparisons aside and concentrate on the majesty of a few tracks in this record. The album kicks off with the anthemic "Burning the Bowery" a celebration of roots and mayhem associated with New York's East Village with an opening guitar lick for the ages. In keeping with the hometown theme, "St. Mark's Sunset" is a shout-out to the area where Malin "played hard and let loose" with the cool kids back in the day. As if talking to a new generation of punk kids, "Burn the Bridge" inspires today's youth to take the torch and shape America's future for themselves.
I wasn't a Malin-head before this album but there's no turning back now. "Love It to Life" is energetic, inspiring, and memorable. I'm counting it among the best albums of the year thus far. If there is room for a Replacements' replacement in 2010, this is it.
[★★★★★/4.700]
Purchase "Love It to Life" at the SideOneDummy Store
---
About the author:
Washington, D.C. area web designer by day. Music is my muse. I host Twangville's weekly Readers' Pick.
---