"Just us doing our Stonehoney thing," is how this Austin quartet describes their latest release. Recorded live in the studio – with no overdubs or studio magic – the album bristles with an energy and authenticity that is truly refreshing. Each of the four singer-songwriters has a distinct character yet together they create a singular sound filled with infectious melodies and stellar harmonies.
The opening "Two Years Down" is a re-recorded version of a Stonehoney staple, an upbeat lament on living through a break-up in LA. "I guess what you meant when you said goodbye, is now you're on your own," sings guitarist Phil Hurley while the rest of the band chimes in with radiant harmonies. David Phenicie's "Headlight on a Midnight Train" picks up on the break-up theme as the band takes the harmonies to a higher, ethereal level.
"Good As Gone" is another Stonehoney staple, guitarist Shawn Davis's poignant tale lament of a young drug dealer. "I turned 25 in jail for selling nickels and dimes on the streets," he sings, At the intersection I could have turned right but I turned wrong, And now I'm here and here's as good as gone."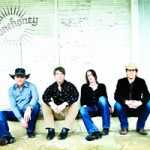 Davis turns in another winner with "Fallin' Apart," a foot-tappin' mid-tempo rocker. The song has a killer hook that stands in stark contrast to the album's lyrics. With the band's harmonies on full display, Shawn Davis sings, "I'm fallin' apart since you said goodbye, what we had is gone, and I'm lost and trying to find my way back home."
Fourth band member Nick Randolph offers up his variation on the theme with "I Don't Want To Go Home." The song has a fine laid-back Eagles vibe as Randolph sings, "The house is like a heartache with a view of what can go wrong, so I don't wanna go home."
The boys dig down deep for the closing "Feels Like I'm Gonna Die," a rock hoedown anchored by a touch of honky-tonk piano. "It was a story of a woman, I was never gonna understand," sings Phenicie, "So as I sit here 'n' pine, wondering if you're still mine, the hurt is aching through my bones." Who knew heartbreak could be so catchy?

Visit the band's web site for a song-by-song commentary on the latest release.
Audio Download: Stonehoney, "Feels Like I'm Gonna Die"

Audio clip: Adobe Flash Player (version 9 or above) is required to play this audio clip. Download the latest version here. You also need to have JavaScript enabled in your browser.
---
About the author:
Mild-mannered corporate executive by day, excitable Twangville denizen by night.
---